Can you hear ticking clocks, humming fridges and pulsing blood? These and more are woven into Ian Moorhead's composition and sound design for SLAP. BANG. KISS.
How would you describe the music you've created for SLAP. BANG. KISS.? What is the world of this play?
Composing and sound designing SLAP. BANG. KISS. has been creatively both a joy and a challenge. It's a bit of a beast of a work to be honest, in all that it's trying to achieve. It begins with three distinct worlds impacted by a single moment … impetus that resonates profoundly upon the three initial protagonists and then more broadly to create a movement. Weight and momentum are the key elements for me in creating this design … creating the sonic weight of each world so that it feels visceral for an audience; there is an injustice and it matters. Momentum then drives us to want to 'do something' about that injustice and musically that requires pace, dynamics, build and trajectory.
How would you describe the sonic world of each of the main characters?
In the first scenes of SLAP. BANG. KISS. playwright Dan Giovannoni establishes three disparate environments for us to inhabit. As a writer he does so much to describe the sound of each of these. The first is Immi's world, an occupied territory wound up tight with anger and sadness, electricity crackling in the air, heightened with drones and with dogs. It is a heavily weighted world but one that feels vast and external. The world of Sofia is a more internal, confined and physiological one, responding to the intricacies of the situation she is enduring. It's a world in slow motion, of minutiae, of ticking clocks, humming fridges and pulsing blood. Darby's world is probably less weighted and lighter than the others, until the moment of menace arrives. The joy of responding to Dan's writing is being able to choose how to respond to his descriptions of the aural world; when to support his words with sound; when to allow his descriptions to be enough; when to be literal with sound and when to be abstract.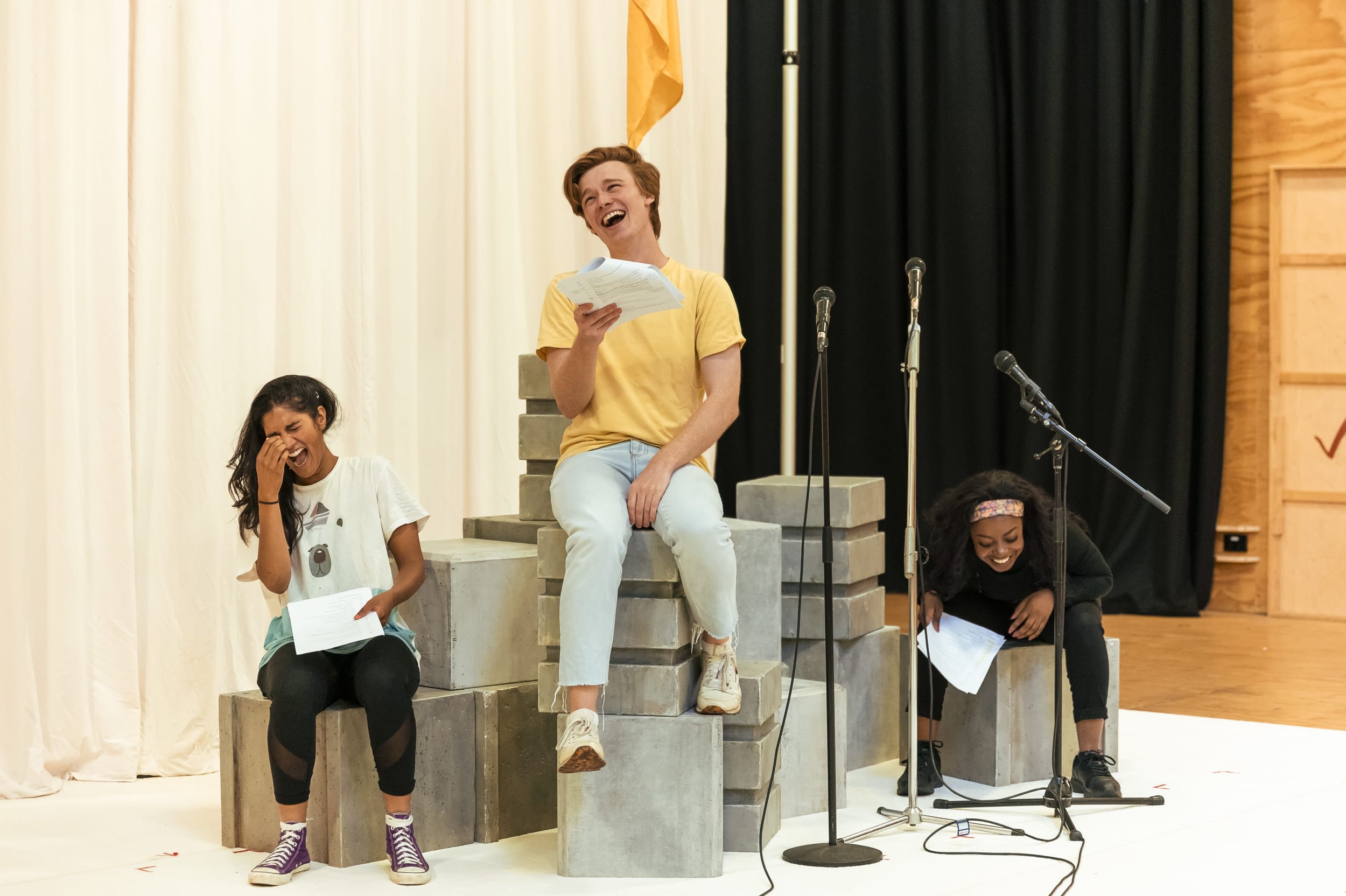 Sarah Fitzgerald, Conor Leach and Tsungirai Wachenuka. Photo: Tiffany Garvie
How would you describe your role as Composer & Sound Designer?
As composer, I am responsible for writing all of the musical elements in the work. As sound designer, I am responsible for creating all of other sound elements … the sonic weight, the texture and the detail of the work. Having worked in theatre for a long time now, my enjoyment, my expertise and my sound comes from inhabiting the space in between music and sound; finding musicality in non-musical things, finding harmony and texture in the sounds and noise that surround us, allowing music to imagine sound and sound to imagine music.
What was your starting place for creating the music and sound design?
The starting place for the music in SLAP. BANG. KISS. came from the sound of the rotary blades of helicopters. The tempo and sense of build in all of the driven musical sections comes from that one notion and how that sound could belong in each of the worlds of the work. Within the music, you can hear it replicated in the ascending synth and driving drum patterns.
Is there a particular moment in the play that you're especially excited about, regarding your design?
My favourite contribution to the work is the music that sits under Scene 7, the penultimate scene of SLAP. BANG. KISS. It's the scene where the notion of 'a movement' takes hold. The music is driven and determined and builds, turns, shifts and drops away a number of times as the multiples threads of the story re-emerge and intertwine. The music assists in creating the resolute trajectory that carries the work to its highest point … a moment of power, purpose and heroism. It's a moment (we hope) when all the theatrical elements combine to inspire.
SLAP. BANG. KISS. is on stage at Southbank Theatre, the Lawler 19–30 April before embarking on a regional tour. Learn more.
Published on 7 April 2022