Over Genovese Coffee in the Qatar Airways MTC Lounge, Sean Keenan tells us about his journey from the screen to the stage.
Sean Keenan still gets called Gary on the odd occasion; he heard it whispered in the front few rows of the Sumner auditorium just the other night. It doesn't bother him though. After all, his role in the 70s coming-of-age drama, Puberty Blues, transitioned him from 'kid-actor' in remote Western Australia, to cement a place in Australian popular TV culture.
Keenan's journey into acting was slightly atypical. He'd dabbled in performance as a child, encouraging his friends to enter the talent quest with him in their final years of primary school. In Year 6, their 'talent act' involved suspending a large white sheet to create a shadow play using lamps. The story revolved around Keenan, as a doctor, performing surgery on his friend, who had overeaten to the point of being hospitalised. 'I pulled out sausages and all sorts of stuff…it was a casual visual comedy.'
It's safe to assume Keenan was a confident and creative child, and therefore not so surprising when his primary school Principal selected him as one of five students to audition in an open casting call for the Nine Network. 'The casting agents sent letters out to schools, asking who they thought might be interested, and I was chosen…otherwise I wouldn't have done it.' The network were looking for their lead character in the TV adaptation of Tim Winton's popular young adult book series Lockie Leonard. Keenan landed the part, setting his career in motion instantaneously.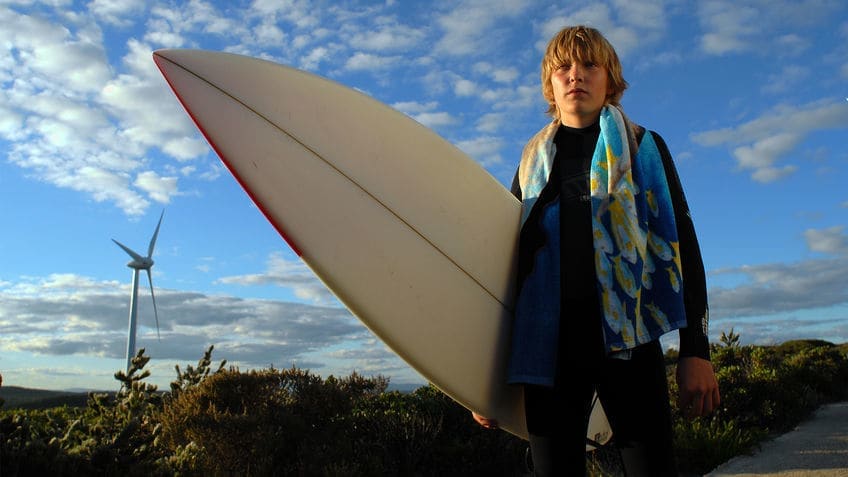 Sean Keenan in the 2007 Australian children's television series, Lockie Leonard.
With their family firmly rooted in Busselton and the series filming over 300km away in Albany, Keenan's parents made the decision to migrate south for the period of filming. 'The production company said, "We'll get a house and get all the kids and get a carer." Mum and Dad kindly said, "We're not going to do that, but we will move to Albany for the six month shoot."' When the second season rolled around, the family were all too happy to pack up again and do another six months in the south-west port town. 'My twin sister had made a lot of friends in Albany, so she was really happy to go back. It was actually an amazing time for us. It was a big part of our lives. The first six months of my high schooling were spent on a film-set shooting that show. And it's an incredibly beautiful place.'
Returning to high school in Busselton felt a bit unusual, Keenan reflects. 'I felt like the exact same person, but in the back of my mind, I knew this show was going to come out, and I didn't want to be thought of as anyone different. You can't help what people think about you being on a TV show. But it was an easier transition than I expected.' Fortunately, Keenan's twin sister was always there as a support and point of comparison, and to keep him in check. 'She'd essentially done the same thing I had, but without the film stuff.'
The remainder of high school ticked along casually, with Keenan filming Cloudstreet and Drift in between school terms. 'It just felt like a separate thing I'd go and do.' When school came to an end, Keenan enrolled in engineering at UWA, but was set on taking a Gap Year before knuckling down into his tertiary studies. He headed over east, where his agency was based, to see what was happening on the other side of the country. 'That's when I got Puberty Blues, so I thought, Ok, I'll defer the degree.'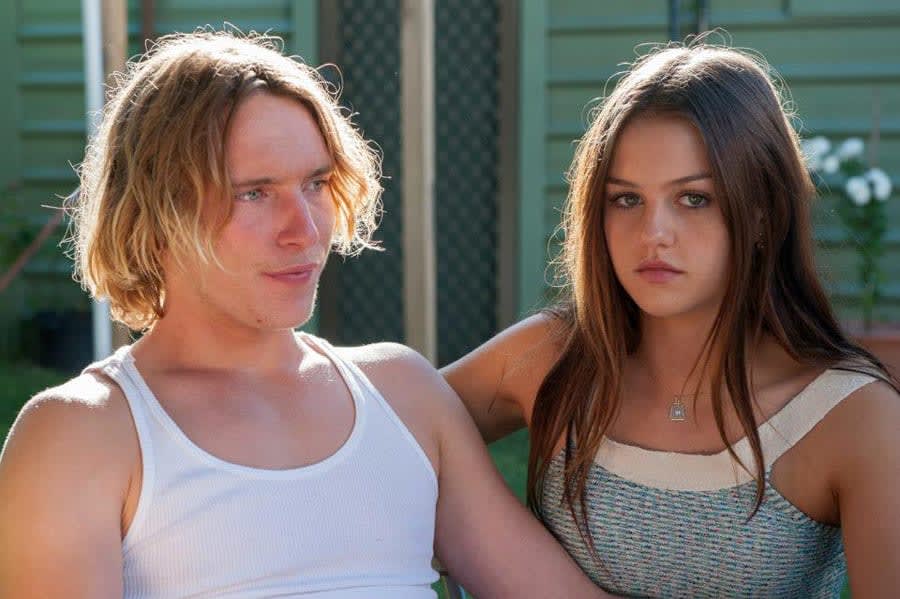 Sean Keenan alongside Isabelle Cornish in the 2012 television series, Puberty Blues.
Keenan was 18 when he booked the job with Channel 10, and 19 when shooting commenced. 'I'd just moved out of home and come to the eastern states, so I was really interested in exploring that complex time in life, both in my character, as well as myself.' Working alongside some of Australia's mainstays like Claudia Karvan, Susie Porter, Rodger Corser and Dan Wyllie provided many vital lessons for the up-and-comers on set, mainly about set etiquette. 'I think you take it all in by osmosis…They were always incredibly professional, they knew everyone's names. At the end of the day, a big part of acting is the collaboration on a project. A director might have two people in mind for a role, and if they know one of them is talented but difficult to work with, and the other is a generous and giving person…It's usually a no-brainer who'll get the job.' Keenan says he felt the shift in both himself and his career whilst playing Gary on Sydney's Shire beaches. 'It felt like it happened at the right time in my life, when I was ready to explore a more mature role.' It helps that the show was hugely popular, showcasing Australia on the brink of radical social change, celebrating and challenging the liberalism and hedonism that defined the late 70s.
From there, the roles came quick and fast for Keenan who has since acted opposite Nicole Kidman and Hugo Weaving in Strangerland; as a young Paul Hogan in Hoges; as protagonist John Grant in Wake in Fright; and in three seasons of Glitch as Charlie Thompson. At the end of this year, he'll appear in Justin Kurzel's film The True History of the Kelly Gang, opposite Nicholas Hoult, Charlie Hunnam and Russell Crowe. His IMBD profile charts the credits of a quintessential Australian actor. 'I really love Australia,' he says, without a shadow of sarcasm. 'I love Australian stories; our humour and our laconic wit. Maybe that's why I'm cast in these roles? I think we're so lucky to live here. I have a real interest in what influences us culturally.'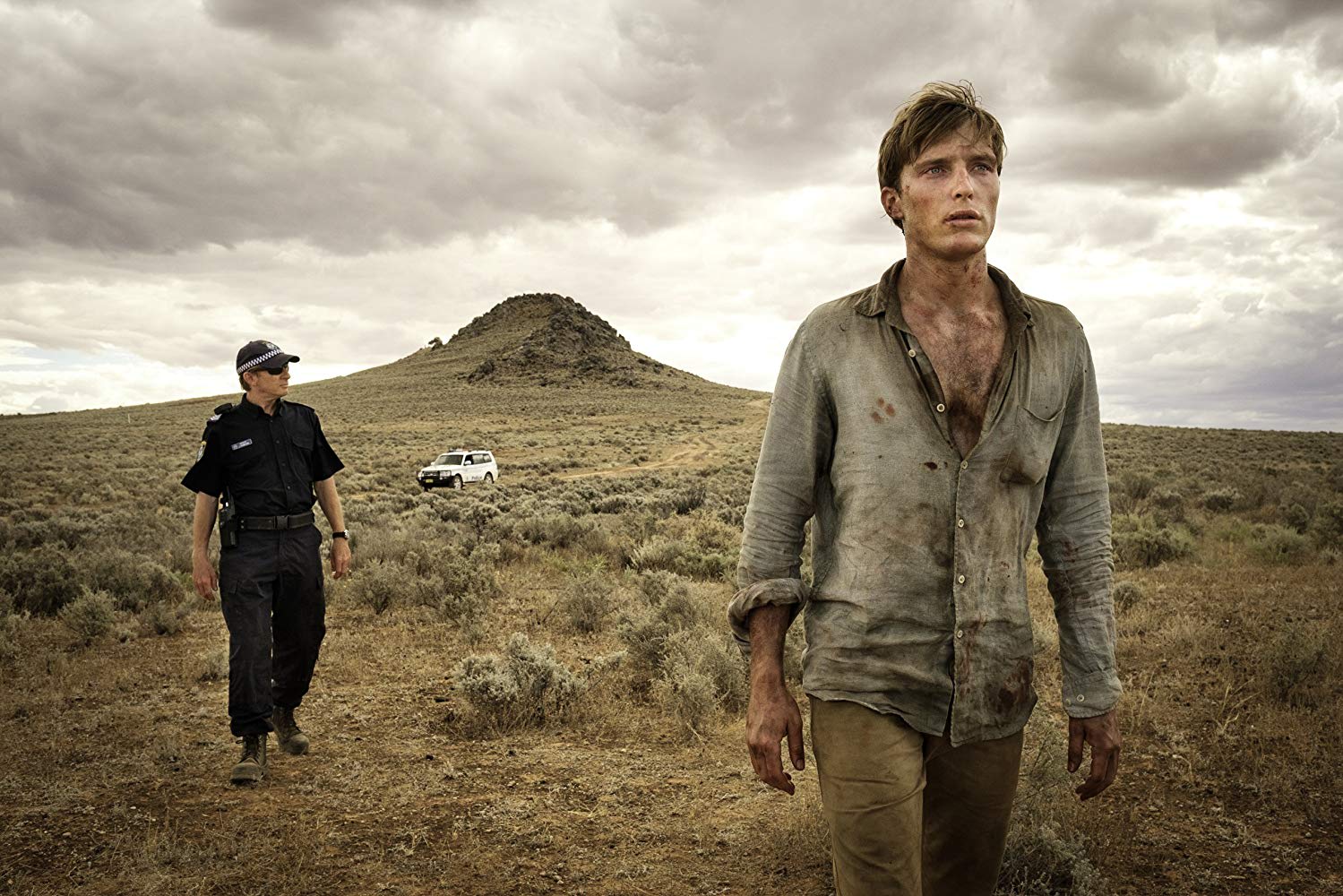 Sean Keenan in the 2017 television series, Wake in Fright.
The screen roles, both big and small, appear plentiful for the West Australian native. However, at the beginning of 2019, when Keenan dropped in on his agency to say goodbye before flying out to Los Angeles for pilot season, he mentioned – in passing – that he'd like to try theatre. Most actors start their training in school and church halls, making their way up to bigger stages until they land a glossy TV or film part, but Keenan has worked the other way round. While he was on the plane to L.A, he received the script for yet another classic Australian story, Così. Although this time, the script had stage directions.
'I was reading a pilot script that wasn't particularly attention-grabbing, whilst simultaneously reading the part for Lewis in Sarah [Goodes]'s production of Così, and I thought, this is exactly what I'm interested in. It just comes back to telling great Australian stories.' So Keenan cut his American adventure short to come home and tackle the role Ben Mendelsohn made famous in the 90s film adaptation of Louis Nowra's play. 'It's a comedy, but it's also a beautiful insight into how different minds work. It's really about the power of human connection, and I wanted to be involved in telling that story.'
Working in real-time, relying on the audience feedback loop of laughter, as well as navigating the coughers, vibrating phones and changing reactions of his eight co-stars on stage, has been a brand new experience for the 26-year-old. 'I love being able to climb into this character's skin for two hours and tell a complete story. You don't really get to do that in film or television.'
Working at Melbourne Theatre Company has also been an exhilarating inauguration into the world of live performance, he says. Melbourne feels like another home and he's hopeful he'll be back in the rehearsal room at MTC HQ in no time. 'I love that feeling of the show not always working out as you'd planned, for better or worse. Every show is unpredictable and that makes for a great training ground as an actor.' From shadow-play acting in primary school, to performing eight shows a week in a packed out Sumner Theatre, it has been an inspiring trajectory. Will he ever study engineering? For now, it appears Sean Keenan will be sticking to acting.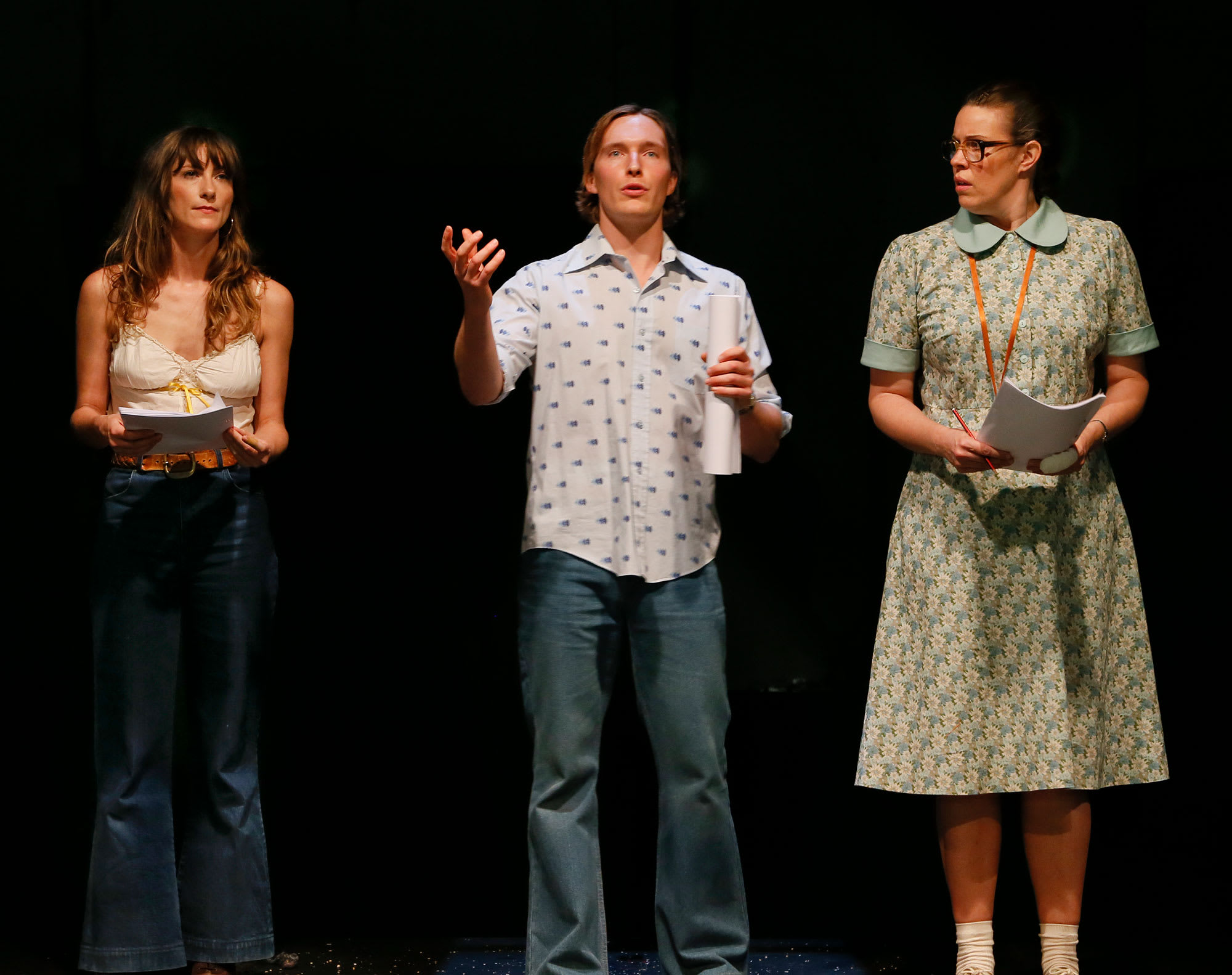 Esther Hannaford, Sean Keenan and Katherine Tonkin on stage in MTC's production of Così.
See Sean Keenan in Così at Southbank Theatre, The Sumner until 8 June.

Qatar Airways is an MTC Major Partner. Genovese is an MTC Production Partner (thanks for the coffee!).
Published on 17 May 2019