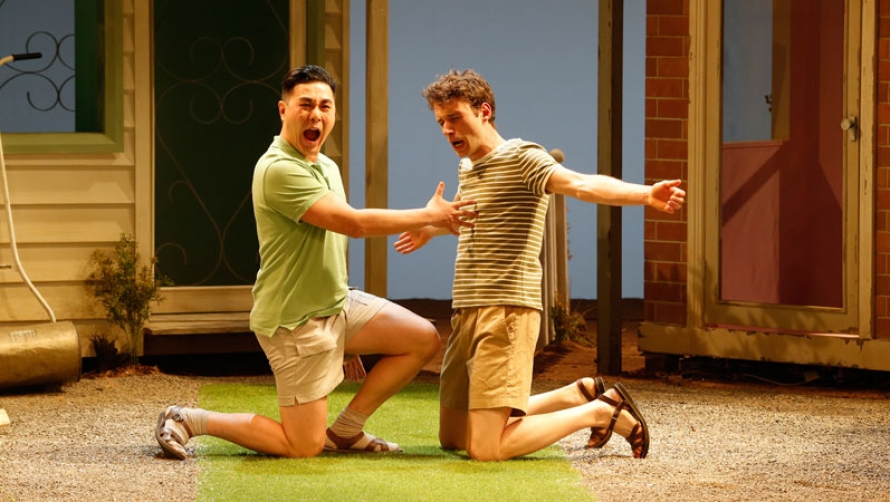 Bringing young people to the theatre
MTC encourages parents to bring young people to see our mainstage shows, but recognises that some plays may not be suitable for all ages or temperaments. Unless a show is specifically a designated children's performance, you may find most MTC productions are considered unsuitable for young children. Of course, parents are the best judge of what is suitable for their own children, and below you will find a rough guide and our recommendations for each play in the season.
All patrons attending the theatre will be required to hold a valid ticket, including babes in arms. Most MTC shows are suitable for young people in the upper years of high school. Many younger children are likely to find adult drama uninteresting.
Recommended for ages 14+ / Year 9+
Born Yesterday
A period American Broadway comedy about a reporter and a chorus girl taking on corruption in Congress. Contains allusions to murder, a scene depicting domestic violence on stage, and the use of herbal cigarettes.
Melbourne Talam
A contemporary drama about three young people from India making a new life in Australia. Contains coarse language, mature themes and references to suicide.
Minnie & Liraz
A contemporary comedy about elderly women in a retirement home playing bridge, and matchmaker to their granddaughter and grandson. Contains references to death and murder.
Noises Off
A classic comedy about a misfit gaggle of actors struggling to cope with mounting disasters. Contains coarse language, mild violence and sexual references.
Hay Fever
A classic English comedy about an eccentric upper-class family. Contains sexual references.
The Father
A contemporary comedy drama about ageing and the particular experience of dementia. Contains allusions to violence.
Recommended for ages 15+ / Year 10+
John
A spooky psychological drama, part ghost tale and part love story. A young couple arrive at a bed and breakfast and grapple with their disintegrating relationship. Contains coarse language, and allusions to drug use and sexual references.
Faith Healer
A compelling series of monologues about a dubious faith healer showing that memory can be unreliable and contradictory. Contains occasional use of strong language, references to alcoholism and depression, and an offstage death.
Three Little Words
At an anniversary dinner party, one couple drops a bombshell – they have decided to split up. This acerbic comedy of contemporary manners contains coarse language and mild violence.
Macbeth
The gripping tale of Shakespeare's most tormented tyrant, a king sinks into isolation and madness. Contains violence. Details regarding this production's content will be available closer to the season.
Di and Viv and Rose
A story spanning decades of friendship among three women who shared a house at university. Contains strong language, sexual references and mature themes.
Vivid White
An ultra-modern Australian comedy skewering the property market and environmentalism with sci-fi horror and satirical songs. Contains blood, violence and very coarse language.
blog comments powered by

Disqus