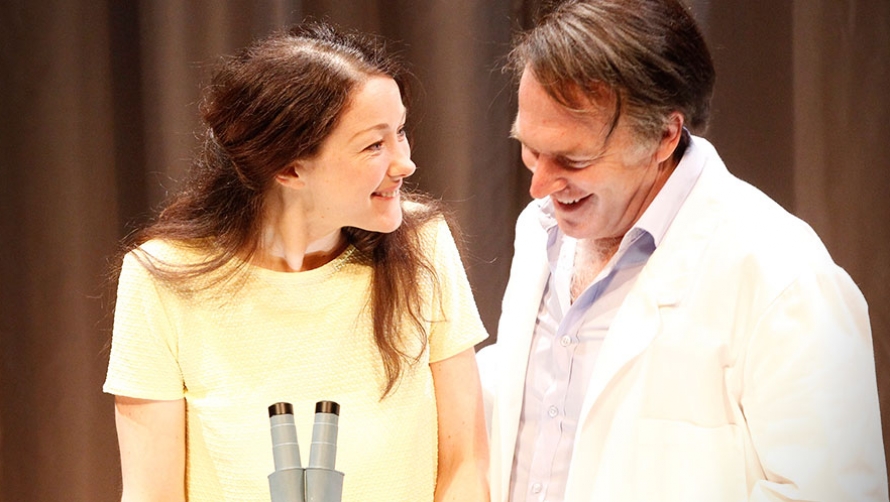 Bringing young people to the theatre
MTC encourages parents to bring young people to see our mainstage shows, but recognises that some plays may not be suitable for all ages or temperaments. Unless a show is specifically a designated children's performance, you may find most MTC productions are considered unsuitable for young children. Of course, parents are the best judge of what is suitable for their own children, and below you will find a rough guide and our recommendations for each play in the season.
All patrons attending the theatre will be required to hold a valid ticket, including babes in arms. Most MTC shows are suitable for young people in the upper years of high school. Many younger children are likely to find adult drama uninteresting.
Recommended for ages 8+
Egg
A delightful fable about two tinkers and a strange creature named Ovo, Egg is an eco-adventure for ages 8 to ancient.
Recommend for ages 12+
Ladies in Black
A period Australian musical about a young girl who takes a holiday job in a department store, and the colourful characters she meets.
Double Indemnity
A classic film noir/thriller adaptation about a diabolical murder plot. Mild violence and sexual references, but not represented in a realistic style.
The Odd Couple
A classic comedy about two middle-aged divorced men who move in together.
Recommended for ages 15+
Lungs
A contemporary relationship drama about a couple's decision to have a baby. Strong language and some graphic discussion about sexual intercourse and childbirth.
The Distance
A contemporary comedy/drama about a woman's decision to leave her husband and children, moving back to her home country. Strong language and sexual references.
Miss Julie
A classic naturalistic drama about a young lady of the manor in a dalliance with her father's valet. Strong language, sexual references, references to suicide and the depiction of a small bird being killed.
Peddling
A gritty contemporary drama about a young man living on the fringes of society and his search for family and identity. Featured in MTC's Education program, aimed at upper secondary students. Strong language and mature themes including suicidal references.
Straight White Men
A contemporary drama/comedy about a family of troubled men. Very strong language and political themes.
Skylight
A contemporary drama about a failed love affair between a young woman and an older married man. Strong language and mild sexual references.
Jasper Jones
An adaptation of a modern Australian classic, Jasper Jones is a coming of age story about two young boys. Strong language, racist slurs, graphic references to domestic violence and sexual abuse and references and depiction of suicide.
Disgraced
A contemporary political drama about a dinner party between an Islamic man, his Caucasian wife, her Jewish art dealer and his African-American wife. Strong language, racist and sexist slurs, sexual references and a graphic depiction of domestic violence.
Switzerland
A contemporary thriller about a fictional encounter between the author Patricia Highsmith and a young man who represents her publishing house. Strong language, racist and homophobic slurs, depictions of smoking (herbal cigarettes used) and discussions and depictions of violence.
blog comments powered by

Disqus