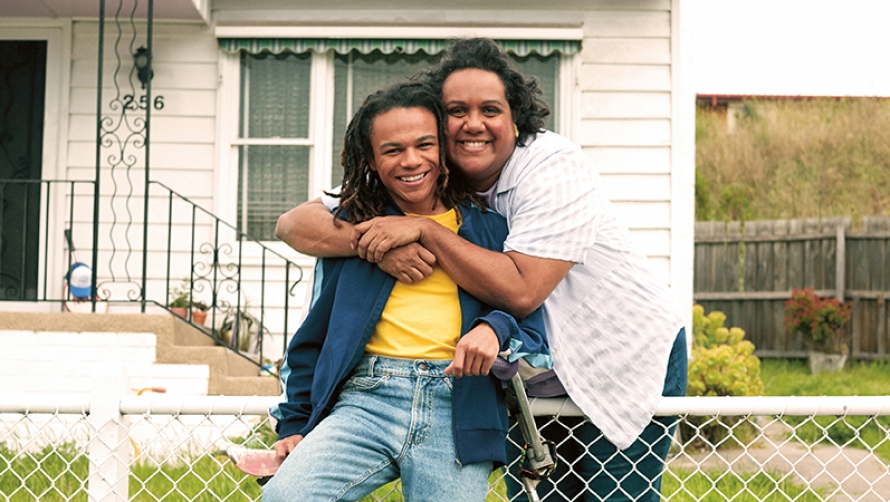 Bringing young people to the theatre
MTC encourages parents to bring young people to see our mainstage shows but recognises that some plays may not be suitable for all ages or temperaments. Unless a show is specifically a designated children's performance, most MTC shows are likely to be unsuitable for young children. However most are suitable for teenagers in the upper years of high school and MTC publishes free Education Packs for each show. MTC believes that parents are the best judge of what is suitable for their children and provides the following guide and recommendations for each play in the season.
Note: all patrons attending the theatre will be required to hold a valid ticket, including babes-in-arms. At some shows, audience members who leave the theatre during the performance will not be able to re-enter the theatre. MTC updates the running time, interval and content advice on this website for each show closer to its season.
Recommended for ages 11 years+ / Year 6+
The Curious Incident of the Dog in the Night-Time
Based on the best-selling book of the same name, this National Theatre production direct from the UK is about a teenage boy with an extraordinary brain – exception at maths, while ill-equipped to interpret everyday life. Strong language and swearing is present throughout the play, with moments of shouting and physical violence, and occasional references to mature themes such as alcohol and mild sexual references.
An Ideal Husband
Written and set in 1895, the play is a satirical comedy about politics by the author of The Importance of Being Earnest. The play is written in four acts, and is likely to have a running time of over two and a half hours, with one interval.
Twelfth Night
One of Shakespeare's most accessible plays and popular comedies, Twelfth Night is filled with action, disguise, mistaken identity, slapstick comedy and romance. Young audience members may find some of the language difficult to understand at first, but consider this production a wonderful introduction to Shakespeare.
Recommended for ages 14 years+ / Year 9+
Astroman
A new play by a New Zealand playwright, set in 1980s Geelong. It is a feel-good story about two Indigenous teenage boys who befriend the Greek owner of the local video games arcade. The play includes swearing and racist abuse, and mild sexual references.
Recommended for ages 15 years+ / Year 10+
The Children
A contemporary British play about three retired nuclear scientists facing the consequences of a Fukushima-like disaster at the nuclear power plant where they previously worked together. The play includes swearing, mature themes, and sexual references.
Abigail's Party
A 1977 British play about two couples and a single woman at a neighbourhood dinner party. The MTC production will be set in the year the play was written. The play includes swearing and smoking, mature themes, and sexual references.
Hungry Ghosts
A new play and MTC's annual Education show, produced with senior secondary school audiences in mind. The play includes swearing, sexual references, and mature themes, including references to the disappearance of Malaysian Flight MH370, and political corruption in Malaysia.
Wild
A contemporary British play about an Edward Snowden-like political whistle-blower negotiating with two agents in a hotel room. The play includes swearing, mature themes, and sexual references.
The House of Bernarda Alba
A new Australian adaptation of a 1936 Spanish play, set in current day Western Australia. A tough matriarch keeps her five young adult daughters virtual prisoners in an outback homestead. The play includes swearing, mature themes, and sexual references.
A Doll's House, Part 2
A contemporary American play featuring the main characters from the 1879 play by Henrik Ibsen and set 15 years after the events in the first play. The play is a standalone work; audiences do not need to know or have seen Ibsen's play. The play includes mature themes.
Recommended for ages 16 years+ / Years 11 and 12
Gloria
A contemporary American play depicting the circumstances and consequences of workplace bullying and violence at a New York publishing company. The play contains graphic and mature content, including swearing, blood and violence, and sexual references.
The Architect
A new Australian play about the unlikely friendship between a young drifter and the older women he helps through her illness. The play contains mature content, including swearing and themes including assisted dying.
*
Working with Children by Nicola Gunn
A new Australian work for adult audiences. Please check closer to the season for updated content advice and recommended audience age.
For detailed information about each production's content (including spoilers), visit our Production Content Guide.
blog comments powered by

Disqus