Can you tell us a bit about your background and your role as Movement Director on Touching the Void?

I grew up in Brisbane studying dance as well as theatre before moving to London, eventually landing in Melbourne to study postgraduate theatre making at the Victorian College of the Arts. I've been working as a theatre maker, movement director, teacher and artistic director since then. I've always been interested in finding ways to bring movement into theatrical processes, whether that's working with actors or non-performers, staging processes for new works, or developing the physical dramaturgy of a performance. It's my job to support the actors and the director to realise the physical world of the performance. For Touching the Void, that includes how the actors move safely and imaginatively on stage and the way they interact with the set to activate different terrains and embody experiences of climbing.
Is it common for movement directors to have a background in dance?
For certain companies or approaches, dance and movement direction go hand-in-hand. But that's not the case for everyone. Movement directors come from really different backgrounds. As a movement director, you're most useful to a company or director when you have a broad suite of skills. The more you know about different types of movement, the more you have in your 'kitbag' to offer to a production or to the actors. Not every actor works the same way, even those in the same production. So you need to be ready and responsive to their needs with different styles and forms of movement. A range of insights into different styles also applies when working on different types of shows; the movement approach to a period piece would differ to a contemporary mountain-climbing survival story!
Xanthe Beesley leading a movement session with the cast of Touching the Void. Photo: Charlie Kinross
In terms of your own professional development, are you always on the lookout for new approaches to movement? Or will the productions you work on determine that? For example, in this case you are working on a show that requires climbing, so that will ultimately lead you to researching that type of movement.
I think it's both. As a movement person, you always want to make sure that your own body is working as well as it can. There's a need to continue with daily practice, in the forms that work for you. And by our nature movement directors are curious about all different types of movements. There are times when I might need to learn a new skill and to seek something out, specifically with the intention of applying it to a production. Sometimes you have less firsthand knowledge about a show's context and that's when research becomes even more important.

I'm new to the world of climbing, especially ice climbing! It's been such a great opportunity to research climbing culture, movement, body awareness and the psychology of climbers, training regimes, equipment and more. There are so many great films, books and people to talk to about climbing which help to build an understanding of what drives people to risk their lives in these unforgiving landscapes under such dramatic conditions – and for fun! As I started researching for the work, I was surprised by the number of people around me who love climbing who were keen to share their experience and stories.
'A lot of research has gone into understanding different mountain locations and terrains, climbing movements and skills, how equipment and clothing impacts movement and how a climber's body is affected by fatigue and altitude.' – Xanthe Beesley
Did preparing to work on this play differ from your usual process?
I followed a similar process to what I normally do – reading, gathering images, thinking about the metaphors of the work, script analysis, talking with the Director, Petra Kalive, about what sort of movement style she was imagining. An important part of my process is developing a movement language with the cast and this always starts with the actors' offerings and their imaginative response to provocations derived from the play. This piece is no different in that respect. But whereas my more recent projects have been more focused on a movement language which represents the internal landscape of a character and is reflective of more domestic settings, Touching the Void presents us with very different requirements.
A lot of research has gone into understanding different mountain locations and terrains, climbing movements and skills, how equipment and clothing impacts movement and how a climber's body is affected by fatigue and altitude. Working with the set design to understand the possibilities of the set has been central to the preparation. I've spent lots of time studying the set drawings and the model to understand the placement of parts of the story on the different locations of the set, and the different pathways throughout it. Information about how the work is being technically realised has been very helpful too. For example, how does the rigging element impact on actor movement as they're learning and performing the work?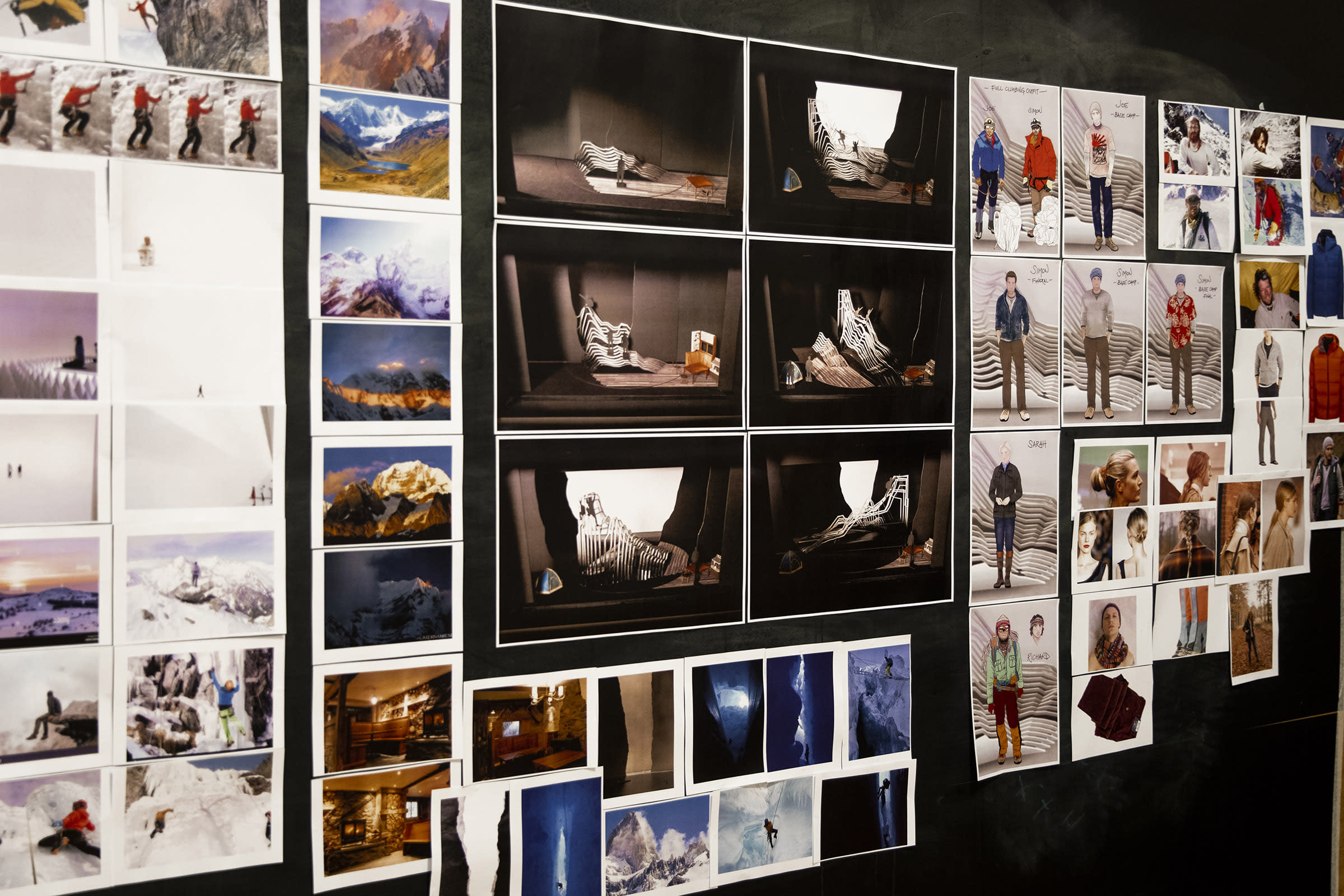 Inspiration board in the rehearsal room for Touching the Void. Photo: Charlie Kinross
Can you tell us how you work with the rest of the team on this show?
When rehearsing with the cast we start with warmups to physically prepare. They can be geared toward movements in a specific scene, as well as general physical conditioning. But we also use this time to work abstractly, connecting the body and imagination to concepts within the work – in this case, trust, determination, human fragility or feats of strength.
There's also a lot of theatre making in this show, so part of my job is to work with the actors, playing and offering ideas as the starting point for interpreting a scene, and then helping to shape that towards Petra's vision for the overall work. Petra and I often talk about how the world of a play moves; as part of my role, in various points in rehearsals, I'm taking in the movement of the sound, lighting and set – thinking about how it all surges and breathes together with the actors. As a movement director, I love thinking about how the world of the play moves. So not just how the actors move, not just the movement style of the work, but the interplay between all the different elements.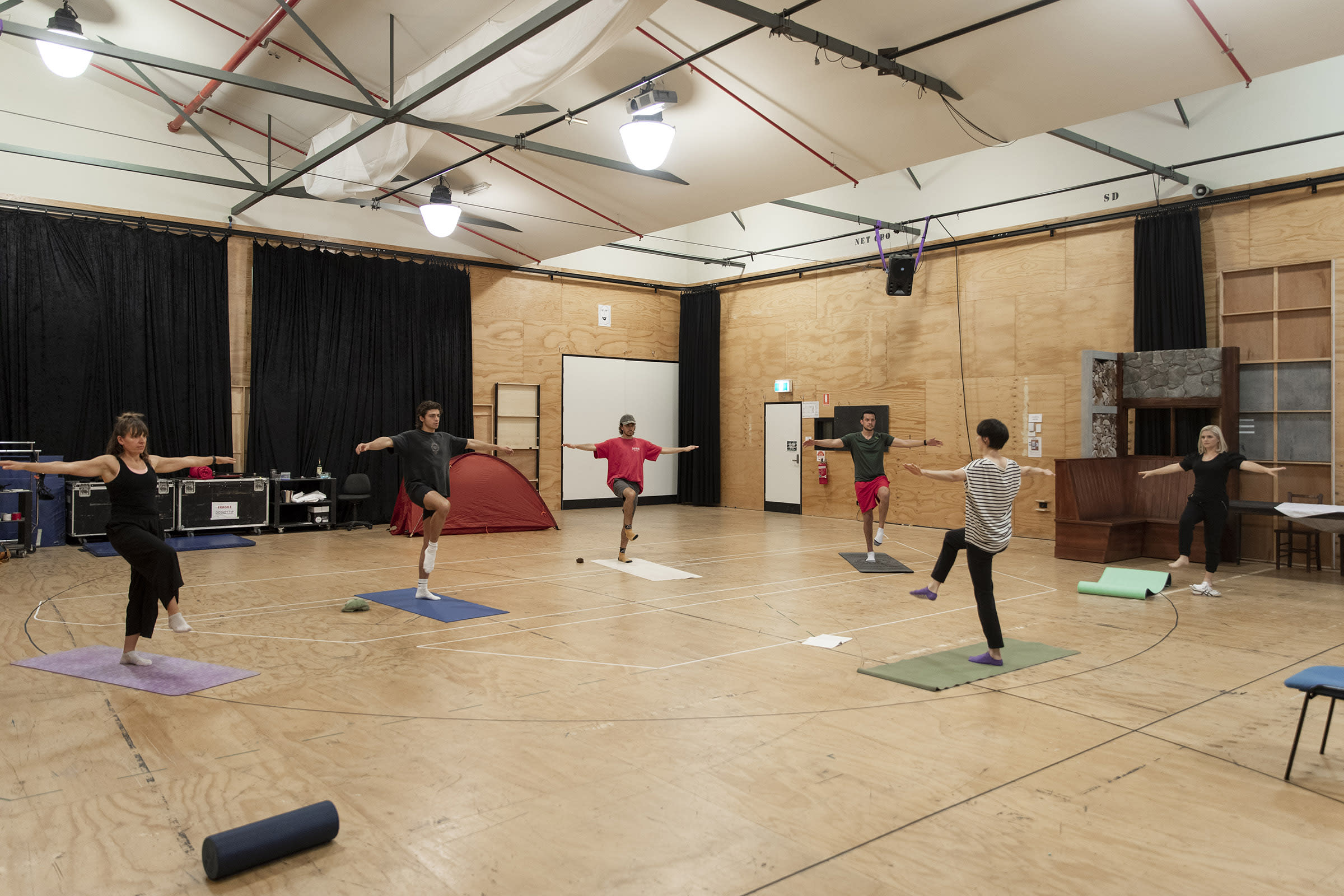 Xanthe Beesley leading a warm-up session during rehearsals for Touching the Void. Photo: Charlie Kinross
What do you hope audiences take away from this show?
Perhaps what we need from our theatre right now is a sense of hope and some affirmation that things are going to be ok. The tale of Joe Simpson is pretty amazing, I hope it stokes the fierce determination inside of all of us.
Xanthe Beesley was a participant in the 2019 Women in Theatre Program at MTC.
Touching the Void is on stage at Southbank Theatre from 17 January 2022.
Published on 18 January 2022