Everybody is baking at the moment, if supermarket shelves and social media feeds are any indication. If you watched Network 10's MasterChef Australia in 2019, you may remember contestant Leah Milburn-Clark, whose speciality was sweets, and intricate desserts in particular. Now, she's offering MTC audiences a masterclass in cake making, with step-by-step instructions for her impressive MTC Celebration Cake, a triple-decker creation inspired by the first three shows of Season 2020.
As Company Manager, Milburn-Clark's day-to-day job with MTC sees her looking after the welfare and wellbeing of our casts and creatives, which can include everything from physio appointments to organising vocal support. She also acts as the key point of contact between the rehearsal room and the wider company; manages travel, accommodation and itineraries for artists; works with directors to engage consultants such as fight choreographers and intimacy coordinators; and more.
In addition to theatre, her creative outlets include dance – she taught it for a long time – and cooking. And because she's not in the theatre at the moment, Milburn-Clark says that being in the kitchen is her primary creative outlet. 'It's being able to create a vision for something, and to fulfil that vision, which is what we try to do everyday at work,' she says. 'So this is kind of my at home version of that.'
Planning
A cake like this begins with an almost architectural vision. 'I do a lot of planning before I actually get in the kitchen. I draw them on my computer, and design all the layers. There's a bit of maths involved because you've got to work out the density, and make sure your bottom cake is going to be strong enough to hold your top two cakes, then making sure your top sponge is really light – those kinds of things.'
First layer: Emerald City - Beaded Curtain
The first layer is inspired by the beaded curtain, designed by Dale Ferguson, that adorned the stage in the MTC & Queensland Theatre co-production of Emerald City.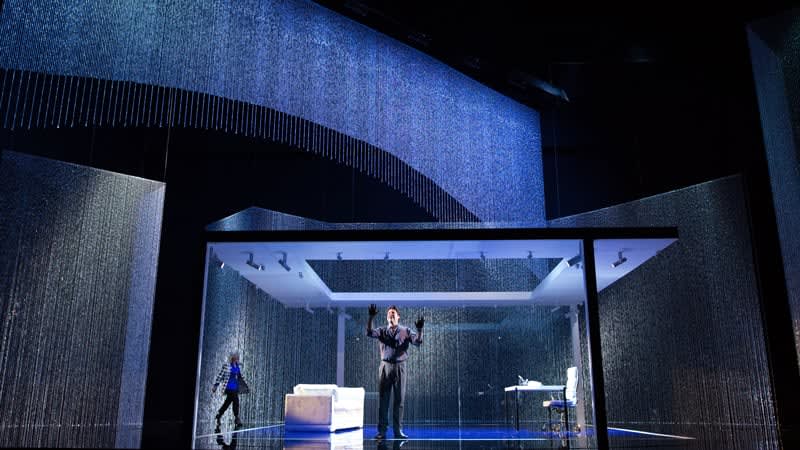 This layer is a boiled chocolate cake with chocolate buttercream. Download the recipe and follow the video below:
Second layer: Torch the Place – Piano
The middle layer of the cake pays homage to the piano that was front-and-centre in Benjamin Law's debut play, Torch the Place.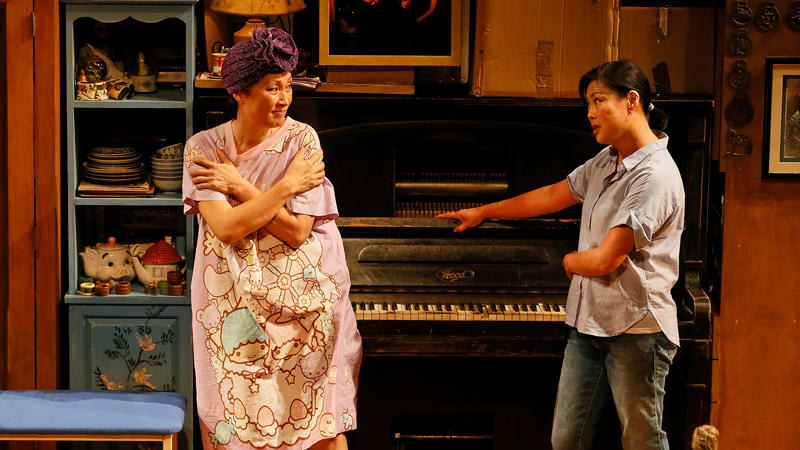 This layer is an apple and brown sugar cake with salted caramel buttercream. Download the recipe and follow the video below:
Third layer: Home, I'm Darling – Teapot
Our first production of 2020, Home, I'm Darling by Laura Wade, followed one woman's quest to be the ideal 1950s housewife in the 21st century, which saw her whip out her teapot (and one of her famous 50s cakes) whenever guests dropped in.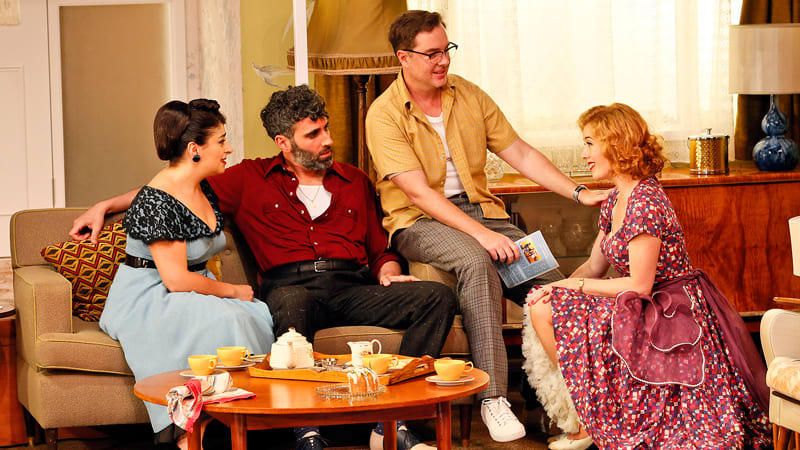 This layer is a coconut sponge with passionfruit buttercream. Download the recipe and follow the video below:
Final construction
Now for the construction. Download step-by-step instructions, or follow the video below.
Nailed it?
As a former MasterChef Australia contestant and professional caterer, Milburn-Clark is setting the bar extremely high. We would love to see your versions, if you're keen to give it a go, but we would also love to know what you're creating in the kitchen (or the art room, or the back yard) right now – whether it's as intricate as the MTC Celebration Cake or not. You can share your creations with us on Facebook, Twitter and Instagram with the hashtag #MTCNOW.
'I think if people have a project,' Milburn-Clark says, 'and they have a really clear plan for it, that's great but they also maybe need to be prepared to throw that plan out the window, which is kind of how this cake came together. I drew it, I worked out what all the layers were going to be and then I had to be prepared for it to all change as I went, in case I needed to alter certain elements or I couldn't get certain ingredients. I think it's just this constant game we're playing in this version of the world that we're living in right now, where you still try to have an end goal and a project but you also have to accept that you might not be taking the planned route – and finding some pleasure in that.'
Published on 15 April 2020