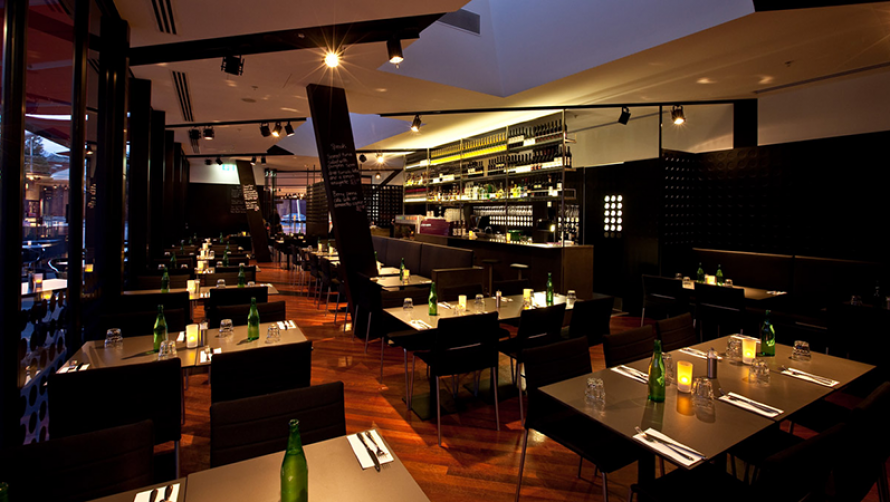 If you're attending a performance or other event at Southbank Theatre, you have a range of dining options within the Theatre and in the surrounding precinct. See below for more information.
Script Bar & Bistro encompasses a sophisticated bistro, a fully stocked bar with a superb wine list and an enclosed terrace that is sun-filled during the day and looks out on the sparkling lights of the city skyline at night. Script has a predominantly Italian-style menu and uses seasonal produce to create fresh and exciting dishes showcasing the best Victoria has to offer. An extensive wine list, including 21 different wines available by the glass, along with a large range of liqueurs, aperitifs and a nifty cocktail list also make Script a perfect place to visit for pre- and post-show drinks.
Script can also cater for private dinners and functions, either within the Bistro or using the Southbank Theatre Function Rooms, when available.
For full information about Script Bar & Bistro, including the current menus, visit the Script website.
Operating Hours
Monday to Friday – 7.30am to late
Saturday and Sunday – 2 hours pre-performance to late*
*Operating hours on weekends may vary pending performance times. Please contact us on 8688 0881 for confirmation
Contact
Script Bar & Bistro
140 Southbank Boulevard Southbank
03 8688 0881
bookings@scriptbar.com.au
Southbank Theatre is ideally located just five minutes from the Southgate complex on the Yarra River and is only a ten minute stroll from the Melbourne CBD. This gives you an enormous range of dining and bar opportunities to explore. For more information about dining at the Southgate complex, go to www.southgatemelbourne.com.au/dining/

Opening 90 minutes prior to performances, the Southbank Theatre Foyer Bars offer a selection of wines, beers, cider, soft drinks, confectionery, snacks and tea and coffee.
We stock wines from Domaine Chandon in the Yarra Valley, Heathcote Winery in Central Victoria and Redbank Winery in the King Valley region of Victoria's high country. Our beers come from Little Creatures, White Rabbit and James Boag's. If you're after a non-alcoholic beverage, we stock a range of mineral waters from the Daylesford and Hepburn Mineral Springs Co. and Spring Valley fruit juices. And our confectionery includes fruit cake, nuts, chocolates, muesli bars, jellies and chips.
Pre-order your interval refreshments
While our Bar staff will do their best to serve all patrons as quickly as possible, sometimes you spend too much of the interval queuing at the bar and not enough time enjoying your refreshments. There's an easy way to avoid the delay. Simply pre-order your drinks and snacks from either of the Foyer Bars before the show and your items will be waiting for collection in the Level 1 Foyer at interval. Please ask one of our friendly Bar staff before the show and they'll arrange it all for you.