Since its inception in 1953, when Melbourne Theatre Company began as the Union Theatre Repertory Company, MTC has benefited from philanthropic support.
As a not-for-profit organisation, and with government subsidy falling below 10% of the Company's annual income coupled with the volatile nature of the box office, private giving plays an increasingly important role in MTC's future.
The philanthropy team stand at the helm of MTC's private giving arm of fundraising, piloting donations across the Company to help create world-class theatre year after year. The team is Major Gifts Manager Patrick Rundle, Annual Giving Manager Chris Walters and Philanthropy Co-Ordinator Sytske Hillenius.
Chris hails from the UK, where he previously worked at the National Theatre. On his first day in Melbourne, jetlagged and uncertain about the calibre of drama in his newfound city, he attended MTC's 2014 production of Other Desert Cities.
At a matinee performance filled with 'transfixed' school groups, Chris fell in love with an actor he hadn't seen perform live before – Robyn Nevin. 'I've been in love with her ever since and followed all her work,' he says, 'The whole thing was breathtaking and I came away thinking, "I want to work at MTC one day."' It didn't take long for Chris to find his dream job in MTC's Development department.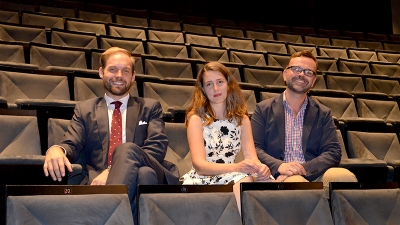 Patrick Rundle, Sytske Hillenius, and Chris Walters.

Sytske is also an expat, originally from the United States. Having worked at MTC in the subscriptions team, box office, reception, and as an executive assistant, she experienced many facets of the company before finding her niche in the philanthropy team. For Sytske, 'the best part of the job is coming up with ways to make the dreams of the creative team, and the donors, possible.'
Patrick is a Melbourne native, who remembers exactly where he was standing (at a park in Chippendale, Sydney) when MTC called to talk about a job. For Patrick, having a passion for fundraising is only possible if you care deeply about the company you're working for. 'Every day I walk past Southbank Theatre, in the morning and the afternoon, and I feel such a sense of pride. When you see the foyer full, or you see people running down St Kilda road to get to a show, it's really fulfilling.'
There are many ways to support MTC through private giving, to find out more or to get in touch with the philanthropy team visit http://www.mtc.com.au/support-mtc/philanthropy/