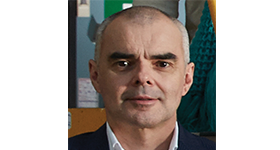 In this edition of "Have We Met?" we spoke to Mark Wheeler, MTC's Theatre Operations Director at Southbank Theatre.
Q: What is involved in your role as Theatre Operations Director?
I coordinate the operations of the Southbank Theatre building, covering Front of House and backstage. We have a great team of 11 permanent staff at the Theatre who are supported by dozens of casual staff working back stage, in the foyers and bars and at the Box Office. As well as looking after MTC productions, we also host hirers like Melbourne Festival and Sydney Dance Company in both the Sumner and the Lawler throughout the year. We are very fortunate to have flexible spaces that suit a range of performance styles so we attract interest from lots of presenters wanting to use the Theatre.
Q: How long have you been with MTC? Do you have a stand out moment from that time?
I have been in this role since January 2012. I did work for the company previously for a brief period in 1998, so have a long interest in MTC's work. In the four years at Southbank Theatre, there are lots of moments that are very satisfying. I do enjoy being here each day – we are very lucky to have a relatively new building with great facilities for the staff and our audiences.
Q: What do you like to do in your time away from work?
I enjoy classical music so try to attend live performances as often as possible. I have recently moved house so am heavily into renovating the new home. A bit of redecorating seems to satisfy my creative side and can be quite calming after busy weeks at work.
Q: Do you have a favourite play? Or is it too difficult to choose?
It's probably more a case of remembering the overall experience of a production, rather than a particular work. I do have really strong memories of the MTC's 2002 production of David Auburn's Proof, starring Rachel Griffiths. And my first visit to The Globe in London, with a production of 'the Scottish play', was a remarkable experience. I loved the joy of the setting on a Summer's night, the engagement with the audience and the sense of history that attending a performance in that space invokes.
Q: What's your favourite thing about working at MTC?
There's a really supportive culture about the company. This is undoubtedly driven by the leadership of a company – for the contribution of all staff to be valued in equal measure must bring rewards in the quality of the work we create and the sense of ownership that everyone has for our productions.
Q: Who's the most inspiring actor you've seen perform live?
It sometimes seems unfair to pick one person with this kind of question. I saw Steven Berkoff in Shakespeare's Villains in Melbourne in 2005. It was just him on a largely bare stage without any specific costume. But his ability to transport the audience was fantastic. I also remember seeing Derek Jacobi in an Old Vic production of Hamlet in Sydney in 1979. For someone interested in a career in theatre, that was inspiring.
Q: Which is your favourite artwork currently on display in the Qatar Airways MTC Lounge?
In the Lounge, Warrku by Sally Gabori is my favourite of the current exhibition. But, I really like the three photographic works, Pulse by Paul Snell, that are displayed in the Level 1 Foyer. These give all our audiences a taste of what they'll experience in the Lounge if they take advantage of the benefits of being an MTC Member.