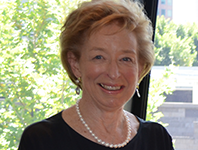 In this edition of "Have We Met?" we spoke to the winner of the Qatar Airways competition for MTC Members in 2016, Gillian Marsden.
Congratulations on winning the Qatar Airways competition for MTC Members!


Q: Is this the first big competition that you've won?
Yes I never normally win any competitions but I've won two in the last two weeks. This is by far the biggest! I told all of my friends at gym this morning, and they all said 'It's wonderful, we never know anyone who actually wins something!"
Q: Have you been to London before?
Yes, given that our son lives there, yes we have. But not for a while.
Q: And how did your son react when you told him?
Blearily because I woke him up! But he did ring back yesterday to ask about it, and he's very excited. We all are! And it's wonderful timing because we've just been through the terrible business of a mini-renovation and selling the house which took weeks. We're moving early February so the fact that we can fly until the end of May is terrific.
Q: When are you planning to go?
Probably in May, but we'll need to see how we go.
Q: Do you have a list of things you'd like to see while you're there?
Well apart from the theatre, I like to go to the various galleries. I think the last time I went to the Portrait Gallery I didn't get past the first room! So I'd definitely like to go to that. And our son lives near Greenwich, so going down the river to Greenwich is a very nice thing to do.
Q: A bit closer to home, what is your pick of the MTC Season 2016?
Well I've looked them all up and they all look very interesting. We're looking forward to Ladies in Black because it's from Simon of course, and it's nice to start with a bang!
Q: And any favourites from 2015?
Well The Last Man Standing was great. I thought that it must have been written by more than one person because it had so many different aspects to it. I thought it was highly successful and Peter Carroll who played the 'last man' was terrific, he did a really good job.