Throughout the rehearsal process for Brendan Cowell's provocative new play The Sublime, artists from Arts Project Australia observed the cast and creatives in action as inspiration for their work. The resulting pieces will now be displayed in the Fairfax Studio foyer at Arts Centre Melbourne during The Sublime's season, from 22 August to 4 October.
'This has been a very exciting collaboration with one of Melbourne's outstanding visual arts organisations', said MTC Executive Director Virginia Lovett.' It coincides with Arts Project's 40th anniversary celebrations, and with the generosity of Arts Centre Melbourne, many visitors will be able to see the great work Arts Project does.'
The Sublime director Sam Strong, said, 'bringing together the visual and performing arts to capture the magic of a rehearsal room has been a wonderful experience. It was a delight to share our creative process with the talented artists from Arts Project Australia and to watch how their art takes shape. I can't wait to see the finished pieces at the theatre.'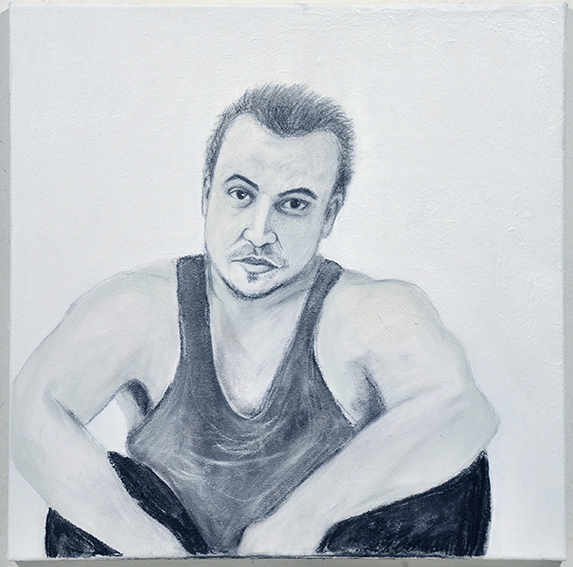 Ben O'Toole (2014) by Eden Menta
Anne Stonehouse AM, member and volunteer of Arts Project Australia, recounted the group's experiences:
'Recent collaboration between Arts Project and the Melbourne Theatre Company afforded four artists such an opportunity. Paul Hodges, Bobby Kyriakopoulos, Eden Menta, Lisa Reid and staff artist at Arts Project Elyss McCleary travelled to the rehearsal spaces for MTC in Southbank one day a week over four weeks. For 2 ½ hours each time they observed rehearsals for a production, did live drawing and worked on capturing action as it occurred in a novel context. One of the main purposes of the project was to give the artists the opportunity and incentive to work quickly and produce work on the spot.
The art that resulted is impressive in both quantity and quality. A selection of work – sketches, drawings, mixed media and work on canvases — will be displayed in an exhibition titled 'Movement and Action: Observations from the MTC Rehearsal Space' in the foyer of the Fairfax Studio at Arts Centre Melbourne during the play's run. The exhibition will highlight the different styles of the four artists and the ways they approached the experience.
The play, The Sublime, by Brendan Cowell, will run from August 22-October 4. It is described by the MTC as 'a brilliantly perceptive take on everything true Australians hold dear: mateship, family, footy and sex scandals'. The play, which definitely contains 'adult themes', 'coarse language' and 'some violence' (to use the terms used on TV!), offered opportunities to learn about the processes of rehearsals and play productions and a new context for drawing. As well, the content of the play evoked much discussion and some strong views from the artists.
Elyss, who oversaw the project and co-curated the exhibition in collaboration with the Arts Project gallery team, said that the experience was enjoyable and a great learning experience for all four of the artists for a number of reasons. The artists found drawing live to be an invigorating process as they attempted to capture the actors' character and movement. They tackled the project in different ways, often bringing partially finished work back to the studio to complete. She indicated that during the four weeks the artists' different styles and approaches to the task became evident, and that for all of them being able to go back to the same place and people over the four weeks was invaluable.'
Published on 1 September 2014