When reading Golden Shield for the first time, it was the story of two sisters stumbling their way through a challenging shared grief that hooked designers The Sisters Hayes. Despite the production's synopsis revealing its razor-sharp plot points, which hinge on transnational political and legal proceedings, it was the slow moving moments of connection and dislocation between sister characters Evie and Julie Chen that compelled real-life sisters Esther and Rebecca Hayes to sign up as Set and Costume Designers.
As a family, Rebecca and Esther, along with their older sister Christina, grew up in a household that cherished and championed the arts. Both parents worked in health related academia, but took their daughters to wide-ranging performance events as often as possible. Their childhood combined the fantasies of fairy tales and folklore from the likes of Brothers Grimm, with the serious suspense of films from Alfred Hitchcock thrown in for good measure.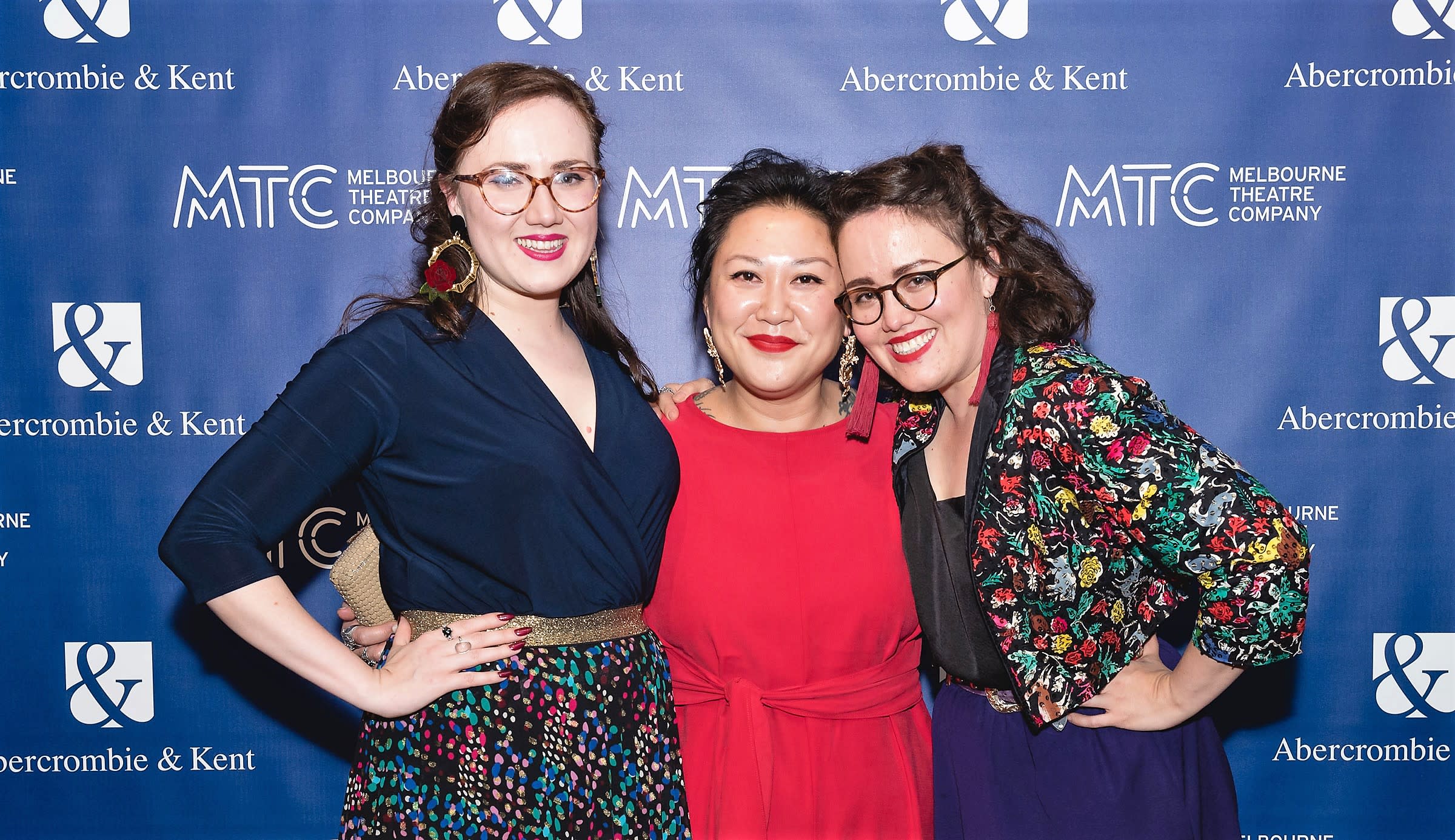 Rebecca Hayes, Kat Chan and Esther Marie Hayes at the Opening Night of Golden Shield.
As siblings, their interests varied. While Esther focussed on costume making, Christina channelled her energy into visual art, and Rebecca made her mark in video, illustration, animation and projection. However, their general aesthetic maintained a uniformity. In 2010, they decided to combine their talents and form a design company. They soon received a Next Wave kick-start grant, which launched their careers in Melbourne's independent and professional theatre sector.
Working together can be stressful at times, they both acknowledge, but it's more helpful than not. 'We talk through the stresses and anxieties after a challenging day,' Esther explains, 'which can make a big difference to how our ideas evolve.' Their process usually begins by throwing all their inspiration and ideas against a wall. Or when they're on the move, that becomes a Pinterest board. 'We research separately and then come together and present all our bad ideas early on,' Rebecca says laughing, 'it's good to get them out of the way at the very beginning.'
The sisters have spent the last two years collaborating on projects with Associate Designer Kat Chan. Together, with Director Sarah Goodes, the entire creative team sat down for several brainstorms in the months leading up to rehearsals commencing. 'We had a lot of imagery of brutalist architecture and stern, imposing and intense public spaces,' Rebecca says. 'We realised a lot of public monuments and shrines are really similar around the world,' Esther adds, which helped inform their initial designs. A 'poetic image' of an oculus (a round or eye-like opening or design) was passed between the sisters over the rehearsal period as a constant reminder of their desired outcome.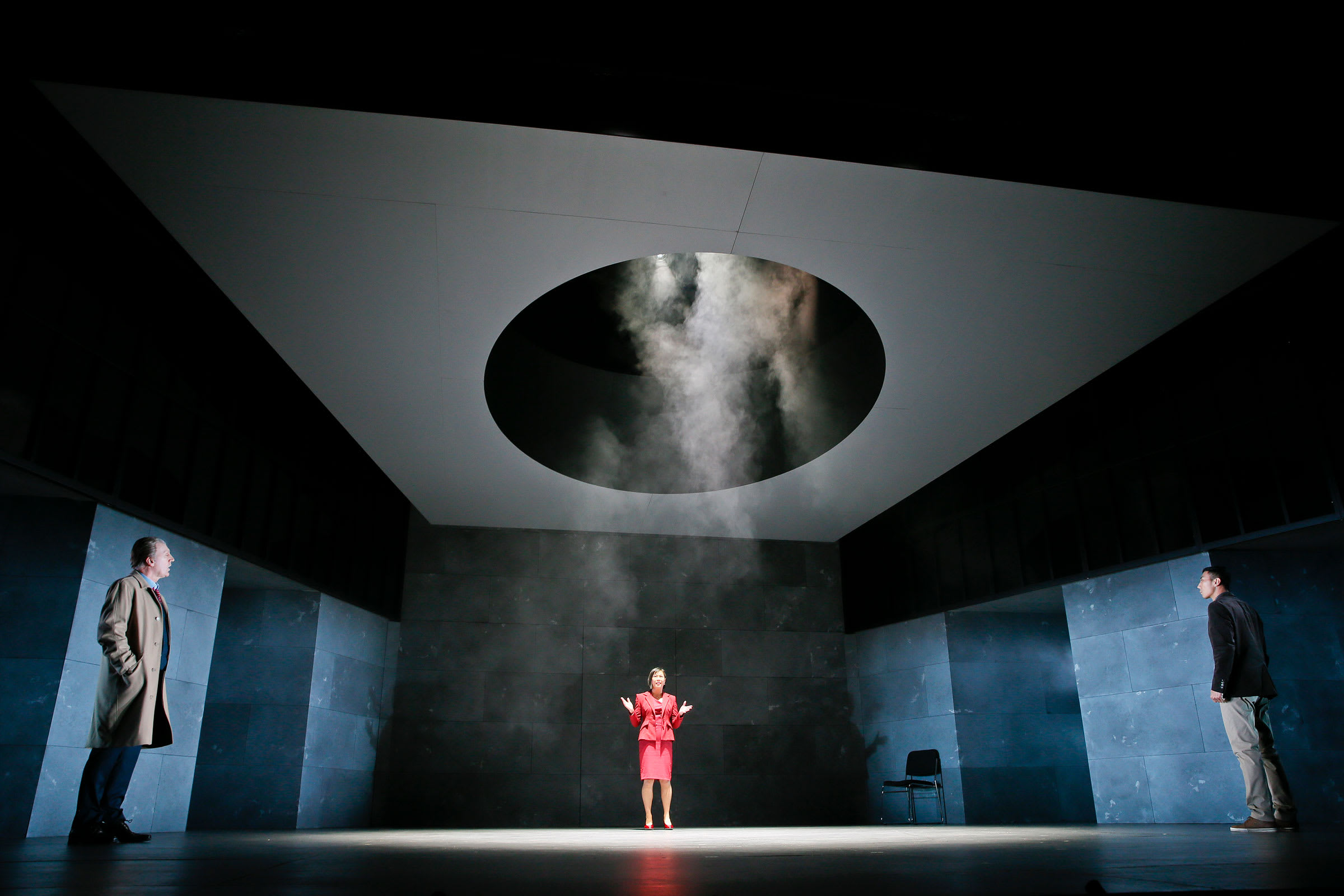 Nicholas Bell, Fiona Choi and Yuchen Wang on stage in Golden Shield.
Rebecca's experience with and passion for audio-visual design introduced the idea of video cameras projecting a live feed on stage. To make this film design effective, the sisters designed large textured set walls, with different reflective surfaces to influence how the image was projected. They played a lot with scale and kept the set strictly monotone using a variety of grey shades.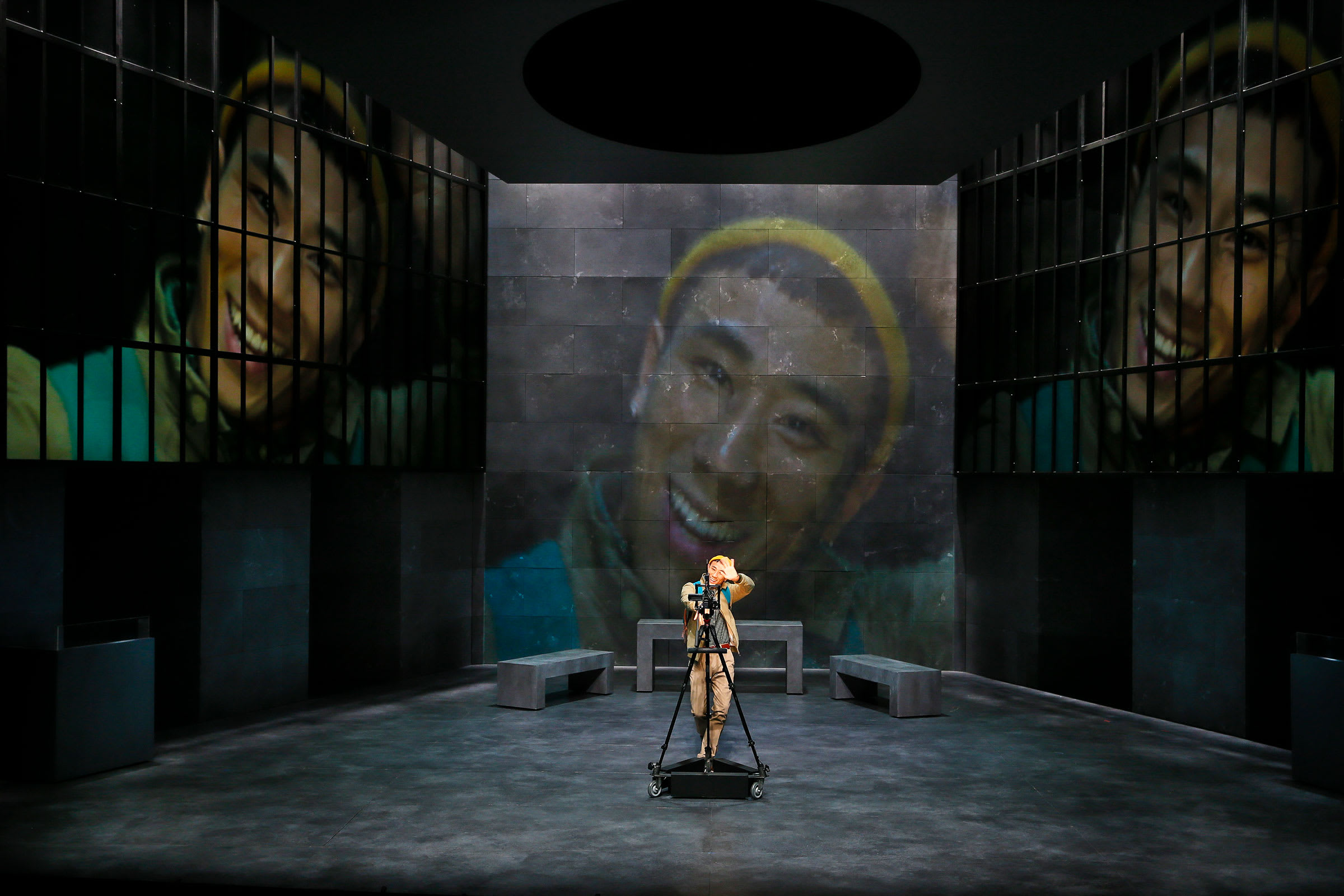 Yuchen Wang performing with a live feed camera in Golden Shield.
In terms of costuming, the designers had to find garments that could exist between 2006 to 2015. 'The costumes had to be flexible, but still distinct and provide a sense of intimacy, or formality depending on the environment the characters were in,' Esther says. 'Because the set is so grey, costumes were the only place for colour to pop. We used a lot of jewel tones, like raspberry, to connect certain costumes to their characters.'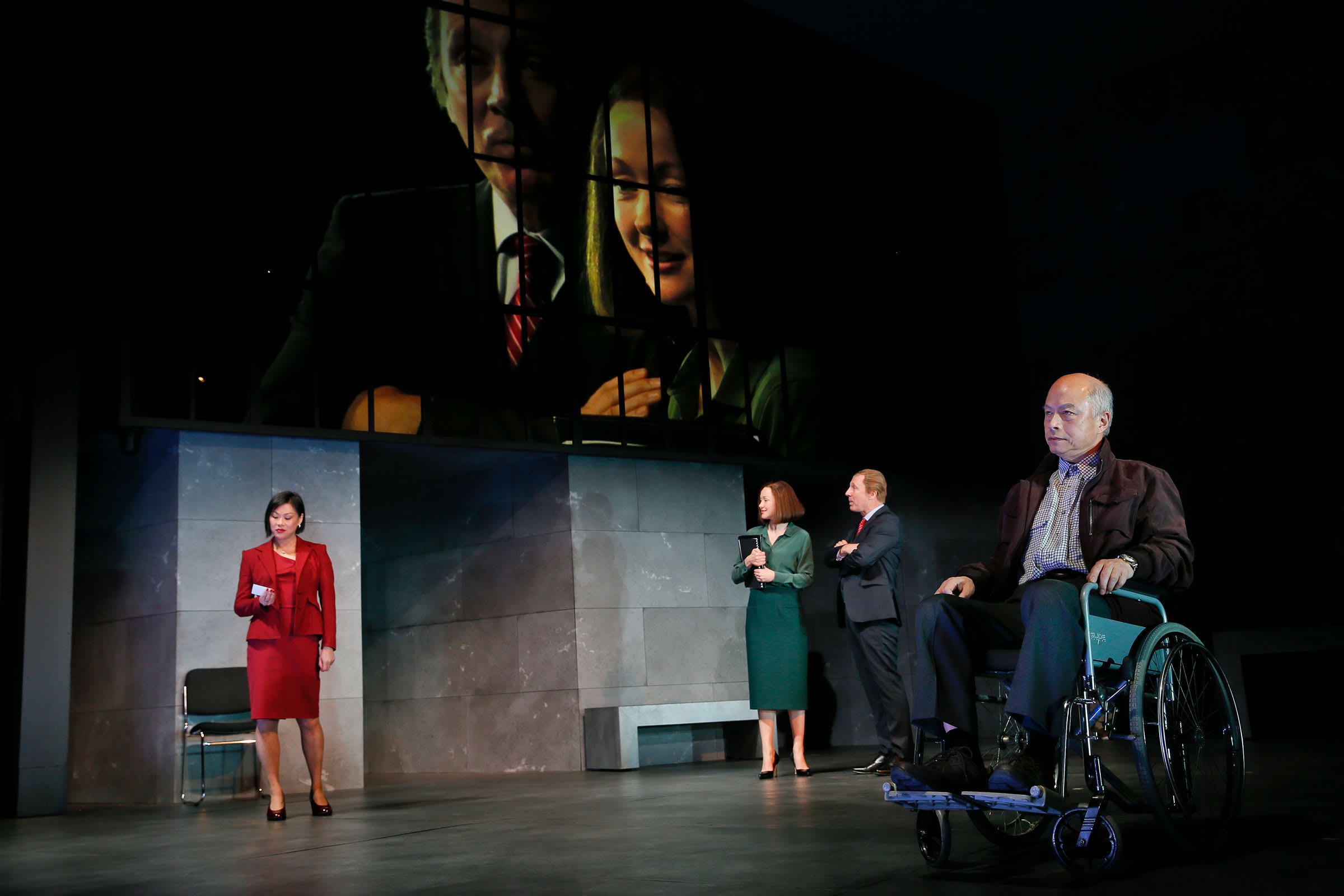 Fiona Choi, Sophie Ross, Nicholas Bell and Yi Jin on stage in Golden Shield.
As a story, Golden Shield required design elements that were extremely fluid, the sisters explain. The set needed to facilitate locations across three counties, over a non-linear nine-year timeframe. It was hard for Esther and Rebecca, whose philosophy is typically 'more is more', to strip back their concepts and focus on the fundamentals to enhance this storytelling. 'It was so helpful having the playwright [Anchuli Felicia King] in the rehearsal room to help with this process,' Esther says. 'She added dialogue into the script just to help us with a difficult costume change…you don't often get that.'
As a creative partnership, the Sisters Hayes have taken on a breadth of work over the years, but there's something exhilarating about working on a brand new work, they say. 'When it's never been done before, your input as a designer really matters, and helps decide what the play becomes,' Rebecca says. 'Golden Shield is a complex production, especially because of its non-linear structure. However, as a world-premiere production, there's an openness that has been incredibly rewarding. We've loved it.'
See Golden Shield at Southbank Theatre, the Sumner until 14 September.
Published on 30 August 2019