2013 has been quite the year for all of us here at MTC! With a new artistic team, a bumper schedule of productions, our 60th birthday and more, we've been on the go since 1 January! Preparations, rehearsals, and pre-production are already well on their way for our 2014 Season, but before we kick off the new year and the new season, we thought we'd take a moment to reflect on our 2013 Mainstage Season. You can read on through each of the plays below. We'd love to know which plays you enjoyed the most this year – you can leave a comment at the bottom of the page. We wish you all the best for a wonderful year in 2014 – and look forward to seeing you at the theatre again very soon!
The Other Place by Sharr White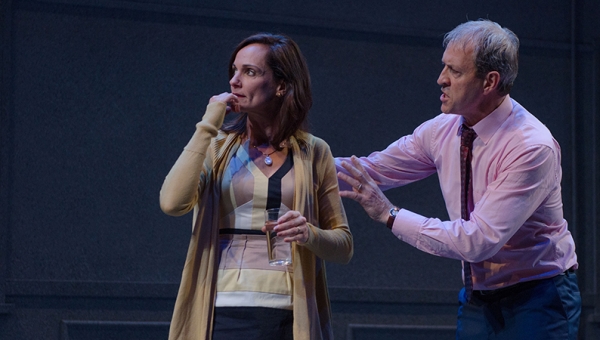 Described as New York's most moving play of the year, Sharr White's haunting story kept audiences guessing at every turn. Catherine McClements' performance as Dr Juliana Smithton was described as 'exceptional' and 'remarkable' by critics, and audiences agreed.
Fun Facts
The Chinese food consumed in the play was purchased and prepared by our Assistant Stage Manager. It consisted of noodles; tofu; vegetables and a light sauce. Prior to each performance the vegetables and tofu were cut up and the noodles freshly cooked. Then it was all assembled into noodle boxes and labels printed out and applied.
Revisit the play
Read a feature about Sound Designer Russell Goldsmith, 'Adventures in Sound Design'
Visit the archive page for images and more
Constellations by Nick Payne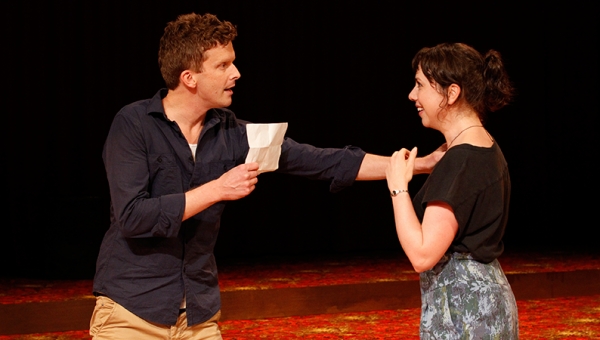 This astonishing two-hander featuring the super talented and oh-so-charming Alison Bell and Leon Ford won Melbourne's heart – as The Australian put it, the play was "a gift for audiences".
Fun Facts
The stunning chandelier featured in the play weighs 75 kgs and takes 54 light globes. And it wasn't just part of the set design – composer THE SWEATS recorded the chandelier and used it for the play's soundscape.
Revisit the play
Listen to the original score for Constellations, composed by THE SWEATS
Visit the archive page for images and more
Other Desert Cities by Jon Robin Baitz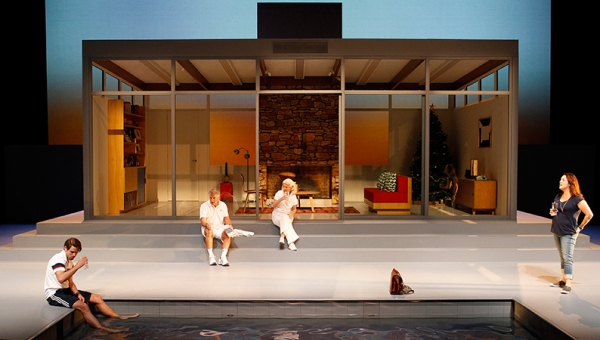 A razor-sharp family mystery that delivered a killer dose of both humour and pathos, Other Desert Cities featured the talents of some of Australia's finest actors and the stage design of internationally acclaimed visual artist Callum Morton.
Fun Facts
Despite some clever design techniques to make it appear otherwise, the pool seen on stage was only 39cm deep.
Revisit the play
Watch a video about Callum Morton's stunning design for the play
Visit the archive page for images and more
True Minds by Joanna Murray-Smith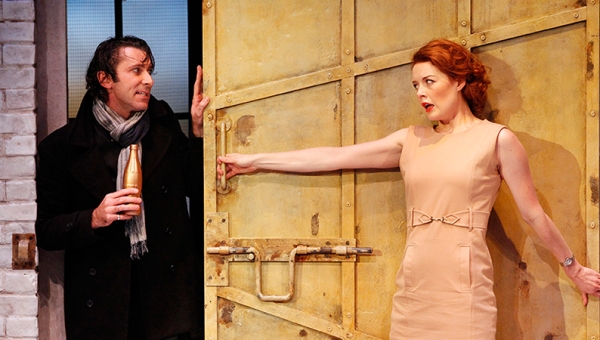 A hilarious battle of the sexes, this new play from the pen of one Australia's most popular playwrights was commissioned by MTC, and had us all giggling from the moment we saw the script.
Fun Facts
Remember the 'wrapped logs'? There were 11 of them on stage and two spares backstage – but only one was ever handled by the cast.
Revisit the play
See close-up pictures of the gorgeous giraffes our props team created for the set
Read a short interview with actor Nikki Shiels
Visit the archive page for images and more
One Man, Two Guvnors by Richard Bean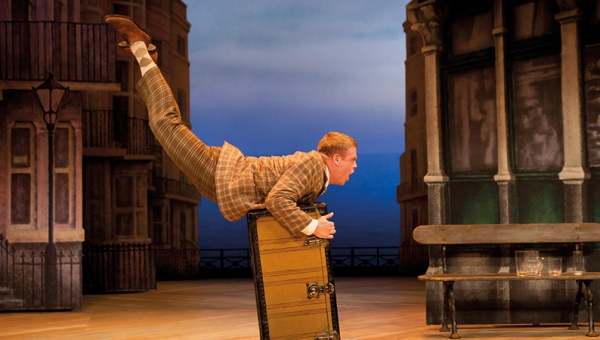 When the 'funniest show on the planet' finally rolled in to Melbourne, the tickets disappeared faster than you can say hummus sandwich. A brilliant double dose of British humour and old-school slapstick, National Theatre's original production had you all charmed – or was that just Owain Arthur's Welsh accent?
Fun Facts
Performance number 14 in Melbourne (Friday 31st May 2013) was International Tour Performance #100. What an incredible effort from this brilliant cast and crew!
Revisit the play
Read the diaries from the original UK rehearsals
Visit the archive page for images and more
Solomon and Marion by Lara Foot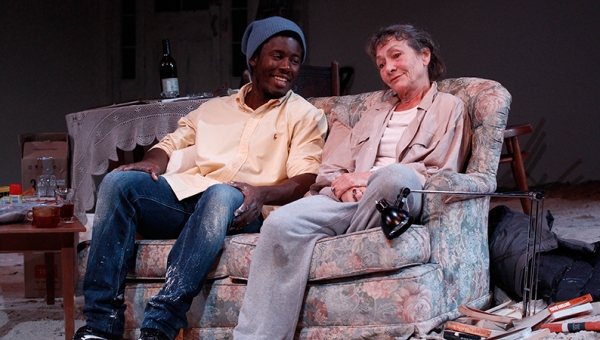 The quiet hit of our season, this moving play about two lost souls in post-apartheid South Africa stirred the hearts of audiences and critics alike. Crikey described it as 'brilliant, hilarious and moving. [Gillian] Jones is so completely convincing and heartbreaking as Marion. [Pacharo] Mzembe is remarkable and revelatory'.
Fun Facts
Richard Robert's raked set featured eight cubic metres of white-washed sand, delivered to the Fairfax Studio in 16 large bags. It took a big team of people to shovel it all out!
And let's not forget the chicken feet – actor Pacharo Mzembe ate around 250 of them on stage during the six week season.
Revisit the play
Learn about Pacharo Mzembe's preparation for the role of Solomon
Visit the archive page for images and more
The Crucible by Arthur Miller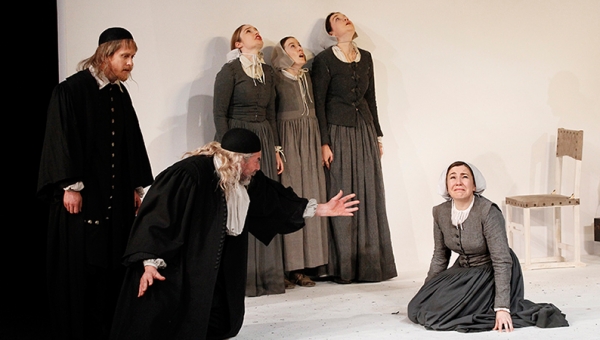 Sam Strong's production of this towering classic was so popular we had to open our Standing Room section to allow as many people as possible to see the show. We loved hearing the audience's responses, with many of you telling us how much you enjoyed seeing Miller's timeless play come to life on stage with David Wenham and Anita Hegh taking on the roles of the Proctors, supported by a 'talented ensemble' (The Age) of new and established Australian actors.
Fun Facts
Dale Ferguson's enormous the set was a massive 7.5 metres tall. Surprisingly this is not our tallest set to date – that honour goes to The Glass Soldier (2007), also designed by Dale Ferguson, which came in at 9 metres in height.
Revisit the play
Go inside our wardrobe department and learn about how the costumes were created
Watch our Conversations with the Cast video series
Visit the archive page for images and more
The Cherry Orchard by Simon Stone, after Anton Chekhov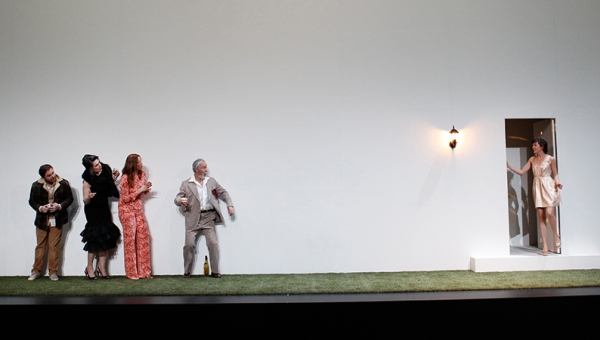 Not long after he participated in a fascinating discussion about the art of adaptation during our inaugural NEON Festival of Independent Theatre, Simon Stone's brought his adaptation of The Cherry Orchard to the Sumner stage. The Guardian described it as 'pitch perfect… stunning', while The Australian hailed it as 'Genius. Very much a play for today.'
Fun Facts
Alice Babidge's set design featured 120 square metres of Astroturf, all rolled out of a very large aluminium tube. The play also featured a fully operating mechanical train set – featured in this short video taken by our Assistant Stage Manager.
Revisit the play
Read an interview with Simon Stone about his adaptation process
See actor David Paterson's beautiful candid photos of the cast in rehearsals
Visit the archive page for images and more
Rupert by David Williamson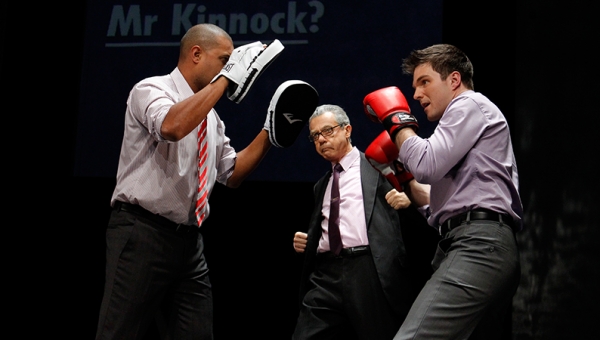 This unconventional, revue-style exposition of the life and times of the most powerful media magnate in modern history featured tap dancing, flamenco, and some lightning fast character changes. We're thrilled that the production will be touring to the USA in March 2014, to take part in the World Stages International Theater Festival at the Kennedy Center in Washington DC.
Fun Facts
A huge tip of the hat to our talented 'ensemble' cast, who supported our two Ruperts (Guy Edmonds and Sean O'Shea) by playing more than 60 additional characters between the six of them! A special nod goes to Simon Gleeson, who leapt effortlessly from Bob Hawke to Paul Keating in the space of two lines (psst, you can catch Simon on stage again soon when he appears as Jean Valjean in Les Miserables in 2014!).
Revisit the play
Read an interview with choreographer Andrew Hallsworth about his work on the play
Visit the archive page for images and more
The Beast by Eddie Perfect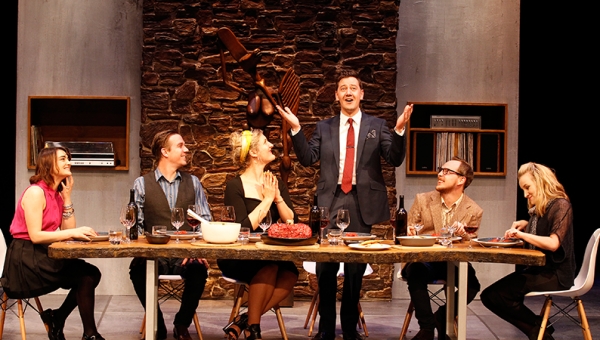 We thought the Herald Sun summed up this devilish new work pretty well: 'The Beast has balls … hernia-inducingly funny'. Eddie Perfect's vicious, politically incorrect, and hilarious rant on urban culture, organic lifestyles and infidelity provoked and polarised in the best way possible – and it had us all laughing at ourselves in the process.
Fun Facts
When director Iain Sinclair told us he wanted to slaughter a few sacred theatre cows in the process of creating this play, he meant it – who could forget the big brown eyes of our very own 'war cow'? For those who were a shocked at the carnage at the end of Act One, we have a happy ending for you – war cow actually survived, and made a special appearance as part of the nativity scene at the MTC Christmas party.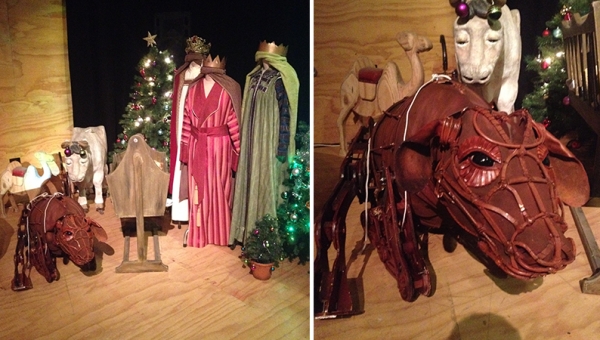 Revisit the play
Learn about the inspiration for the play in this interview with Eddie Perfect
See how the 'bucking boat' was made on our blog
Visit the archive page for images and more
The Mountaintop by Katori Hall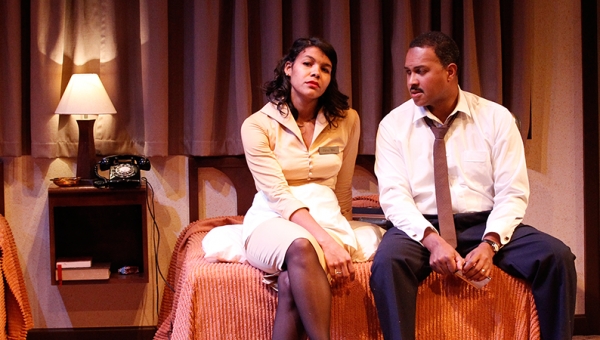 This mesmerising play about one long night in American history – which ended in a flash forward to America's 'future' – was a powerful way to end our mainstage season. The stunning performances by Bert LaBonté and Zahra Newman left you (and us) in awe, as did a few very special moments of technical wizardry…
Fun Facts
Katori Hall's script requests some on stage illusions which provided interesting challenges for our production team – but as always, they rose to the challenge with aplomb! We don't want to give any secrets away, as our friends at Queensland Theatre Company will be presenting this magical play in 2014… but can you remember the illusions?
Revisit the play
Read about the coat which traveled halfway around the world to be part of this production
Learn more about some key phrases from Martin Luther King's final speech on our blog
Visit the archive page for images and more
The Book of Everything by Guus Kuijer, adapted by Richard Tulloch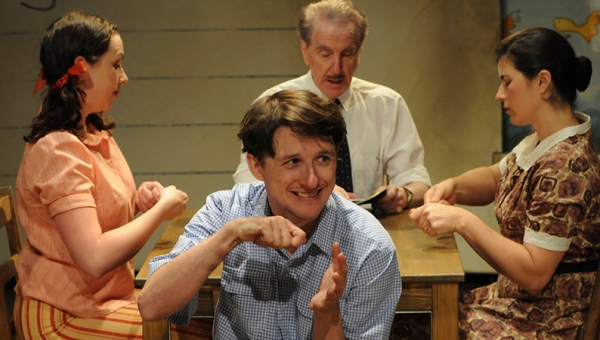 We couldn't resist adding one final play to our 2013 calendar – the heart-warming Belvoir and Kim Carpenter's Theatre of Image co-production The Book of Everything. Adults and kids alike revelled in the chance to unleash their inner child, and be carried away by this delightful production, which featured a very memorable 'plague' of frogs.
Fun Facts
We don't often have as many kids in the theatre as we did during this production – but what a joy it was. Some of our favourite reports from our front of house team included "A difficult crowd to seat after interval – they seemed to be having way too much fun" and "We had cartwheels in the foyer, balls being bounced down the staircase and a lot more sugar consumed than doctors recommend."
Revisit the play
Read a note from Neil Armfield about the experience of directing the play
Listen to an audio interview with actor and writer Matthew Whittet about children's theatre
Visit the archive page for images and more
And there's plenty more where that came from…
We hope you enjoyed our 2013 Season as much as we enjoyed creating it! We hope to see you again in 2014, because we've got plenty more great theatre in store – just take a look!
Images: all images by Jeff Busby, except The Other Place by David Parker
Published on 31 December 2014