Actor Sarah Fitzgerald chats to us during rehearsals for SLAP. BANG. KISS. about transforming character and exploring rhythm in the play.
What is SLAP. BANG. KISS. about, in your own words?
How nothing short of what others might call 'idealism' is what creates hope, and all the little wins on the way are what keep that hope alive. Hope for what we are worthy of, to live the truth that we are all indispensable. And that hope is what creates movements, creates change.
Tell us about your central character in a nutshell. What drives them?
Sofia is a highly intelligent, quiet young person. What drives her to take centrestage in this movement is her realisation that what happened to her and her friends is something everyone had been anticipating. It's a story she's heard before and will continue to hear unless there's a disruption to the narrative. She's infuriated by the idea that teenagers are seen as unavoidable casualties in her society.
How do you embody your central character?
For the first three scenes, Sofia is very internal in that she observes everything and absorbs it. So for those scenes my movement is indirect and a bit more casual, playing against the seriousness of her circumstances. As she becomes more active in her world, my movement becomes more direct – but the gesture is still a little closed off. We're seeing her move from quiet person to the icon of a movement.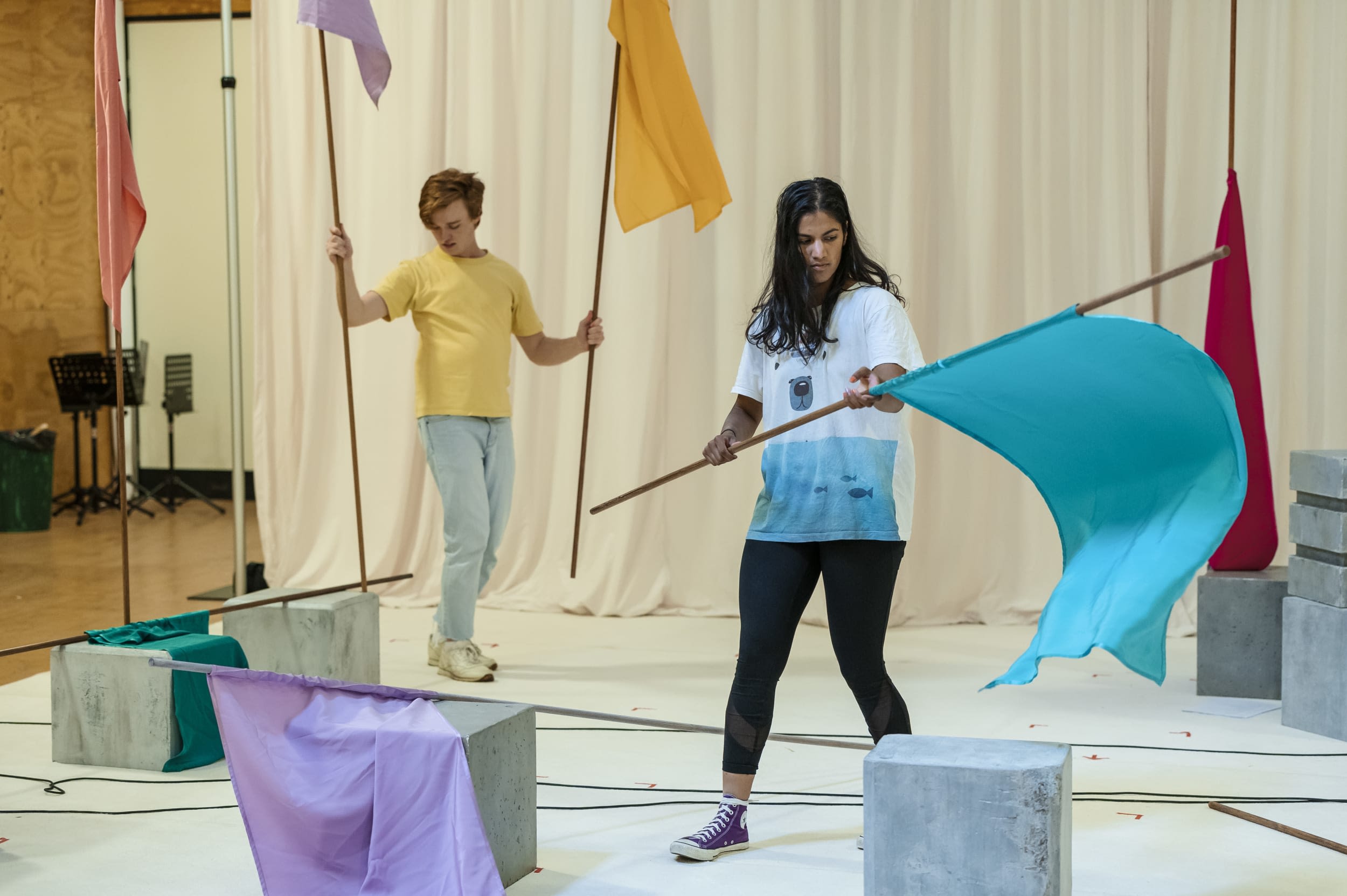 Conor Leach and Sarah Fitzgerald. Photo: Tiffany Garvie
How do you transform into other characters, or to other places? Could you give one example?
To transform into other characters I consider how they see the world or the things they are talking about. For example, Agatha sees Immi as a source of pride and endearment, so when I talk about her I endow my body with those feelings, whereas Delilah views the world as full of potential and she's on a mission to fulfil that so she's very direct, her pace is fast. To transform places, I try to think about whether it is a small space or a big space and whether or not there are other people. For example, in the closet for Carl and Sofia, the space is small so we try to be small with our bodies; whereas in the parking lot, Daniel can see lots of people and noise, so there are opportunities to see things around the space that are far away and be as physical as I want.
How do design elements like costumes, props and the set impact your performance? What helps and how?
The blocks are great for making those quick turns the character has to make emotionally – from the internal to the external world. Turning the corner of the block or stepping onto the block helps me 'step' into that moment and gives the audience a changed picture. It makes the shift feel more natural instead of it feeling like the audience is watching an actor working.
How have you been exploring rhythm in rehearsal?
This has been a major part of changing characters. To explore rhythm I try to honour the punctuation of the text - it might seem obvious, but so many of the answers of how to play characters are in the text! The punctuation also indicates when moments are building and if there is an abrupt stop, it tells me the scene and the rhythm and emotions of it are about to shift.
SLAP. BANG. KISS. is on stage at Southbank Theatre, the Lawler 19–30 April before embarking on a regional tour. Learn more.
Published on 8 April 2022