After stellar reviews playing one of New York's most overworked and stressed fact-checkers, Peter Paltos joins MTC's Sarah Corridon for a superfood salad at Downstairs Bistro & Lounge to talk about working on Gloria, his acting career and theatrical dream teams.
There's a passage in the first act of Gloria that warrants regular mid-scene applause for actor Peter Paltos. It's not something that happens very often in the theatre, but when it does, it's overwhelming, he tells me.
Paltos joins me at Downstairs Bistro & Lounge, a familiar rendezvous across the road from MTC HQ, before a Thursday show during the season. He orders a superfood salad, 'to get in some greens', and holds off on ordering a coffee despite the schedule of eight shows a week he's performing down the road at Southbank Theatre.
Paltos burst onto MTC's mainstage last year playing Ichabod, an awkward astrophysicist, in Lally Katz's comedy, Minnie & Liraz. However, he has tread many boards in Melbourne's independent theatres over the years, including a role in Sisters Grimm's The Sovereign Wife in MTC's inaugural NEON Festival in 2013.
It was during an MTC performance of Death of a Salesman in 2000 that Paltos decided he wanted to become a professional actor: 'Watching Frank Gallagher and Sue Jones on stage completely changed my life. Something about their performance was just so visceral and alive … they really articulated to me what I thought an artist-slash-actor was … it blew my mind.'
Attending with a school group, Paltos was only fifteen when he was transported by this theatre experience. The idea that he would be performing alongside Sue Jones in Minnie & Liraz 17 years later was unthinkable to his younger self. 'Amongst my many moments of gushing admiration to Sue [Jones], she told me to "go away!"' he says laughing.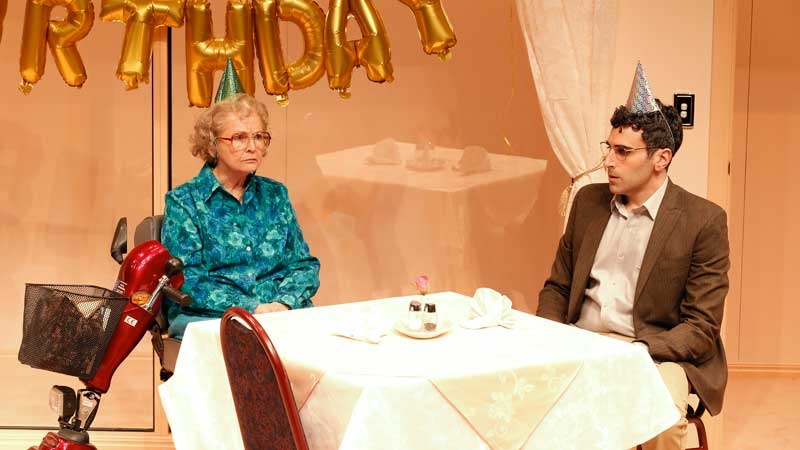 Sue Jones and Pete Paltos in Minnie & Liraz (2017)
When MTC approached Paltos to audition for Lee Lewis's production of Gloria, he was genuinely shocked. Having read for the revered director a year earlier at Griffin Theatre Company, he felt sure he'd never hear from her again. However, Lewis must have seen something different, along with almost all of Melbourne's theatre critics, when Paltos embodied the character of Lorin.
'I plugged into the character immediately, I felt really into him straight away,' Paltos says. 'The first thing that struck me with Gloria was how intelligent Branden Jacobs-Jenkins is, and how masterful his writing is.'
Working alongside Australian acting legends like Lisa McCune was also an opportunity Paltos jumped at. 'There's something about the tone or pace with Lisa's performance that is really great to watch. [Throughout rehearsals for Gloria] she was just so quietly assured in her practice, and that only comes with experience. That was cool to watch.'
Lorin, and the broader context of the world that Gloria exists in, delivered many opportunities for emotional exploration, and after several years of clowning, Paltos was seeking a role to express his emotional depth. 'I guess my entry point is always empathy. I continue to go back to the writing and empathise with the conundrum that he is in. Lorin's got such an amazing arc of being in a place of complete torment, and then evolving to a place of presence.'
This character exists, in many ways, as the moral through-line of the play. He is the only character that doesn't double, and also has the clearest evolution. 'I think Lorin is the author's call-to-arms, he's the vessel for that change Branden Jacobs-Jenkins is asking us to consider, which is to remain present and to reach out and foster community, as a prevention for the kind of violence we see at the end of the first act.'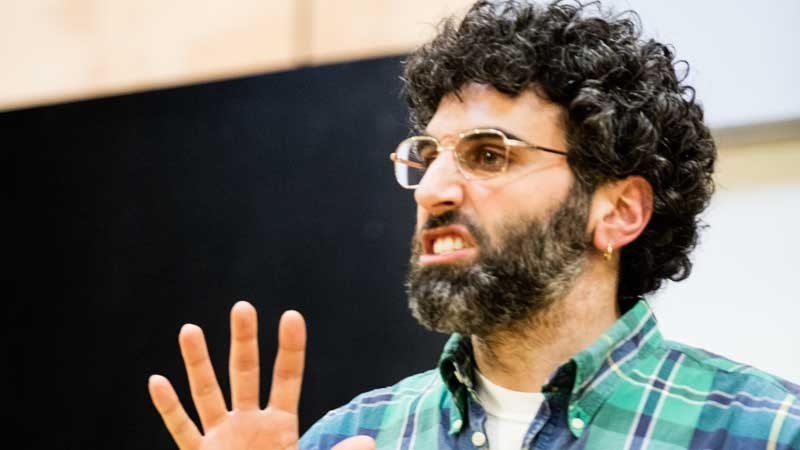 Pete Paltos in rehearsal for Gloria
As we finish our salads, we start to chat about future projects and dream collaborations, of which Paltos's list is always growing. 'At present, it would be Matt Lutton and Adena Jacobs co-directing, Declan Greene and Jill Soloway co-writing, Emma Valente as dramaturg and lighting designer, Kate Davis on costume and set, videographer & animator Matt Greenwood, Stefan Gregory on sound design, co-starring Melita Jurisic and Paul Capsis. That would be my dream team … That just rolled off. They're the people that I have art crushes on … I would give an organ to work with Paul and Melita together.'
Now that MTC's season of Gloria draws to a close, Paltos says he just wants to keep on working across every medium as an actor. His advice for up and comers? 'I would say…train, read, be good, fundamentally good to the people around you, foster relationships with artists that you respect.'
After all, Paltos tells me, the only thing that keeps you in this unpredictable industry, is a serious love for the game.
You can see Peter Paltos in Gloria at Southbank Theatre until 21 July.
Published on 14 July 2018