With Sam Strong's glittering production of Private Lives opening at Southbank Theatre last week, our 2014 Mainstage season is officially off and running. But, following on from a huge 2013, there will be a bountiful range of productions, programs and events beyond our mainstage. As team here at MTC HQ draw breath and dive into 2014 we'd like to take a moment to highlight some initiatives we're particularly proud of;
CYBEC ELECTRIC
Kicking off next week, our electrifying series of play readings from some of Australia's hottest writers takes over The Lawler for the entire month of February. Exploring such diverse topics as Indigenous Australia, the Sri Lankan diaspora, the origins of tea, the invention of IVF, and internet dating, these five new tales are sure to get you excited about the imaginative new work coming out of this country. Tickets start from just $5 per reading with 5-play passes available – so there's no excuse not to get a great dose of new writing!
NEON FESTIVAL OF INDEPENDENT THEATRE
The Monthly named it the Best Theatre of 2013, ABC Arts called it 'the most important initiative in Melbourne theatre this year' and The Age credited it with sparking Melbourne's cultural 'revitalisation' – so if you missed NEON last year, you certainly won't want to miss it again in 2014! Featuring another stellar line up of independent companies – who get complete creative freedom to develop whatever work they choose – plus an expanded program of free events for theatre makers and audiences, NEON will delight and provoke you with its vibrancy, immediacy and raucous raw talent. The details of the five productions will be announced in early March, so keep an eye on your inbox, Facebook and Twitter.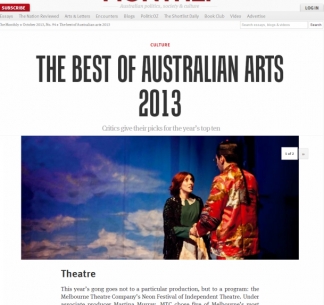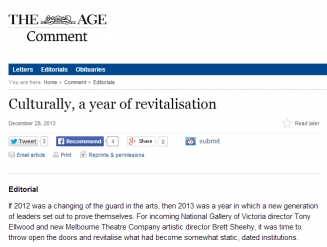 YOUNG AUDIENCES
We've just wrapped up two brilliant family productions – The Book of Everything and Big Bad Wolf – and the joy of having so many happy kids and families in the foyer had us all buzzing.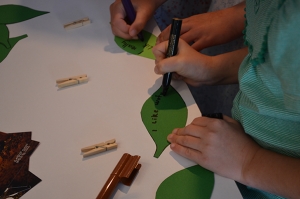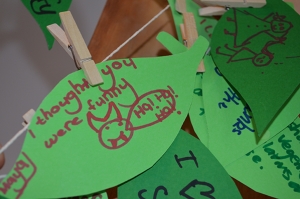 We're looking forward to sharing more productions for younger theatre lovers later in the year, with Yellow Moon (15+) in May and Arena Theatre Company's Marlin (8+) in September.
In addition, our MTC Ambassadors program, Youth Scholarship course, and solo and monologue workshops for students of VCE Drama and Theatre Studies aim to enhance students' understanding and appreciation of theatre – helping to develop the next generation of Australian artists.
NEW OPEN DOOR INITIATIVES
This year also marks the beginning of a range of new initiatives designed to help develop opportunities for artists of all backgrounds, at all stages of their careers. Our Lightning Talks series provides an opportunity for artists to introduce themselves and their work to MTC. Applications for the first round of talks close on Monday 3 February, with registrations for the second round opening in May.
The 12 directors in our inaugural Women Directors' Program were recently announced. We're thrilled to be working with this talented group of women, welcoming them into life at MTC and sharing Opening Nights, Design Presentations, and a series of special Salon workshops with key MTC staff.
We'll also be building connections with Melbourne's diverse theatre and community landscape, beyond our usual artists and audiences, with MTC CONNECT – a new program partnered by Multicultural Arts Victoria, in which 11 theatre artists from diverse cultural backgrounds join the MTC family as ambassadors, advocates and facilitators between MTC and their communities. We're so excited about the possibilities, and the opportunities that can be created from this landmark new program.
Whether you're a subscriber, a regular attendee, or a visitor, we'd like to thank you for your support in 2013, and we look forward to welcoming you along for the ride again in 2014. We hope you'll love every minute – and maybe even try something new. Who knows what delights you'll discover? See you at the theatre!
Published on 3 February 2014