We're thrilled to reveal the cast for the World Premiere production of North by Northwest, led by multi-award winning Director Simon Phillips.
Taking the lead role of man-on-the-run Roger O. Thornhill, we welcome Matt Day back to

MTC

following his performance in 2009's Scarlett O'Hara At the Crimson Parrot.
Playing the sassy Eve Kendall and making her

MTC

debut is Amber McMahon, who recently appeared in Windmill Theatre's School Dance and Belvoir's Angels in America.
Bringing the laughs as Roger's meddling mother is

MTC

veteran Deidre Rubenstein (His Girl Friday), while scheming henchman Vandamm will be played by Matt Hetherington (Next to Normal).
And taking on a host of other roles in this production are the wonderful Nicholas Bell (The Speechmaker), Ian Bliss (Hamlet), Justin Stewart Cotta (Glengarry Glen Ross) Sheridan Harbridge (The Speechmaker), John Leary (Private Lives), Tony Llewellyn-Jones (Realism), Lucas Stibbard (Boy Girl Wall) and Lachlan Woods (Hamlet).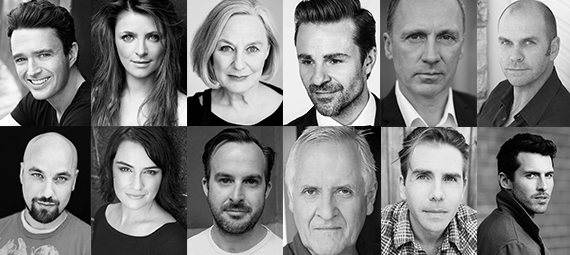 L-R, top: Matt Day, Amber McMahon, Deidre Rubenstein, Matt Hetherington, Nicholas Bell, Ian Bliss.
L-R, bottom: Justin Stewart Cotta, Sheridan Harbridge, John Leary, Tony Llewellyn-Jones, Lucas Stibbard, Lachlan Woods
Tickets for this production go on sale at 9am on Wednesday 4 March.
North by Northwest is playing at Arts Centre Melbourne, Fairfax Studio from 1 June to 4 July 2015
Published on 2 March 2015