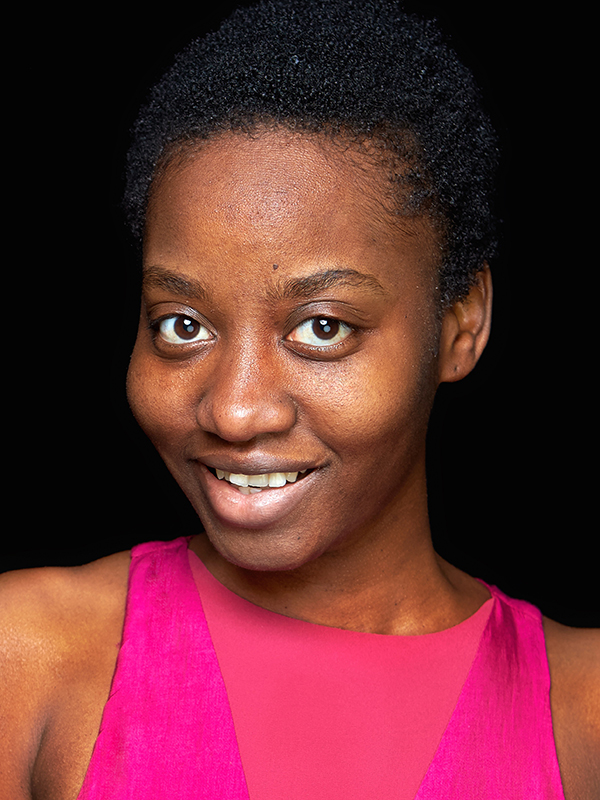 Having just finished up the Melbourne season of Jumpy, MTC Connect ambassador Tariro Mavondo is currently in Sydney performing her role as Lyndsey for Sydney Theatre Company audiences. In the midst of all her travel and performing, Tariro kindly answered a few questions about her career, and her involvement in our MTC Connect program with Multicultural Arts Victoria.
What sector of the arts industry interests you most?
I consider myself a multi-disciplinary performer and find cross artform projects interest me the most. At the moment I am fascinated with exploring the relationship between spoken word poetry, live music, movement and video installation. I trained as a theatre actor-practitioner at the VCA but before that I was a dancer and during my training I became heavily involved in the writing and performing of slam poetry. I find the stage and the theatre my home because creativity and the imagination holds infinite possibilities and has the capabilities to transform the social and the political, therefore art can inform life as much as life informs art and this to me is profound and powerful.
When did you become involved in the arts?
The pull to perform has been pumping in my blood since I was a child. I loved ballet and jazz classes, being in primary and secondary school plays as well as being in the school debate team (which in itself is a big performance). In high school most of my classmates hated Shakespeare but I was drawn like a moth to a flame – I couldn't get enough of Hamlet, Macbeth, and Much Ado About Nothing. In Year 12 my supportive drama teacher (who I reconnected with after she came to see Jumpy) helped me audition for a Bell Shakespeare masterclass targeted at students living in regional areas. Unfortunately I didn't receive a spot, but I was shortlisted and awarded a honorary mention and I think this is when my love for acting and pursuing it as a career was ignited. I also loved devising work in drama and I was invited to showcase my work at Top Arts at the end of VCE.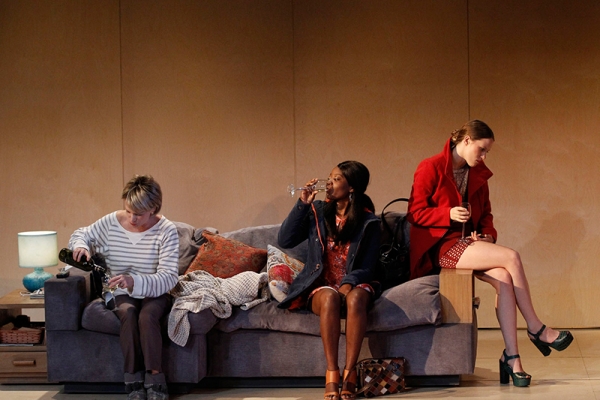 Tariro Mavondo with Jane Turner (left) and Brenna Harding (right) in Jumpy
MTC CONNECT was created to celebrate the diverse backgrounds of Melbourne's theatre artists. Can you tell us more about your background?
I consider myself Zimbabwean Australian; my roots are Zimbabwean but I've grown up in Australia, I'm a Frankston girl. My dad was the head of the longest running TAFE in Zimbabwe and he was invited to complete his PhD at Monash in the late 80's; a year or two later the rest of the family followed him. The transition was difficult because in Zimbabwe we were an upper/middle class family, so we were used to chauffeurs, gardeners, maids: the "high life". When we moved to a two bedroom flat in Frankston, not only we were poor as poor and starting from scratch – but no body looked like us and we received differing acts of racism. In Australia I learnt I was not a person but a black person.
As Africans are amongst some of the newest waves of migrants to this country, I feel there is an assumption that we are all refugees. This level of ignorance upsets me because it undermines the richness of experiences we have had. Most Zimbabwean migrants to Australia belong to the Zimbabwean intelligentsia demographic of the country's population. In the current political and social climate I would say I belong to the African diaspora community in Australia and abroad, although I look forward to a time when I see myself – and am seen by others – as an artist, full stop.
What inspires you as a theatre artist?
The infancy and growth of multiculturalism as part of an integral fabric of this nation. As I am part of the newest wave of migrants, and I think the discourse of multicultural ideology and the practice of it needs to keep being challenged and re-defined, which is where I believe the role of the artist lies. So for me it is imperative that I tell my story in my own words, to ensure that someone else doesn't tell it incorrectly or inadequately for me. At the moment I am an artist to remind myself, and other people of colour, that we exist in the public space here as young black women/men with Aussie accents in cosmopolitan Melbourne now. This is what my performance poetry is about and why it is as vital as my very breath for me to do it. Representation and visibility of diversity – both cultural and linguistic but also of people with disabilities and people in the LGBTQI community – needs to be a constant consideration on our main stages and commercial screens.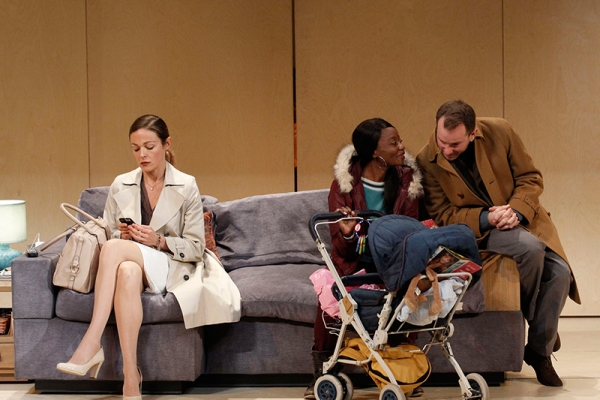 Tariro Mavondo with Caroline Brazier (left) and John Lloyd Fillingham (right) in Jumpy
If you could change one thing about Australian theatre, what would it be?
I would continue encouraging, endorsing and supporting both new Australian voices, and more Indigenous artists telling their stories in their own words on main stages. Through MTC Connect, Cybec Electric, and NEON Festival, MTC is striving to start and consolidate that process. I see that other companies such as Belvoir, Griffin Theatre, Malthouse are dedicated to inclusivity and broadening what Australian theatre is and will be. This is the only way – incorporating more diverse artists in differing capacities; directors, actors, writers, production crew etc.
What is one of your favourite past theatrical experiences?
I have so many! I have worked across different sectors using theatre as a tool to connect and engage. I have been a collaborator and devisor with young people from culturally and linguistically diverse backgrounds whose works have been seen at the Malthouse, Arts Centre Melbourne, Footscray Community Arts Centre, and been part of Fringe Festival. I worked on a documentary style theatre project with four non-professional actors from African backgrounds telling their own stories, I've worked in independent theatre companies such as Red Stitch and Hayloft and emerging companies such as Metanoia and of course debuted on the MTC main stage with Jumpy and performed in MTC CONNECT's first development showing. I love it all – to me no experience is better than the other, they all enrich and inform my artistry. I hope to work in all these areas for as long as I can.
What interests you most about the MTC CONNECT program?
The MTC CONNECT program is the future of Australian theatre. I am interested in assisting with this instrumental movement towards a more inclusive theatre scene that captures a wider spectrum of experiences and voices. It will enrich Australia at large – and hopefully [having a more diverse theatre scene] will encourage the television and film industry here to do the same.
What are some of the things you would like the MTC CONNECT program to work towards?
I would encourage the MTC to keep utilising the MTC CONNECT program ambassadors in other projects as well. For example Nadja Kostich is directing one of MTC's Education productions. And some of the ambassadors are involved in NEON Festival. There is a wealth of expertise and talent in the program too impressive to not be utilised effectively. And it is happening so watch this space.
Tariro Mavondo plays Lyndsey in MTC's production of Jumpy, which is now playing at the Drama Theatre, Sydney Opera House until 16 May.
Published on 13 April 2015