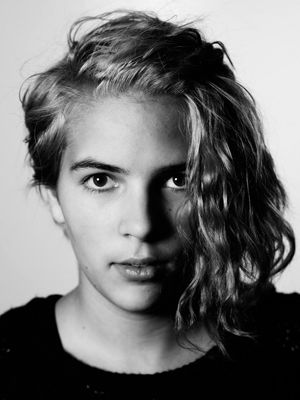 Hey! My name is Mieke, I'm currently in Year 11 and am also a part of this year's MTC Youth Ambassadors 2015. Consequently, I also happen to be a massive theatre nerd, story teller, collector of old books, Disney freak, lover of animals (particularly bunny rabbits) plus a massive sci-fi and fantasy geek. I make soft toys; I love show tunes, punk music and gothic/steampunk clothing. So I'm a bit of an odd mix, I know.
What do you love about theatre?
What don't I love about theatre? It's a unique and expressive from of storytelling. I love that is has been used pretty much since the beginning of time to tell stories, and that there are so many different ways to preform theatre and write it. I love how theatre can create whole new worlds in one room or place, and how it makes stories come to life.
What's your favourite production so far?
I have loved all of the productions, but I would have to say my favourite would be the first one we saw I Call My Brothers by Jonas Hassen Khemiri, translated by Rachel Willson-Broyles. It was a powerful, unique and thought-provoking production about the Swedish suicide bombing and the real impacts of racism on everyday lives. In addition to being an engrossing experience, I Call My Brothers had such an important message that needed to be addressed. The set and lighting was amazing, a perfect support to the script and actors.
What would you like to see on stage in Melbourne?
There are lots of different kinds of theatre in this city, but I would love to see more theatre from other parts of the world come to Melbourne. What I would really love to see is more musicals from around the world! It is such wonderfully fun and emotive form of narrative. There are a lot of unique and original musicals out there that I hear about through Youtube and Facebook that I would really love to go see, but don't get the chance because they are in another country. I am hanging to see things like Rent and Hedwig and the Angry Inch.
What's your favourite aspect of the MTC Ambassador Program?
I have really enjoyed meeting theatre nerds that are the same age as me; meeting people from MTC and getting to ask them questions about their jobs. It is a really unique and wonderful experience. I am so lucky to be a part of such a lovely and dedicated group. And, of course, seeing lots of theatre with them once a month is great!
What career paths would you like to investigate further?
I know I want to do something theatre and arts based. I love the idea of set design and props making. As well as perhaps writing and directing a few plays of my own. And of course I love acting and being on stage. Basically, I don't mind as long as it involves theatre and creativity.
Published on 19 August 2015