If you've ever admired the elegant illustrations on the covers of Candace Bushnell's Sex and The City or Kristie Clements' Tongue in Chic, or in the columns of Harper's Bazaar, you'll be familiar with the work of fashion illustrator Megan Hess. After the release of Sex and The City, which became a New York Times best-seller, Megan was catapulted onto the world stage and her unique style was soon gracing the pages of Italian Vogue and Vanity Fair magazines. With a client list that now includes Chanel, Dior, Tiffany & Co., Yves Saint Laurent, Fendi, Ladurée and Cartier (not to mention America's First Lady, Michelle Obama), Megan truly is the go-to gal for illustrations that evoke the glamorous world of high fashion.
So when it came to finding a lasting way to celebrate Tracy Grant Lord's decadent costume designs for Private Lives, this talented Melbourne-based artist was a natural choice. We were thrilled when Megan accepted our invitation to attend the Dress Rehearsal for Private Lives and sketch Tracy's designs as the play was performed live in front of her. Working almost entirely in the dark – save for a very small desk light – Megan conjured up her impressions of the elegant costumes worn by the characters Amanda Prynne (played by Nadine Garner) and Sibyl Chase (played by Lucy Durack).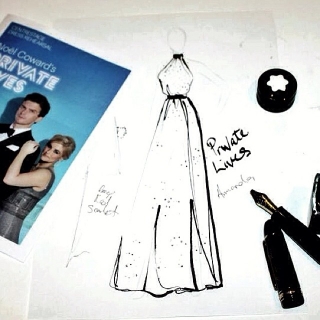 A work in progress – Megan's early sketch of Amanda's glittering gown from Act 1.
Using these rough sketches, along with production photos taken at the dress rehearsal by Jeff Busby as a further reference, Megan then returned to her home studio to create the final full-colour illustrations of the two gowns. Here they are on her desk, just waiting to be displayed.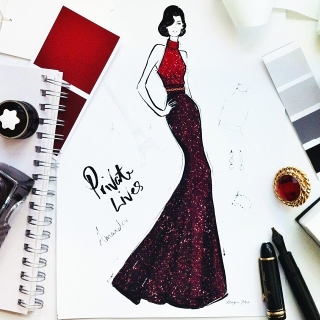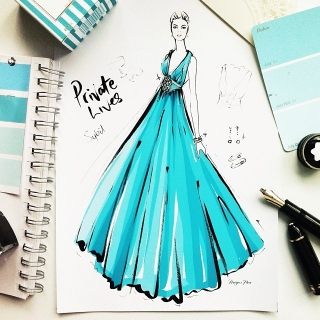 The final illustrations of Amanda and Sibyl's Act 1 gowns, created by Megan Hess
And display them we most certainly have (with Megan's kind permission) – in the Level One Foyer of Southbank Theatre, alongside Tracy Grant Lord's original costume design sketches. Our Opening Night guests were the first to witness this very special display, along with Megan herself, who joined us for the performance. If you're coming to Southbank Theatre for a performance of Private Lives, do make sure you head upstairs to enjoy the designs in person – they truly are stunning!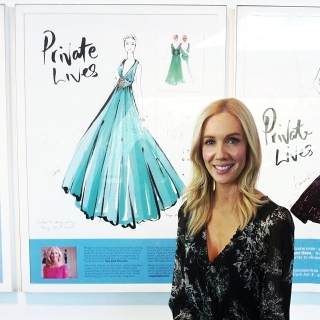 Megan Hess with the display of her illustrations at the Private Lives Opening Night
To explore more of Megan's illustration work, including her exquisite range of silk scarves and homewares, visit her website. Megan is also the Creative Patron for the Ovarian Cancer Research Foundation – you may have seen her larger than life designs on OCRF's 'Brave is Beautiful' posters around the city. To learn more about the great work of the OCRF, visit their website.
Private Lives is now playing at Southbank Theatre, The Sumner until 8 March.
Limited tickets are still available.
Production photography by Jeff Busby. All Instagram images courtesy of Martina Granolic and Megan Hess.
Published on 31 January 2014