We speak to Anchuli Felicia King, the playwright behind Golden Shield.
MTC NEXT STAGE playwright, Anchuli Felicia King, is here to stay.
In September, 2019, Anchuli Felicia King will become the first writer to have their NEXT STAGE commission produced.
Her play, Golden Shield is a corporate, legal drama that charts the story of a Chinese dissident and the tenacity of a young, Asian-American female lawyer who is prosecuting a Silicon Valley tech giant on his behalf. The plot is grounded in the genre of political realism, King says, but embodies one non-naturalistic element, which is the character of The Translator. This character intercedes between the audience and the action, not just translating from Mandarin to English, but wryly translating the subtext of what the characters are saying, or not saying.
Golden Shield also tells the story of two sisters as they work alongside each other navigating their differences. It helps that King has an identical twin sister who is a human rights lawyer.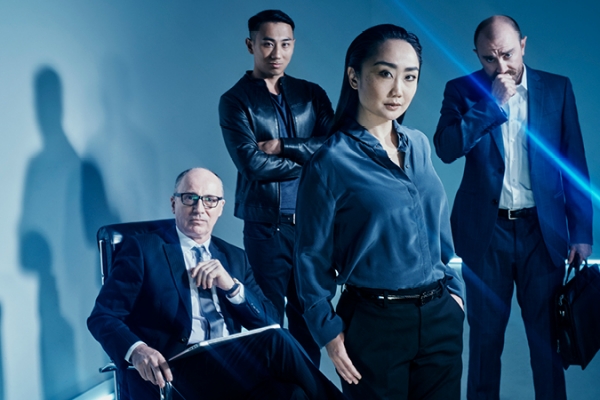 Nicholas Bell, Yuchen Wang, Jing-Xuan Chan and Josh McConville appear in Golden Shield in 2019.
At 24, King was the youngest finalist in this year's National Play Festival. King says she has a hard time identifying solely as a playwright, despite her multiple, finished full-length plays. She struggles identifying as a playwright because the scope of her artisanship also includes sound design, composition, costume design, VFX and projection design, 2D animation and technodramaturgy.
'People often say to me that they're surprised by how multi-disciplinary I am, especially when they meet me and I'm doing one particular thing, as a playwright or as a dramaturg or a projection designer, but I think of it as part of the same practice. I've been training to be a theatre artist for a really long time, and every portfolio that I've worked on has contributed to that training. For a long time I wasn't even comfortable calling myself a playwright, because I really felt like a craftsman.'
Hailing from Melbourne, but based in New York – where she is currently completing her MFA at Columbia University – King has spent the last three years collecting awards and coveted residencies at New York's most of-the-minute theatre companies including Punchdrunk and Roundabout. She is an Associate Artist of 3-Legged Dog Art & Technology Centre, an experimental, artist-run production development studio in lower Manhattan.
King credits her time growing up in Melbourne as the foundation for her development as an artist. To be included in the second year of MTC's NEXT STAGE program, is simply a dream come true, she says.
King was one of eight playwrights to participate in Cybec Electric play reading series this year and her play Slaughterhouse was described by MTC Literary Director Chris Mead as 'a brilliant, wicked, hilarious Rubik's cube of a play.'
The Cybec experience was one that King absorbed deeply. 'MTC genuinely provided the most real dramaturgical support I've ever received … [and] not just the dramaturgical support that I wanted, but the dramaturgical support that I needed. I felt like Chris [Mead] and Jenni [Medway] really understood what the play required better than I did myself and weren't afraid of pushing it in new directions.'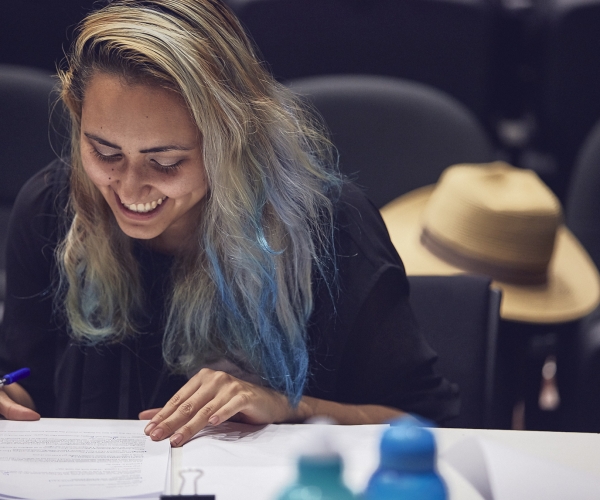 Anchuli Felicia King in rehearsals for Cybec Electric, 2018.
When MTC approached King about joining the NEXT STAGE fold in its second year, she was somewhat bewildered.
'I always thought of MTC as the "big time". It's incredible to find out that a company wants to invest in your work. It's amazing. It's very humbling … [to be] reminded that there are so many playwrights and theatre artists that would love to have this opportunity … so it's something I don't take lightly.'
It was while studying English and Theatre Studies at the University of Melbourne that King discovered theatre through music. Several friends asked her to live-score their productions and that unwittingly paved her entry into the hub of performing arts on campus, Union House Theatre. This hive of creativity became a mainstay for King during her undergraduate years.
King came up through Union House theatre under the tutelage of Tom Gutteridge, alongside playwrights Jean Tong (Hungry Ghosts, Season 2018) and Kim Ho (Mirror's Edge, Cybec Electric 2017), fellow Cybec Electric writers who remain her friends today.
Whip-smart and not one to fall victim to nostalgia, King remembers this time of her life not just as a halcyon period of her youth, but more seriously as the bedrock of her creation as an artist. 'I became a real theatre acolyte. Union House was a vehicle for all of those mediums … you could be an artist in many different ways and still work in theatre. There was no formalised education. You were on a ladder rigging lights and that's how you learnt to do it.'
'I formalised my practice when I came to New York and I decided that this was what I was going to do for a living. I knuckled down on building my skillset when I got here; but my undergrad was when I fell in love with the art form.'
King's exposure to two very different kinds of theatre – experimental, formally radical theatre, alongside more commonplace naturalism – helped determine the type of playwriting she wanted to explore: 'Having been exposed to all that work, I was able to take it all in, and find a different way to approach political realism.'
Playwrights including Lucas Hnath (A Doll's House, Part 2), Ayad Akhtar (Disgraced), J.T. Rogers (Oslo) and David Mamet (Glengarry Glen Ross) are amongst the writers King looks toward for inspiration. Their sparse, muscular, fast-paced writing is the kind of writing she would like to emulate throughout her career.
Being a young, inventive, multi-disciplinary theatre artist, and a woman of colour, is not something that is lost on King. 'I think it's challenging for any young artist because the world is going to try and brand you in a certain way. I'm hyper-aware at this point of how people perceive me and program me. But I've decided to take it in my stride, and that the vitality of being in this space, occupying these spots, in big theatre companies – of representing voices and bodies on stage that don't otherwise exist – kind of trumps any personal discomfort I might have about how people are viewing me.'
'I think that if I can occupy these spaces, it's helping to pave the way for other artists to do the same – other young artists and other artists of colour. I'm cognisant of the fact that this is an industry that really likes novelty and newness and what I'm striving to do is create a sustainable theatre career for myself and not just be the flavour of the month.'
King describes herself as an artist; it's in her blood. 'It's both my job and my hobby and at some point I'll have to start cultivating other interests, because I don't have any,' she says between childlike laughs, showing the only signs of her youth.
Golden Shield plays at Southbank Theatre, The Sumner from 12 August to 14 September 2019.
NEXT STAGE is made possible with the support of our Playwrights Giving Circle Donors, The Ian Potter Foundation, The Myer Foundation, Malcolm Robertson Foundation and The University of Melbourne.
Published on 4 September 2018