Opening just a few weeks ago, Miss Pearl Bar + Dining is adding the heat to not only Southbank Theatre, but to the Melbourne Arts Precinct.
And at the helm is Head Chef Sushil Aryal. Originally from Nepal, Aryal moved to Australia 15 years ago. Starting as a kitchen hand at a restaurant in Bondi Beach, Aryal soon found himself in Melbourne and has since graced the kitchens of some of our most iconic and celebrated restaurants, including Cumulus Inc., Spice Temple, Vue de Monde, Cutler & Co. and Tokyo Tina, to name just a few.
Now at Miss Pearl, Aryal is thrilled to be focusing on his passion of cooking with Asian food and flavours. 'Don't get me wrong, I do love French and Italian food, but they are all about the technique,' he says. Asian cooking, on the other hand, emphasises flavour over technique. 'You don't need to master complex techniques or do something for three hours with Asian food, you can do things in 10 minutes and they can be as flavourful as those other cuisines.'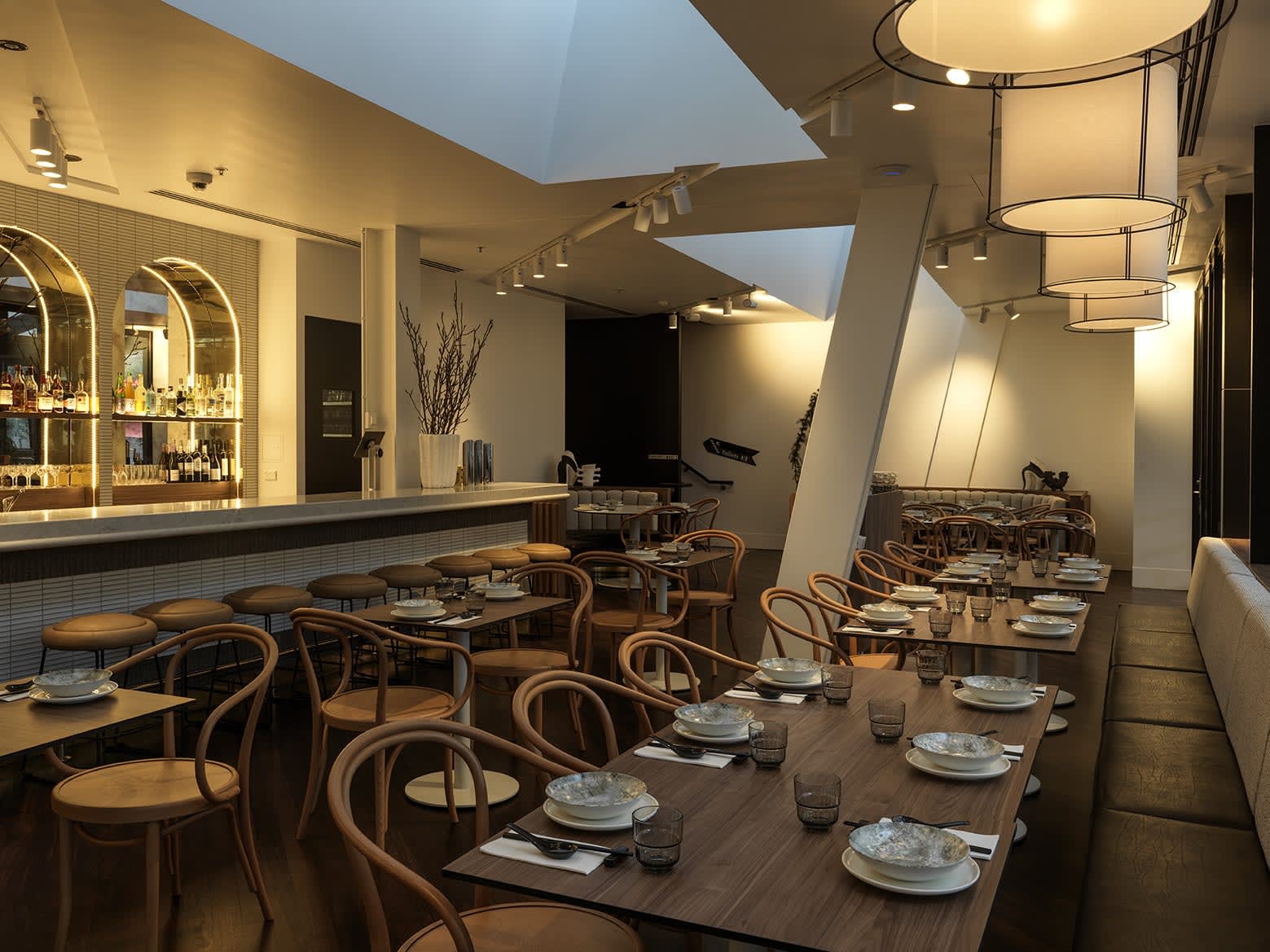 The bar and dining room inside Miss Pearl. Photo: Jason Loucas
But that's not to say the techniques he has mastered aren't being put to use at Miss Pearl. 'I actually use a lot of techniques and ideas from western cuisines and implement them on Asian cuisine.' This is seen in Miss Pearl's menu, which Aryal describes as very mixed. 'We have Japanese, Thai and Vietnamese flavours in there, meaning there's endless possibilities.'
It's a smart menu. 'Not just the mix of flavours, but smart in the way it's designed to think about seasonality and using the freshest produce.' This will allow Aryal to easily change it up as needed, without being beholden to certain ingredients and without compromising on flavour.
'The menu starts off with a couple of snack items, including Tom Yum cashews and peanuts and some House Pickles,' Aryal says. The flavours continue to ramp up with dishes including Chicken & Ginger Dumplings, Soft Tofu with Vietnamese soy sauce nuoc tuong, and Salt & Chilli Squid with green papaya and laksa mint. Aryal also recommends, 'the Betal Leaves with pomelo and red nahm jim sauce,' which is a classic dressing from Thailand. 'We also have a beautiful Kingfish paired with yuzu and laver, which adds a nice citrusy flavour, and the Wagyu Tataki of lightly cured, thinly sliced beef with a Japanese ponzu-based sauce, is a really good way to start your meal.'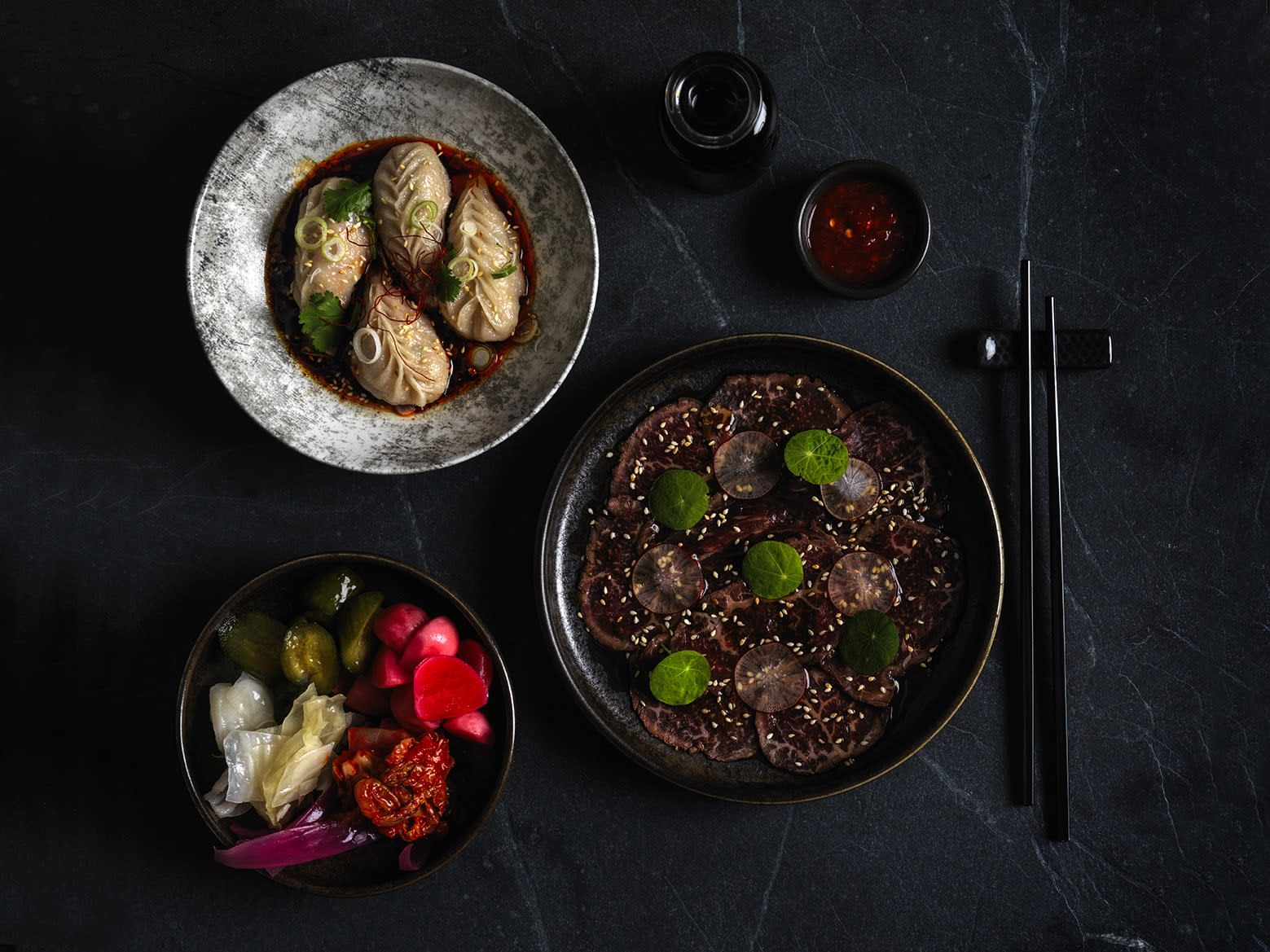 House Pickles, Chicken & Ginger Dumplings and Wagyu Tataki. Photo: Jason Loucas
All of these snacks and entrees have been crafted to pair perfectly with the inventive cocktails on offer at the bar. As Bar Manager Kristyanna Sheppard explains, 'the idea was firstly about fitting into the vibe of the restaurant – a unique, contemporary Asian, and also late-night, dining experience – and then about mixing with the flavours of the kitchen.' Sheppard loves that she gets to use a lot of the same ingredients as Aryal's food menu in the cocktails she's crafted. 'We do a ginger and lemongrass sugar syrup and things like that, which create beautiful, good quality flavours.'
Sheppard's favourite cocktail is the first on the list. 'The Salty Samurai is my absolute favourite. I like it because the ingredients are unexpected – saltwater, cherry liqueur, gin, sake. But when I made it and had a single sip, I thought this is the best thing I've ever tasted. I like drinks that surprise you.'
The Aftershow, Rosey Pearl and Botany Bloom. Photo: Jason Loucas
There's also a little bit of the theatrical to be found at the bar. The Rosey Pearl is topped with a cloud of fairy floss and the smoky Miss Pearl Old Fashioned arrives in its own cork-topped vessel, allowing patrons to pour the drink and watch the smoke escape around their glass.
Though the cocktails borrow flavours from around the world, Sheppard has kept things local for the wine list. 'Despite being an Asian-fusion restaurant, with our wine list we're really leaning into being part of Melbourne Theatre Company. So it's a lot of local wines and Australian wineries that we're using.'
And the wines are there to be enjoyed with the selection of main dishes – from BBQ Pork Collar with burnt pineapple and nuc mam, Crispy Eggplant with lao gan chilli and thai basil to Confit Duck Leg with ssamjang and kimchi. Also on offer are banquet menus. 'We highly recommend our banquets because with a couple of dishes from snacks, entrees and mains you experience the full range of the flavours we've created,' Aryal says.
Miss Pearl is definitely adding something special to the Melbourne Arts Precinct. 'There aren't any restaurants like this around here,' Aryal reflects. 'You can come in and have a couple of cocktails and bar snacks and you can also sit down and have an eight-course banquet, with lots of interesting flavours.' Mostly, all the team at Miss Pearl are looking forward to building a great relationship with theatre-goers and locals alike, as well as bringing the flavour to Melbourne Theatre Company's new era.
Make a booking or learn more at Miss Pearl Bar + Dining.
Published on 21 July 2022