Our Artistic Director Brett Sheehy talks about curating this opening suite of works in the Qatar Airways MTC Lounge.
The creation of the beautiful new Qatar Airways MTC Lounge gave us a unique opportunity to work for the first time with Artbank, the Australian Government's extraordinary visual art leasing program. In a very generous partnership, I have been able to draw from Artbank's extensive collection to curate this opening suite of works for the Lounge and Level One Foyer. In doing so I wanted to share a few of my personal artistic passions.
The first is a love of contemporary Indigenous art, a love affair which began when I was privileged to work with the late Michael Riley when, for the 2003 Sydney Festival, we turned his nine-part Cloud photographic series into a single panel artwork, half a football field long, and erected it above Sydney's Circular Quay. For an entire month it welcomed hundreds of thousands of visitors to the Quay precinct.
Another artist I've worked with since then is Darren Siwes who was featured in the 2008 Adelaide Festival. For MTC I've selected Darren's triptych Gold Puella, Silver Puella, Bronze Puella (pictured above). Darren has both Indigenous and Dutch heritage and these artworks draw on both ancestries to celebrate a fictional, Indigenous Queen Mary of Australia while commenting on Dutch sea trade and mapping of the Australian coastline in the 17th Century, a legacy of which was a number of shipwrecks containing Dutch coins. These works also riff on Warhol's dollar paintings, on the commodification of art, the competition (gold, silver, bronze) between artists and art prizes, and the constant tension in Australia between mining and the desecration of traditional lands. In addition to this, to me they are extremely beautiful images on their metallic photographic paper.
Julie Dowling is another artist I have loved for some time. Her 'my name is…' series is a landmark of contemporary Australian art, and on these works Julie has commented, 'The general concept behind the works is about the individual effect of Mission life, assimilation policy and racism. This is basically a portrait of my family. I want people to understand that the individuals make up a society and a race. I want to show these individuals surviving in spite of injustice. Also to show the blending between cultures and their differences. No one is right and no one is wrong. We just have to respect each other and the land… The works display a postmodern lending of symbols and identification of both non-Aboriginal and Yamatji cultures…'.
Another artist I encountered through festival curation is Vernon Ah Kee. I knew his text work better than I knew his drawings, and this piece stood out for me when I visited Artbank's galleries. Based on a drawing by his son, it ties in both traditional body markings as well as emotional scarring through racism. In purely aesthetic terms I was also drawn to the works limited palette reflecting the black and white design of Southbank Theatre.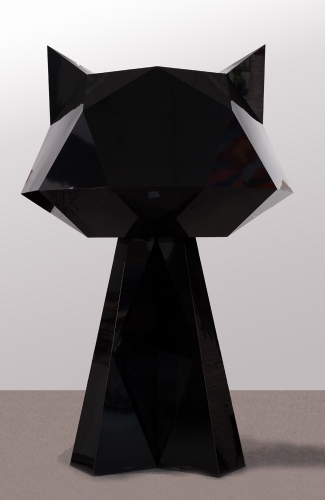 James and Eleanor AVERY, Fontana Amstrada 2009. Plywood, wood and laminate
Image courtesy of Artbank
Again bringing the building's monochromatic design indoors, I selected the works of James and Eleanor Avery (Fontana Amstrada) and Fiona Lowry (Tropic Lightning) for the Level One Foyer. Fontana Amstrada came out of the artists' studio residency at The British School in Rome during which they have said they 'referenced the monumental urban sculpture of Imperial Rome, as viewed in relation to the rationalist architecture of modern Rome. Fontana Amstrada comes out of this research, combining references to historical monuments with early computer game iconography.' Fontana Amstrada has already been adopted affectionately by the theatre staff as a 'family member'. Its figurative resemblance to early computer games avatars, in this case resembling a monolithic black cat, gives it character and formidable presence.
Fiona Lowry's slightly abstracted landscapes are sometimes of 'sinister stage settings', in this case a bush setting, places where crimes have been committed. They are fuelled by mystery, drama and narrative, relating them contextually to work seen on MTC's stages. Tropic Lightning's palette also reflects Southbank Theatre's black and white design and is again a work of scale (like Fontana Amstrada) to punch through the vastness of the foyer space.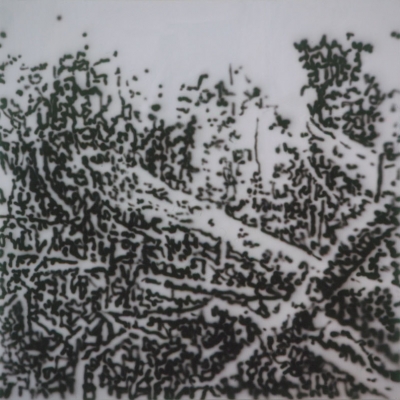 Fiona LOWRY, Tropic Lightning 2004, Synthetic polymer paint on canvas
Image courtesy of Artbank
The final monochromatic works are in the north room of the Qatar Airways MTC Lounge where one wall is given over to the work of Victoria Reichelt and another to the work of Yanni Floros. Victoria's paintings Film Noir and Monumenta celebrate painting as a still-valid contemporary artistic pursuit and the relationship between painting and cinema. I love that these paintings of historic cinematic equipment which recorded and projected performance, sit in a building dedicated to live performance. Take a close look and you can marvel at the perfection of Victoria's surface and paintwork.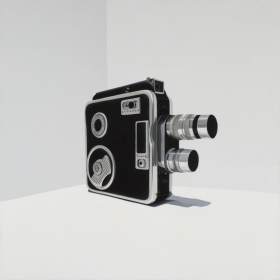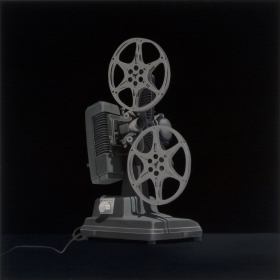 Left: Victoria REICHELT, Film Noir 2006. Oil on canvas.
Right: Victoria REICHELT, Monumenta 2007. Oil on canvas.
Images courtesy of Artbank
A close look at Yanni's images also reveals a meticulous dedication to the art of drawing. These two works, Profiled and White Out remind us of the alienating and detaching effect of technology. They also reflect a new audience now attending MTC as our annual NEON Festival and works programmed specifically for those under 35 years old are developing the next generation of MTC's audience base.
The final painting, in the entrance foyer to the Lounge, is Adam Hill's The Bigger Picture. This work juxtaposes Indigenous imagery against elements from a household setting. In speaking about this picture Adam says, 'The crow is renowned, in many Aboriginal communities in north-west New South Wales, for awaiting the spirit of a newly deceased. So in the instance of my image, the crow is removing the spirit and cultural values of what is perceived as Aboriginal art.' He continues, 'just how out of touch the average white "arts savvy" Sydneysider is when it comes to the real culture, neighbouring them just down the road. Look at the "traditional" dot painting above the fireplace (in the picture), and note how the women sit in groups conducting ceremony. Now take a closer look…'
It is our wish that you might take a closer look at all of the works on display, and enjoy this first iteration of an initiative and partnership with Artbank which we hope will continue for years to come.
Brett Sheehy
Published on 20 May 2015