A few years ago, the songwriter and former Split Enz front man Tim Finn, found himself at Brisbane Airport needing a good read. He was on his way to Bougainville to research music for a film, Mr Pip, and he knew that the nights up there were going to get pretty long, so he picked up The Women in Black, the 1993 novel by Madeleine St John that had just been reissued in paperback. He'd never heard of it, but it sounded interesting, and on the cover were blurbs of recommendation from Barry Humphries, Clive James, Kaz Cooke and Helen Garner. Yes, he thought, that'll do. 'So in the very intense tropical heat, I would retire to my room at night and read about a 1959 department store in Sydney and the young girl coming to work there,' Finn says. 'It was a real escape for me.'
But the casual reading soon found a purpose. 'One character called Rudi is a Hungarian refugee and at one stage he says, "I was a bureaucrat in Budapest", and that sounded like the title of a song to me. Light bulbs went off. I started exploring the text and kept finding opportunities for songs. I got in touch with [director] Simon [Phillips] and [writer] Carolyn [Burns] soon thereafter. I already had some songs written, but I was just feeling them out, gauging their interest. But they loved the book and said they'd love to be involved. So the project got huge momentum very early.' The Queensland Performing Arts Trust decided to support a set of developmental workshops and readings, and Queensland Theatre Company backed a production. The show opened in Brisbane in mid-November and arrives at the Sumner in January.
Finn is keen to stress that Ladies in Black is a proper musical, differing from his previous show for MTC, Poor Boy, written by Matt Cameron for our 2009 season, in which Cameron's story was wrapped around a selection of songs from Finn's back catalogue. 'With Poor Boy we were constantly saying what it wasn't. You know, it wasn't a musical, it was "a play with songs". So, it's great to be able to say, "Yes, this is a musical." Rather than being abstract soliloquies commenting on the narrative, the songs are integrated and pulling their weight. They are telling the story or filling out the characters, as in a true musical.'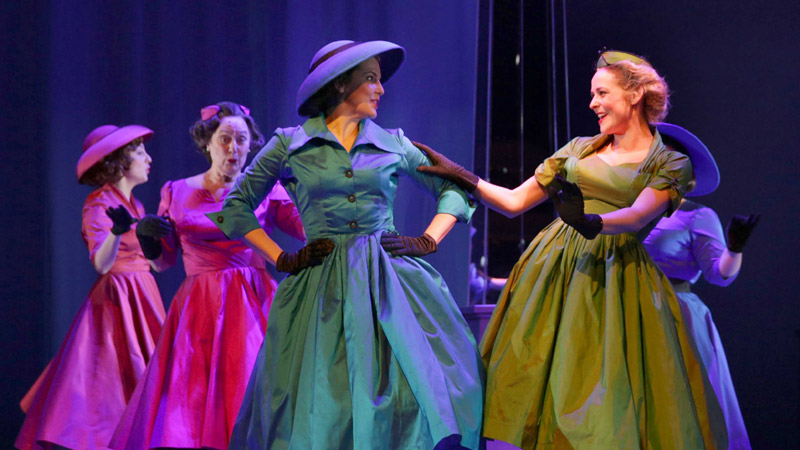 The Women in Black, which has been retitled Ladies in Black for this show, was the first novel by Madeleine St John, who had gone to Sydney University in the late fifties, taking an uncertain spot on the periphery of the literary and theatre circles in which Clive James, Robert Hughes, John Bell, Bruce Beresford and Germaine Greer held the centre of attention. Most of her old uni friends lost track of her until she re-emerged in London thirty years later as a writer of wryly comic novels of modern manners. Her third novel, The Essence of the Thing, was nominated for the Booker Prize in 1997.
Set in a Sydney department store (clearly based on David Jones), The Women in Black recalls another time and other morals: the Sydney of the late-fifties, provincial and small-minded. The group of shop assistants St John follows over a long, hot Christmas and New Year sales season endure the full range of sexist indignities of the period with good cheer, and everything more or less works out for the best in the end. Most readers would be charmed by the novel, though it's not clear why it might inspire an old rock 'n' roller like Tim Finn to set it to music.
'I know what you're saying,' Finn concedes, 'Why a show about frocks and department stores? Yes, but I found it very easy to relate to the characters and parts of their lives had echoes in my own. Being a young person who dreams of being a poet, for example, as [the central character] Lisa does, and in a totally unsupported environment, is not too different from dreaming of becoming a musician and songwriter when you grow up in Te Awamutu, [in New Zealand] and no one in your family has ever been a musician and, in fact, you'd never even met a musician. Her far-fetched ambition was mine. And the character of Fay who is twenty-nine and has had her heart broken three times, but still believes in love. Well, that's my romantic narrative – I suppose it's almost everyone's: fraught and complex. I'm just saying, it never required a great leap of imagination to understand these characters.
'So there are many ways in which the book resonated for me. But above all it was Madeleine St John's brilliant mind. She looks back with such wit and intelligence, and her style I found very seductive. There's no parody or satire. It's a very tender, humanistic book, but sharp, seen through the lens of extreme intelligence. It's a very easy book to fall in love with.'
The new musical with music by Tim Finn, Ladies in Black, plays at Southbank Theatre from 16 January 2016.
Published on 15 January 2016