Professor Alan Trounson, the IVF pioneer, talks to Paul Galloway about watching a version of himself portrayed on stage in his daughter's play.
Last February, during the Cybec Electric play readings, Alan Trounson took his seat in the Lawler to watch a group of actors present his daughter Kylie's play The Waiting Room. It was a strange experience, he says, to watch a character called Alan Trounson go through many of the events that are still part of his memory. He saw a young Alan Trounson work long hours to perfect a repeatable technique for in vitro fertilisation. He saw Alan face failure after failure; he saw Alan's marriage and family-life suffer for his work; he saw Alan's battles with anti-IVF protesters, and he saw Alan and his team's ultimate triumph.
'Yes, it was weird,' he says, 'but it wasn't quite like looking into a mirror. It was like looking at someone you are slightly uncomfortable about but intensely interested in. There are some things that aren't exactly right, but they serve the story really well. As a scientist, of course, I would like everything recorded with absolute accuracy. But, you know, it's a play. It doesn't necessarily represent things as I really remember them. It's Kylie's creation. It presents life as a series of lessons and key events, which is not how it feels when you live it.'
In 1980, Professor Trounson led the team responsible for the first IVF birth in Australia, creating in the process two crucial techniques that have vastly improved the success rate of fertility treatment. Based at Monash University, where he is currently an Emeritus Professor, he eventually moved into stem cell research. From 2007 until recently, he was President of the multi-billion dollar California Institute for Regenerative Medicine, set up to find therapeutic uses for stem cell technologies. Undoubtedly, his has been a distinguished career, but, as the play shows, there was a time when everything seemed in doubt.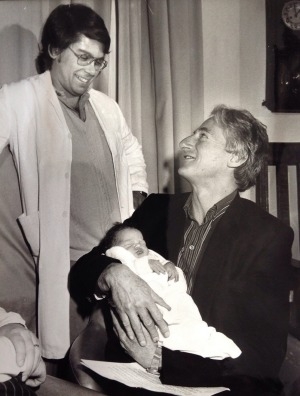 Pictured: Alan Trounson and Carl Wood in 1984
'The play celebrates an important part of history,' he says. 'But it also deals with how people felt then and how people feel now. For me, the real heroes of the story are the patients, those infertile couples who stood up in the first place. They said, 'We want to try', when really we had no success we could point to. They broke the ground with us. We were partners. They believed we had something that would eventually work and were prepared to try it out.'
In the play, Kylie Trounson uses her father's discoveries as a kind of fulcrum, balancing his story with the contrasting expectations of two infertile couples, one before IVF and one after. The play stresses how the advent of successful fertility treatments changed lives and attitudes. We forget how much confusion, misunderstanding and protest the first 'test-tube' babies engendered. In 1980, Professor Trounson found himself in the middle of a turf-war.
'I mean, religion had essentially owned conception for centuries,' he says. 'It was one of their last bastions. So when it was shown as scientific fact that you could manipulate the process to help people, the mystique and the religious components of the process disappeared. It was hard for them to accept that they couldn't own it anymore.'
Although he spoke to Kylie about those pioneering days, he made no stipulations about how this history should be written. Even after seeing the play during Cybec Electric, he had only one serious quibble. It worried him that his closest colleague Dr Carl Wood was portrayed as a typical Australian bloke, which he wasn't at all.
'He was a very gentle man in many ways, that's why women loved him.'
And what of his own portrait in the play, which shows how his single mindedness led to the breakdown of his first marriage? Did that worry him?
'No,' he says simply. 'I absolutely accept I got sucked into the project one hundred-and-fifty per cent. I gave very little back to people who really deserved more. Unfortunately, it remains a part of my character and my family have to survive it. I still rely much on the understanding of those closest to me. This is what happens if you are a driven individual.'
Professor Alan Trounson joins his daughter Kylie, medical lawyer Loane Skene, and writer and ethicist Dr Leslie Cannold for a special Melbourne Conversations event, Making Babies in Melbourne: The IVF story on Wednesday 10 June. Tickets are free but bookings are essential. Learn more
The Waiting Room by Kylie Trounson is playing at Arts Centre Melbourne Fairfax Studio from 15 May to 27 June
From the Reading Room is a series of interviews and features written by MTC's Paul Galloway, whose office at MTC used to be a script library known as the Reading Room. This article first appeared in Scenes, MTC's quarterly Subscriber newsletter
Published on 27 April 2015