We're blessed to have some truly talented people at MTC. One of them is our Publications Coordinator Paul Galloway, who is also an award-winning playwright; his play Realism, which appeared in our 2009 Season starring Miriam Margolyes, won the 2009 Queensland Premier's Literary Award for Drama and the 2007 Wal Cherry Award for Best New Play and was short-listed for the 2007 Patrick White Award. In the past Paul has also worked as a dramaturg, theatre reviewer, journalist and publicist – so it's safe to say he's got some serious writing chops!
In a new long-format blog series, From the Reading Room, Paul shares some insights into his work at MTC – from researching the history and themes behind a play, to conversations with artists and creatives, and a look into MTC's history.
——
Before writing about Ghosts for the MTC programme, I thought I should reacquaint myself with the play. I didn't know it terribly well. I had only seen a single production, by a university group in the early nineties. Of that evening, I recall only that the director drew his inspiration entirely from Edvard Munch, particularly the sombre interiority of his domestic paintings. This is not at all bad as directorial brainwaves go, except he fatally noticed that Munch's paintings were static – the paint never moved – and so he had his actors freezing for long periods, like kids playing 'statues'. The whole effect certainly brought to my mind a Munch painting, but not the one he intended.
That was long ago, so I felt underdone on Ghosts and needed a quick crib. At the Lenton Parr library at the VCA, I found a promising DVD version from the late eighties that featured Judi Dench, Michael Gambon and Kenneth Branagh in the key roles. It turned out to be but one disc in a boxed-set put out by the BBC of all their Ibsen productions going back decades; in total, ten productions, plus eight radio plays. Bless the BBC, those wild and crazy guys, who every few years thought that the British general public were ready for yet another serve of classic Norwegian drama. The individual discs couldn't be separated from the set, so I took them all home with the intention to just watch Ghosts, but you know what it's like with boxed sets. Like boxed chocolates, you cannot stop at one.
You would think that two hours in the company of doomed Scandinavians would be sufficient for a Friday evening's entertainment, but no sooner were the final credits rolling on Ghosts (a sharp, lucid reading from all concerned) than I found myself reaching for the disc of A Doll's House. I swear, I was simply curious about how Juliet Stevenson would handle those tricky early scenes where Nora witters on like a ditsy thing, but before I knew it, she's resolutely telling Torvald that she has to leave their marriage and their children to discover who she really is. Tearful and shaken for her sake, I knew I wouldn't sleep. So I put on The Master Builder – largely for its sedative effect. However, the physical resemblance of Leo McKern to Henrik Ibsen jolted me awake. Playing Solness, McKern had a high foreheads and a wonky eye, as did Ibsen, and the co-incidence was reinforced by giving the actor an Ibsenite halo of greying hair. When Hilde Wangel, in the form of Miranda Richardson, strode on like a girl guide with a knapsack full of loose screws, the link between Ibsen's late-life infatuations with unstable young women was forcefully made.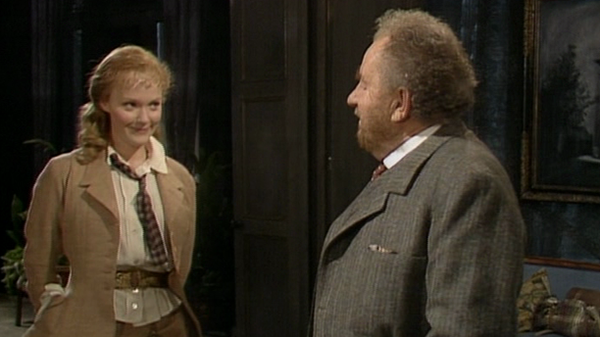 Miranda Richardson and Leo McKern in The Master Builder
It must have been while I was musing on these autobiographical matters that I unconsciously began watching Hedda Gabler, a 1963 production that came about twenty years too late for the star cast. All solidly middle-aged at the time, Ingrid Bergman, Michael Redgrave, Ralph Richardson and Trevor Howard were done no favours by their studio director, who moved in for frequent close-ups. Most extraordinary among the artefacts his probing camera exposed was the youthful quiff that the BBC wig department chose to plant above Trevor Howard's craggy face. Despite his years, Redgrave was a surprisingly good Tesman, energetically bumbling and deeply insensitive, but disappointingly Bergman played Hedda as a bored housewife with a pistol fetish. Long before the final shot but not long before dawn, my attention waned and I was asleep.
A packed Saturday kept me from the DVD player, but by early Sunday afternoon, like the fabled Norwegian Blue parrot, I was pining for the fjords. One after the other, I scoffed The Wild Duck (from 1884), The Lady from the Sea (1888) and Little Eyolf (1894), three plays that span Ibsen's movement from his social problem play period to his late symbolic works. Chekhov hated The Wild Duck and parodied its central symbol in The Seagull, but, as Hermann Hesse once put it, sometimes you hate others for being just too much like yourself. The Wild Duck is clearly working Chekhov's side of the street: a domestic tragedy with rich comic elements and accurate psychological observation. The naturalistic revolution that Chekhov brought in could have come in earlier had Ibsen decided to continue down that line. Instead, he turned increasingly towards lead characters who were in rapture to a symbol – that is, away from how real people think and behave. You never quite buy Ellida Wangel's yearning for her dark maritime lover in The Lady from the Sea, just as Hedda Gabler's banging on about seeing vine leaves in Ejlert Lövborg hair (or in this case, toupee) always seems a little forced and confected. By the time Ibsen wrote Little Eyolf, he couldn't create a creditably grieving pair of parents – at least not in the naturalistic sense. As the death of their young son hits home, Allmer and his wife fall ever deeper into philosophical abstraction. It's terrific theatre nonetheless – and Antony Hopkins and Diana Rigg make it pretty powerful television here – because by this time Ibsen had become a master creator of dreams that only seem incredible after the lights come up.
By late Sunday evening, I had only two DVDs to go. The BBC version of An Enemy of the People was an attempt to make the play relevant by transferred the action to contemporary (that is, mid-seventies) Scotland. Just as a loch is a less spectacular fjord, Scotland turned out to be a less interesting Norway. The production played like an average episode of Dr Finlay's Casebook. So, finally, I turned to Brand, an early play I didn't know and may never get to know, since it began with the hero on a hillside at night during a gale shouting dementedly about man's responsibility to God, or some such thing. It was too much. I suddenly felt mentally bilious, completely Ibsened out. I switched it off with every intention of watching it later in the week, but never got round to it.
Our production of Henrik Ibsen's Ghosts, adapted and directed by Gale Edwards, must close on 21 June. To learn more about the production and purchase tickets, visit the play page.
Published on 10 June 2014