At a bookstore in New York, celebrating the publication of her Pulitzer-Prize winning play The Flick and her Chekov adaptation – a modern Uncle Vanya – Annie Baker said she felt inspired to 'push the boundaries of theatre' even further.
John, Baker's seventh professional play, is an attempt to do this and follows the signature tune of Chekov's work including character introspection and stunted communication.
Baker first appeared on the New York theatre circuit with her series of dramas, 'The Vermont Plays'. In this anthology lies Body Awareness (2008), Circle Mirror Transformation (2009), The Aliens and Noctumara (2010). Both Circle Mirror Transformation and The Aliens were breakthrough successes, collecting Baker Obie Awards for each and catapulting her into a category of award-winning, contemporary playwrights. Three years later she would pen The Flick, cementing her place in America's most highly respected playwriting circle of Pulitzer Prize-winners.
Baker is part of a movement of new-wave American writers who observe their surroundings with acute curiosity. Her work is slow-moving, much like the real world, which allows her narratives to evolve naturally. The very first stage direction in her play The Aliens reads: 'At least a third – if not half – of this play is in silence.' Dialogue is frequently paused and conflicts build as they do in real life; steadily rising until they reach boiling point, where they explode in a spectacular display of emotion.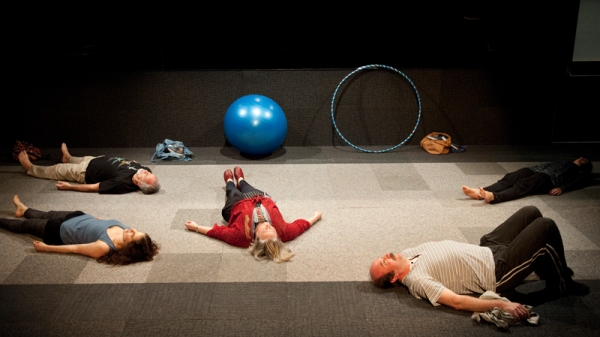 Annie Baker's Circle Mirror Transformation (

MTC

2011). Photo by Paul Dunn.

The setting of
John
– the site of America's most devastating Civil War battle in Gettysburg – is no small coincidence. It was at this place, 152 years before
John
opened off-Broadway, that 45,000 Americans were killed in a three-day massacre; making Gettysburg the biggest ghost town in the country. It is against this backdrop that Baker resurrects the ghosts of her characters' pasts and explores the end of her protagonists' relationship.
Baker's analysis of what it means to be together, and alone, mingling with people of another generation, makes her voice particularly unique in her own generation.
She's been praised worldwide for her ability to take ordinary people and situations and find extraordinary meaning in what they say. Even more extraordinary is Baker's ability to find meaning in what her characters don't say. Her work is loaded with silent moments, which are almost as crucial as her play's leading lines.
In an interview with Huffington Post, Baker said, 'When I'm writing: I'm picturing those bodies in space, moving around. When it does come to hearing the dialogue and sort of transcribing it, it feels a lot like what I imagine writing a musical score is like. The rests and the pauses are part of that too, like stage directions. It's sort of like what you put in italics and what you don't … to me it is all equally important.'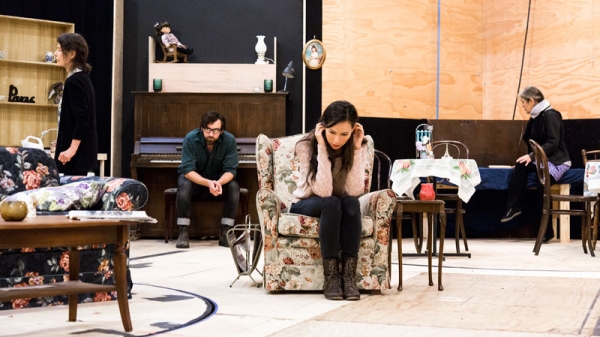 John in rehearsal (

MTC

2017). Photo by Pia Johnson.

In John, when Baker's characters aren't talking, and the only sounds to be heard are the reverberations of Bach's St. Matthew Passion, the audience are forced to make their own assumptions about each character's role. Mertis and Genevieve act as the adult mentors in this play. They might not necessarily be faultless, or even particularly adept at guiding the younger adults, however Baker's inclusion of these characters is pivotal, she tells The New Yorker.
'The story of their lives might not immediately appear to be exemplary or what the younger character would want,' she explains. 'But there's a kind of transcendence and nobility they embody through having not lived the lives they wanted to.'
Baker doesn't only explore the relationships between her characters on stage, she explores the relationship between herself as a playwright and her audience. In a world where audiences are demanding more feeling, with greater impact, in less time, Baker continues to carve her own path. It's the haziness, the fragility and the subtlety of Baker's text that drives John and all of Baker's narratives. To rush through this work would be to miss the point. Baker explores what is expected and what is provided in the ancient forum of theatre, and by doing this, she continues to shape the mode of contemporary drama.
Annie Baker's John, plays at Arts Centre Melbourne's Fairfax Studio from 10 February.
Published on 4 February 2017