Hold onto your wig. MTC wig maker Jurga Celikiene has been raising-hairs with her specialty wigs for 10 years. Here Jurga takes us through the process of wig making.
Stage 1.
The first stage of the wig making process involves meeting with the production's Costume Designer. Jurga met with Dale Ferguson to discuss his inspirations and intentions for each character's wig in Di and Viv and Rose.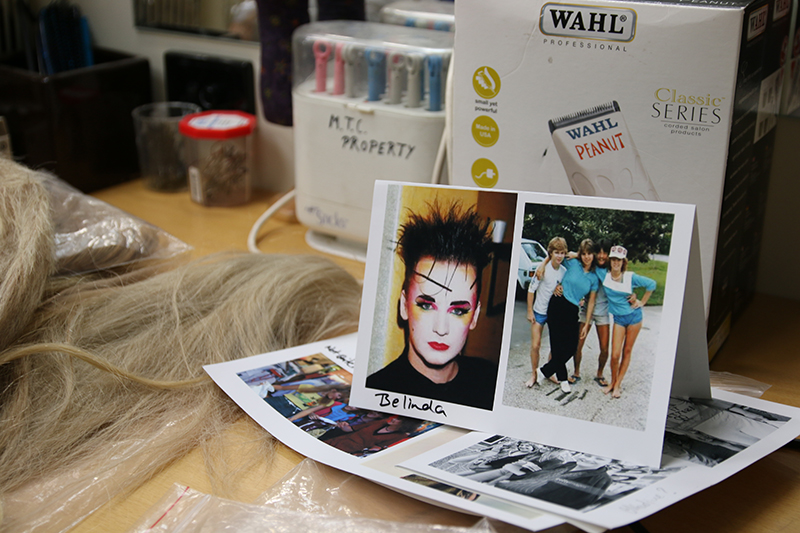 Dale Ferguson's inspiration for Belinda McClory's wig as her character Viv.
Stage 2.
Next, Jurga finds appropriate hair for the various wigs she needs to create, prioritising recycled wigs where possible and ordering new hair if required.
'I pull out everything in stock to see what will work best with the designer's vision. Dale [Ferguson] wanted something really short for Belinda's wig…something with side burns, so a man's wig was the best option to start with. I needed to make this wig smaller so I cut off the front, which is called 're-fronting'.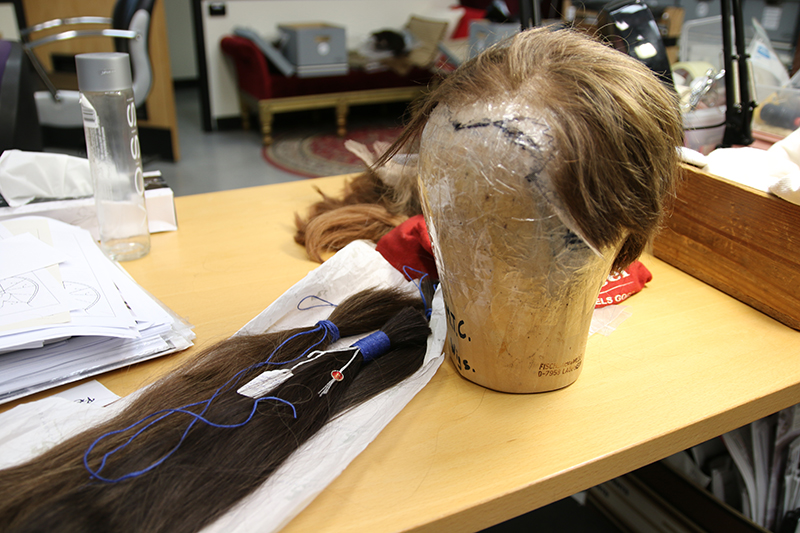 A stock wig ready to be refronted.
Stage 3.
The next step involves dyeing the hair to the correct colour using over the counter, permanent hair-dye, which can be found in any standard chemist.
'The new colour is determined by the designer. Then I hand-wash the wig very gently with shampoo and use a small amount of conditioner on the ends.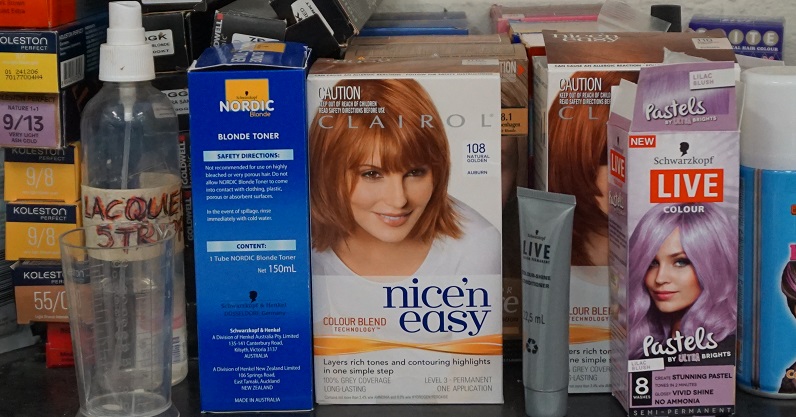 Jurga's collection of hair dyes.
Stage 4.
Then Jurga measures the actors' heads with glad wrap and marks where their hairline starts and ends, before applying these measurements to a wooden block.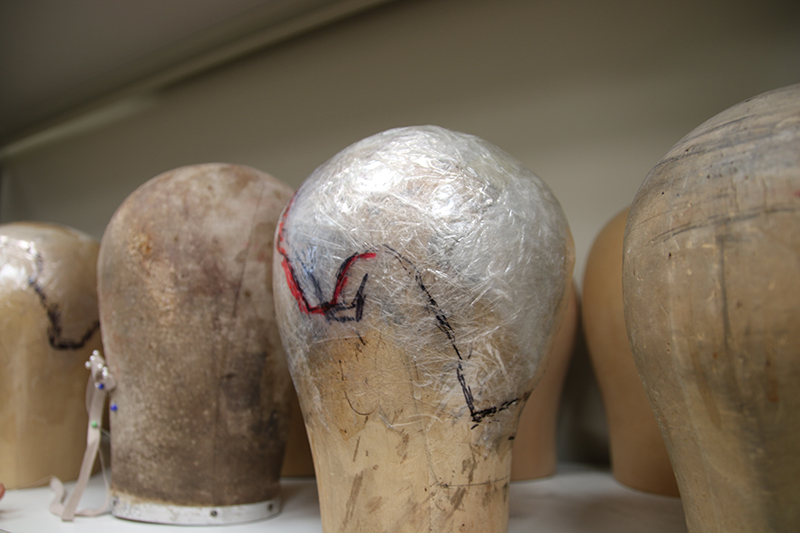 Glad-wrap on the wooden blocks, marked with the actor's hairline.
Stage 5.
Put pre-used wig on block, whilst still wet and blow dry.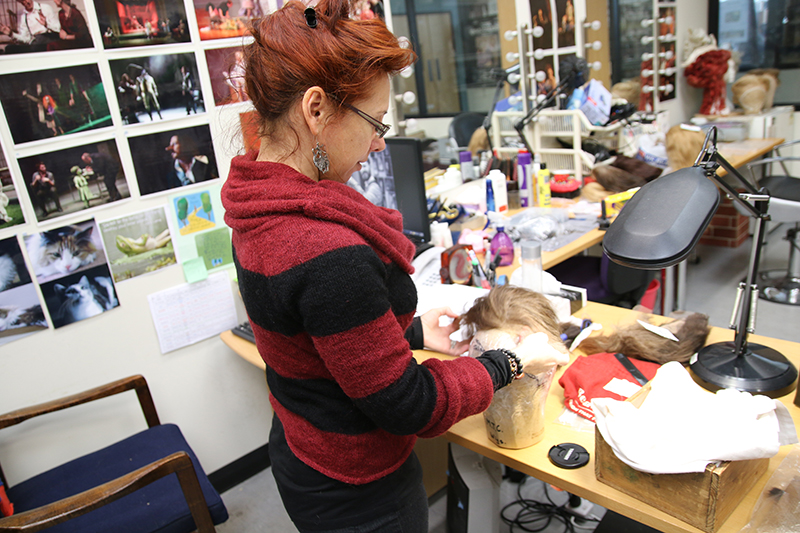 Recycled wig on the block.
Stage 6.
The next stage involves sewing the hair net up to the new hairline. Jurga does double stitches using invisible thread and a steel needle catcher to assist her. It's harder to sew on the round surface of the wooden block, so the needle catcher is integral to working quickly in this stage.
'I need a really good light at this point, almost like a spotlight. And I need a very long, thin needle that can bend with the curve of the wood. Of course I prick myself all the time and break needles regularly, maybe one a week.' Jurga says.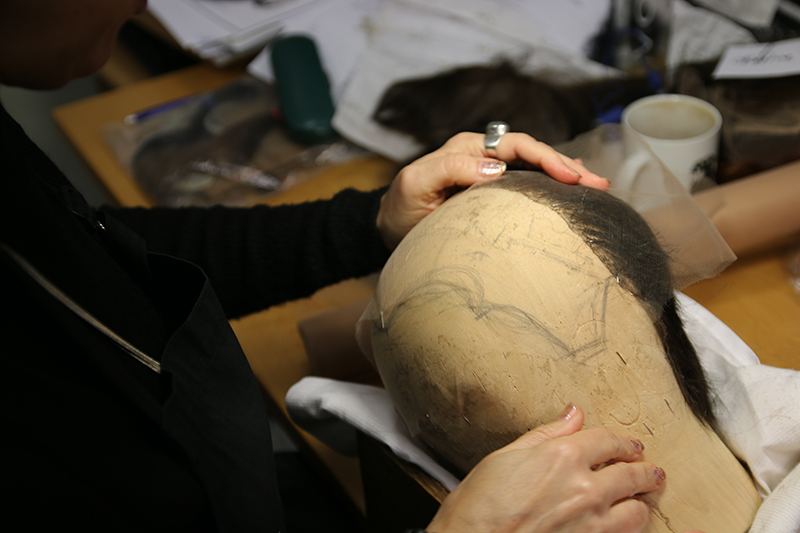 Jurga 're-fronts' the wig adding a new hairline.
Stage 7.
Next, Jurga starts to knot individual strands of new hair into the net using a small steel hook with a wooden handle. Jurga has many different sized hooks for different parts of the wig. Hair is knotted up to the hairline.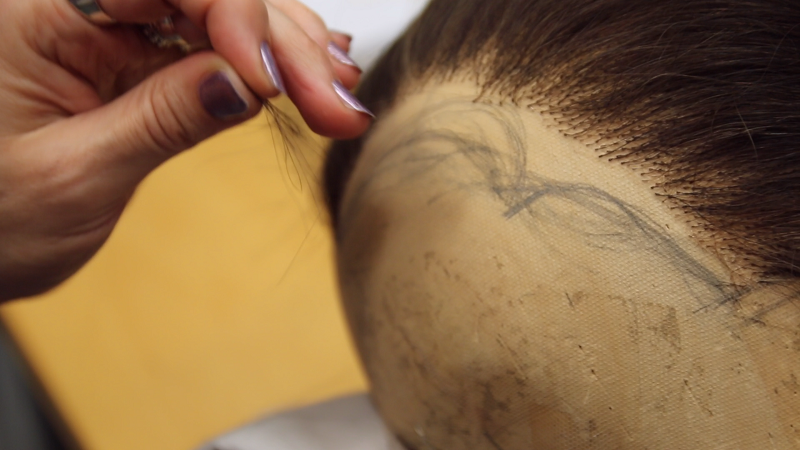 Jurga knots individual strands of hair.
Stage 8.
After knotting the hair through the netting, Jurga cuts the wig into the style determined by the designer. Jurga cuts the wig in exactly the same way you would cut regular hair. However, this hair cannot grow back, meaning Jurga often feels a pang of anxiety during this stage.
'Wigs are very unforgiving at this point,' she says. 'I always feel nervous here.'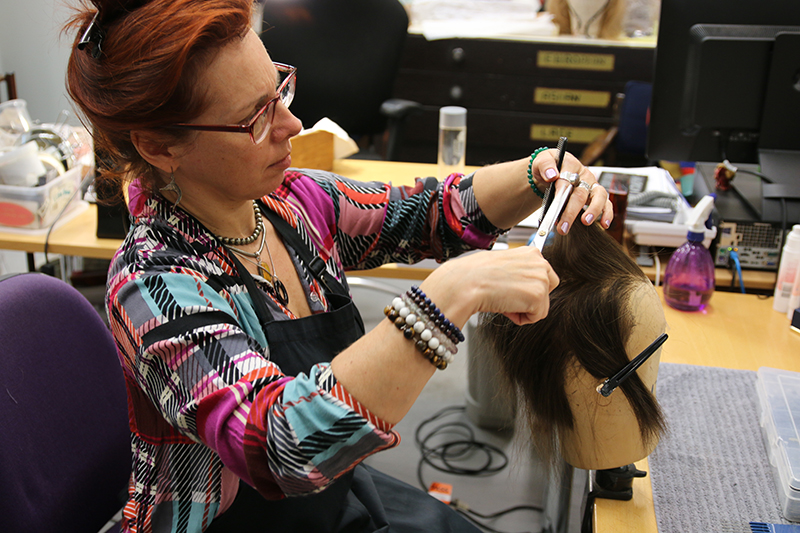 Jurga cuts the wig to style.
Stage 9.
Fitting with the actor and designer. At this stage Jurga takes final directions from the designer to ensure their vision is realised and makes sure the wig fits the actor perfectly.
Stage 10.
Final touches. The last step in the wig making process involves pre-styling the wig before each performance. This is done with make-up in the hours leading up to each show.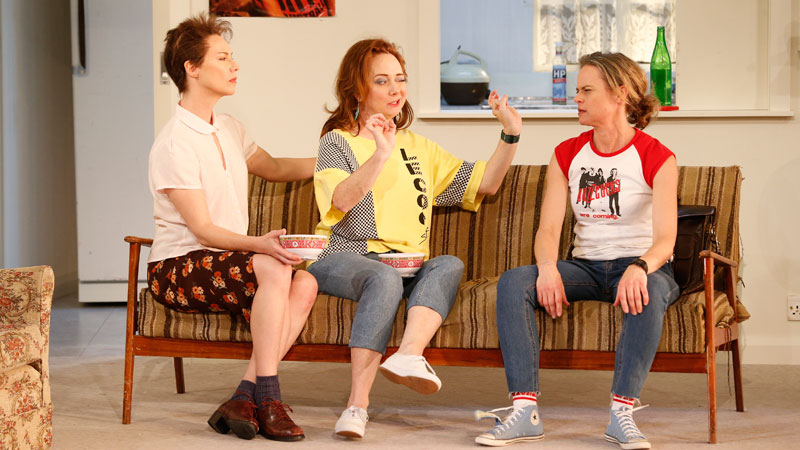 Belinda McClory (left) on stage in her wig with Mandy McElhinney and Nadine Garner in Di and Viv and Rose.
Fun facts:
Wigs are washed during the performance season and re-styled.
If wigs are taken care of properly, they can last for 10 plus years. This requires a great deal of maintenance, especially taking care of the lace netting.
Jurga has been working at Melbourne Theatre Company for 10 years as a make-up artist and wig maker, and has created hundreds of wigs in that time.
She has worked on as many as 20 wigs in a single production.
A number of her favourite wigs include: David Wenham's wig for his character John Proctor in

The Crucible

and Garry McDonald's wig for his character Orgon in

The Hypocrite.
Recycling wigs is a key part of Jurga's job. One of her favourite transformations was turning Max Gillies' wig for his character as Tony Abbott is

Godzone

into Dylan Watson's wig as Seyton in

Macbeth, and then transforming it again into Nadine Garner's wig for Di in

Di and Viv and Rose.
A new wig takes Jurga between 50-60 hours to complete from scratch.
Belinda McClory's wig in

Di and Viv and Rose

took 25 hours, excluding the time spent styling the wig before each show and dressing the actors during each performance, which Jurga also does.
Di and Viv and Rose plays at Southbank Theatre from 12 August.
Published on 24 August 2017