Ahead of Eddie Perfect's new play, Vivid White, comedy writer Michelle Law reflects on Australia's tradition of tackling issues through satire.
It's a form of comedy that's entertained and energised audiences for millennia – satire. Aristophanes skewered Socrates in his play The Clouds, by making Socrates a caricature of himself. In Commedia dell'arte, stock characters like Pantalone and Il Dottore embody the stinginess and folly of the upper class. On Saturday Night Live, Amy Poehler and Tina Fey helped affect the outcome of a US presidential election through their depictions of Hillary Clinton and Sarah Palin. Satire employs exaggeration, irony and mockery (among other things) to expose the injustices and failings of people, collectives and power systems. It's arguably the cleverest form of comedy because it comes with a political punch so deftly delivered that you're knocked out before you even know that you're fighting.
Growing up, I knew that walking outside at night was dangerous, so I'd stay indoors and watch reruns of The Simpsons where Lisa challenged sexism with passion and intellect. I knew that there was no way to reason with racists who screamed 'Rice' at my family, or our neighbours who eyed us with contempt as they staked One Nation placards on their lawn, so my siblings and I played the Pauline Pantsdown single 'I Don't Like It' on our CD player until the disc wore out. Satire was my soothing balm and my Molotov cocktail.
As a child, I had a deep fear of vampires/time travel/tidal waves/the film The Truman Show/the film Beetlejuice/alien abduction/gremlins … how much time do I have? To manage my anxiety, my psychologist suggested I try laughing at my fears in order to rob them of their power. (Maybe, the vampire never got to suck my blood because maybe, it tripped on some cloves of garlic and broke its leg en route to my house.) Satire can strip away pain, fear and power; it shows us that narratives can be rewritten if we are willing to do the work.
Australia has a long and loved tradition of satire. Frontline satirised the trashy journalism undertaken by current affairs programs. Russell Coight's All Aussie Adventures poked fun at an overconfident and mansplaining outback expert. Kath & Kim gifted us with absurd portraits of suburban life and the new middle class, and Clarke and Dawe was beloved for its biting takedown of Australian politics. As a nation we relish any opportunity to take the piss out of ourselves through these portrayals, and the powerless among us hunger for these portrayals because we recognise their potential to change the fabric of our society.
Comedy in contemporary Australia is morphing with our level of social consciousness. The black face on Hey Hey It's Saturday and more recently Jonah from Tonga no longer flies; we'd much rather watch shows like Black Comedy, which stars actual black people telling their stories. We call out material that tears down LGBTQIA persons and fill theatres with audiences for Hannah Gadsby's Nanette. We're exhausted by misogynistic gags and choose to tune in to Get Krack!n instead. These are changing times; young audiences are angry and woke, and comedy in Australia will continue to reflect that. We love Australia because it's home, but there are things about 'home' – unresolved fights, dark and unacknowledged histories – that make you want to cringe, scream, and wish to God that things were different. That things were better. It's laughter that's going to get us there.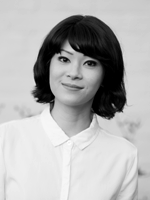 Michelle Law is a freelance writer of fiction, non-fiction, theatre, TV and film. She is the co-author of the comedy book, Sh*t Asian Mothers Say, and has had her work anthologised in books like Women of Letters and Destroying the Joint. Some of the places she's written for include the Sydney Morning Herald, Daily Life, and the Griffith Review. As a screenwriter, she's received an AWGIE award for her interactive media work, and had her films screened on the ABC and at film festivals locally and abroad. Her debut stage play, Single Asian Female premiered at La Boite Theatre Company in 2017, and will play at Belvoir St in 2018. You can receive updates from Michelle Law on Twitter or via her website.
See Vivid White at Southbank Theatre, The Sumner from 18 November to 23 December.
Published on 20 November 2017