We spoke to MTC Production about the technical tricks behind Macbeth.
Director Simon Phillips had one condition in agreeing to direct Macbeth – 'there must be fire on stage,' he said. 'In this play, the sense of violence is far more present than it is in other Shakespeare plays. I was determined there would be flame, to increase the atmosphere of danger, which is constant.'
Live flame in any kind of performance presents logistical challenges. Simulating a car explosion, with actors jumping in, out and on top of the burnt out structure, presents another.
Set designer Shaun Gurton went about designing a set that could deliver Simon's concept, working closely with MTC Head of Production, Adam Howe, and MTC Technical Manager, Kerry Saxby, from day one.
The final set-design took six months to construct in pre-production, seven days to bump-into Southbank Theatre, and a week of 16-18 hour-days for technical staff to ensure every element of the design was ready for the show's first preview.
Included in Shaun's design was a 900kg flying wall, a 14-meter revolve that took 12 hours to install on the (temporarily heightened) stage floor. An impermanent stage lift connecting the theatre basement to a trap door in the stage, projections, smoke, flame, multiple flown scenic elements, over 110 individual props all seamlessly interwoven over 27 scene transitions made up of 180 Lighting cues, 144 sound cues, 22 automation cues and 34 fly cues.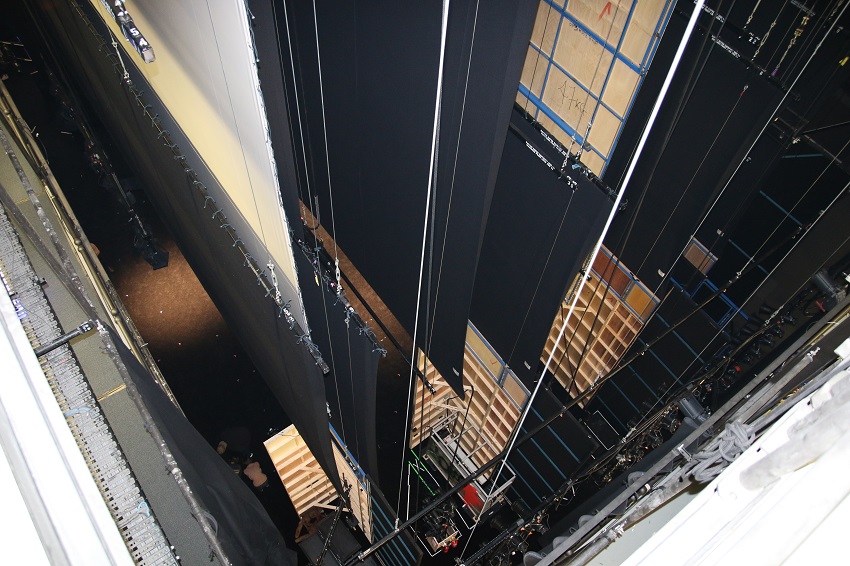 The view from the top of the fly tower.
'The set design reflects the dualities of internal and external, public and private and epic and intimate,' Shaun says. 'We are contrasting grand stage images against refined domestic scenes. I'm interested in exploring the evilness that comes out of a domestic world, and the carnage that war leaves in its wake.'
The opening scene of Simon's Macbeth features Shareena Clanton, Kamil Ellis and Jane Montgomery Griffiths as the three Witches, sitting at a bus shelter covered in graffiti. They part ways leaving a backpack under the seat. When a witch takes out their mobile phone, sets off the backpack bomb, there's a great flash of light and then a total blackout. A wall flies up and a burnt out Volvo appears centre-stage with meter-high flames emerging from its open bonnet.
MTC staging supervisor Grant Kennelly is responsible for checking the car before each performance, using bubble-up (a gas and air leak detector), in order to 'not burn down the theatre.'
'The flame runs on an old bottle of LPG. Just like a barbeque would without the steel plate,' Grant says. 'With both Kamil and Jai jumping on top of the car, I have to be prepared to cut the flame in a second.'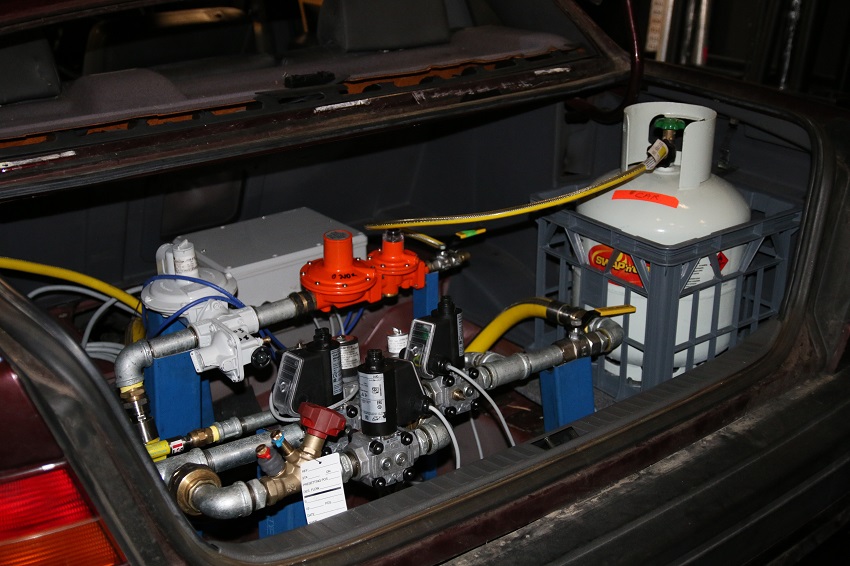 LPG

bottle in a scenically treated Volvo.
Simon and Shaun's vision for Macbeth morphed into a show with 'slicing issues, crushing issues and burning issues,' according to Grant. Meaning safety was of the highest concern and many hours of work went into maintenance of technical elements throughout the season.
One of the most difficult features of Shaun's set was implementing the massive 14-meter revolve, a feature of the show that the actors weren't able to use until they were in the theatre for dress and technical rehearsals.
'By utilising a revolve, and upstage masking to disguise scene changes, we've created a dark, mysterious and fluid world of eternal coming, going, and movement,' Shuan says.
Trackable borders and flying scenic elements meant Shaun was able to close down the stage from a battleground to an intimate bedroom in seconds.
As part of their Performance Technology program, 30 students from the Victorian College of the Arts went on a backstage and on-set tour of Macbeth, gaining an insight from MTC technical staff on the integral part technology (including automation and visual effects) play in bringing a show to life.
The initiative aims to expose VCA students to design, technical production and stage management practices at a professional level.
Kerry Saxby says that after 29 years working at MTC, on more than 350 productions, there are still surprises and challenges to overcome in the technical space of every production. Macbeth was no exception.
Look at Macbeth's set in our production gallery.
Published on 26 July 2017