MTC's Indigenous Scholarship Program offers eight participants a unique window into the world of professional theatre.
MTC's Indigenous Scholarship Program offers insights into the vast array of career pathways within the performing arts sector, and connects young First Nations' people with key contacts in the industry as they embark on their careers.
Now in its third year, the program has evolved from a work experience initiative, to a hands-on orientation of how a production is made. MTC Community Outreach Manager Karin Farrell says the program encourages young First Nations' people to tell their own stories, and see the theatre as a shared space they can exist in. 'With many of the participants coming from outside of the city, there is a clear focus on demystifying Melbourne – to see it as an accessible place where they can work, study and live. Our facilitators are integral to this. Not only do they provide cultural support, but they offer lived skills, advice and knowledge from working in the industry.'
Participants hail from the far-flung stretches of Australia; the East and West Kimberley, Queensland, rural towns across Victoria including Swan Hill, Shepparton, Traralgon and Cape Woolamai, and from across Melbourne's metropolitan suburbs. They meet for four week-long intensive workshops at MTC in their school holidays over the course of the program. Their interests and passions are as diverse as their geographical home bases; however, they all share one common love – performing arts.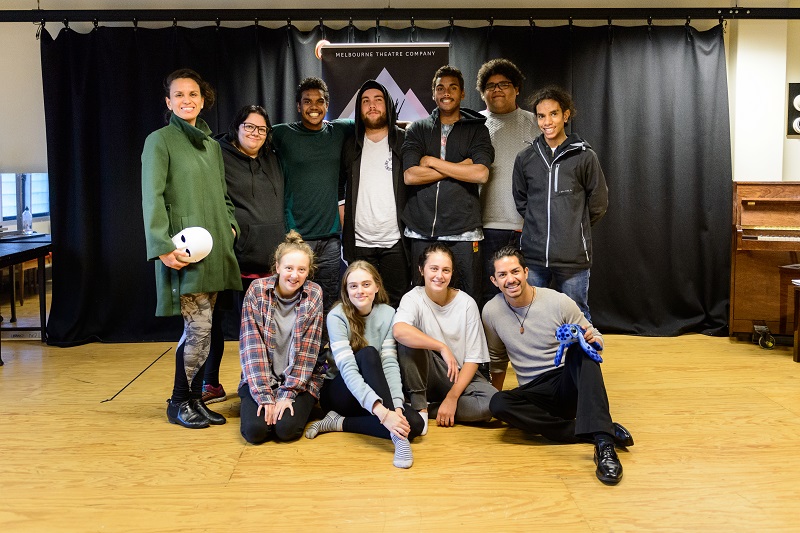 Indigenous artists and mentors Sermsah Bin Saad (Suri) and Lenka Vanderboom are working closely with the group, sharing their understanding of life as working artists. Sermsah is Nyikina and Lenka is a Yawuru descendant from Broome.
Together they have used performance and facilitation as Cultural liaisons to connect First Nations' people to their wider community. They initially came together in 2005 through a project studying resilience within the Ardyaloon Aboriginal Community on the Dampier Peninsula. Sermsah and Lenka became members of Melbourne Playback Theatre Company in 2013 as actors and facilitators.
Through MTC's Indigenous Scholarship Program, they're hoping to demonstrate how a career in performing arts is possible. 'All the participants are already very sophisticated and independent. And have already indicated that they're keen to contribute back to their communities,' Lenka says. 'It will be interesting to see how they learn from the community they're being exposed to at MTC and use this to access the incredible resources to grow themselves.'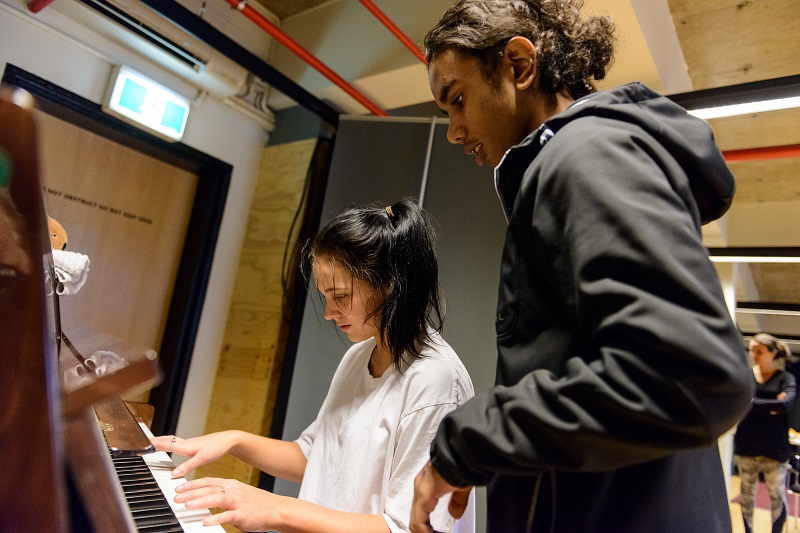 'It's a chance for these students to connect back to their cultural roots and their identity as Aboriginal people,' Sermsah says. 'Being able to guide and demonstrate the skills they already have and support their existing passions is really exciting for us.'
With the program's first week completed and its second week currently underway, Lenka says it's important that the group continue their acknowledgement of Country throughout the learning process. The group of eight students were welcomed to MTC in March with a traditional smoking ceremony conducted by Boon Wurrung Senior Elder Arweet Carolyn Briggs and her grandson Jaeden Williams – a powerful and inclusive experience for participants and MTC Staff that acknowledged the traditional owners of the lands on which MTC HQ and Southbank Theatre stand.
'It was really important for us to implement a formal Welcome to Country,' Lenka says. 'For First Nations' people we exist, we thrive and we strive in two worlds. One is the dominant culture and the other is our First Nation's cultures. It's very important for us to acknowledge that.'
For many of the participants, the program involved an orientation to Melbourne for the first time – a city vastly different to their own communities. In their first week the group experienced a range of performances including Faith Healer, Lord of the Flies, a Melbourne International Comedy Festival show and a rehearsal performance of Ilbijerri Theatre's Corranderk. They participated in a comedy workshop with Sean Choolburra and Shiralee Hood, a writing workshop with Tammy Anderson, and visited the Bunjilaka Exhibition, Victoria College of the Arts and ACMI.
'Theatre has always seemed to occur naturally for our mob. It goes way back to our Cultural ways and spirit – storytelling through song and dance. It's been embedded in our blood since the beginning of time' – Sermsah Bin Saad
Participant Jacinta Keefe said that after week one, her perception of a career in theatre had been blown wide-open. 'I want to do everything,' she said. 'Production, design, costuming, props, stage management – all of it.' As an emerging photographer, Jacinta says she's thrilled to be in a building filled with so much creativity. For Jacinta, the Indigenous Scholarship Program is an excellent opportunity to learn more about her Aboriginality and connect with people with the same passion for performance.
Swan Hill participant Brodi Purtill would like to glean as much as possible from her mentors Sermsah and Lenka, so that one day, she can study education and return to her hometown to teach drama –an opportunity she didn't have growing up. Brodi has already directed a number of productions with various drama groups and has received multiple awards for her efforts and contribution to her community. As a self-described 'city kid' born in the country, Brodi says she feels as much at home in Melbourne's CBD as she does in Swan Hill. Connecting to other indigenous young people with a passion for theatre was a highlight of week one. 'It's really important for Aboriginal youth to be seen,' she says. 'The Indigenous Scholarship Program does that.'
Travelling all the way from Derby, in one of Australia's most remote regions, the Kimberley, Josh Marshall has a very specific goal for when he graduates High School at the end of this year. That is to go to Drama School at the Western Australian Academy of Performing Arts (WAAPA) and study acting.
Josh's participation in the Scholarship Program came about by being hassled by his Aunty. 'It's an awesome program,' he said. 'When I first rocked up, I was prepared to do stuff out of my comfort zone. I'm used to being an actor, my own actor. But [in week one] I learnt about all different types of mediums. I learnt about dialogue, comedy, and dance. Suri and Lenka have a lot to offer and I'm taking it all away.'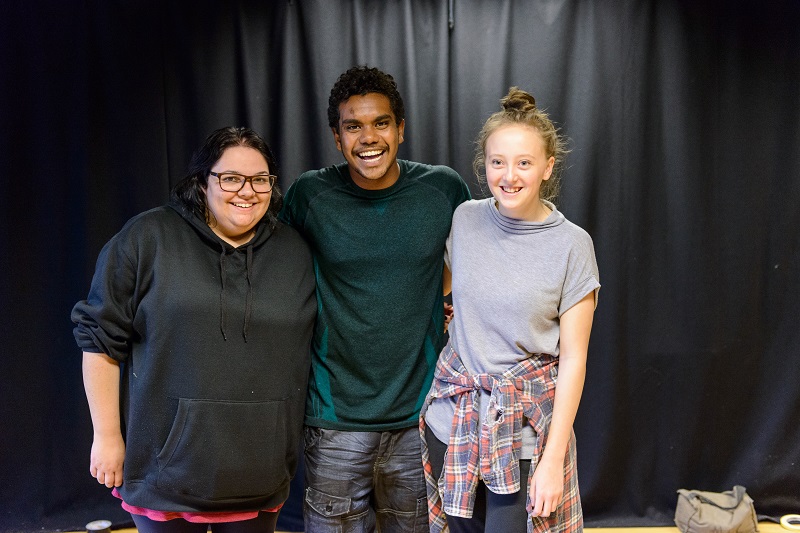 Generously supported by the Crown Resorts and Packer Family Foundations, in partnership with the Wilin Centre for Indigenous Arts and Cultural Development at the Victorian College of the Arts.
MTC's Indigenous Scholarship Program is part of the Company's Sharing the Light initiative, designed to reduce barriers some young people face in accessing arts education and learning opportunities.
Learn more about our Indigenous Scholarship Program
Published on 6 July 2017