Director Petra Kalive (who also co-wrote the play with Diana Nguyen) has been exploring themes of racism, classism and self-acceptance within Laurinda as the cast and creative team create the show. Here she shares insights into the rehearsal process.
What is Laurinda about, in your own words? What is the world of this play?
Laurinda is about being true to yourself in a world that constantly asks you to be something else. This is often explored in young adult fiction and plays, as a coming-of-age story. But this is a coming-of-age story for a 15-year-old and a 38-year-old woman. Because we are always coming of age and the fight to stay true to yourself, never really ends.
More specifically, Laurinda follows the story of Lucy who at 38 years old is dragged back into her 15-year-old self by her alter ego Linh and made to relive Year 10 at the private girls school Laurinda. Lucy, the daughter of Vietnamese refugees, is from Stanley (a fictional suburb in Melbourne). She is lucky enough to be the inaugural recipient of an Equal Access Scholarship for Youth to Laurinda. Here Lucy's race and class brush up against entitlement and privilege for the first time. She sacrifices her own integrity to join The Cabinet, a trio of girls who have it all. They are smart, gorgeous, rich and powerful. But halfway through the year Lucy's inner-self pops out, because she can't take being silenced anymore and that's when Lucy's true reckoning begins. She is forced by her inner-self, to speak truth and she puts it all on the line. Lucy has no idea that by doing that, she causes a series of ripples, that not only dramatically change the culture of the school, but even ripple into her adult life, reminding her, she is much more than she gives herself credit.
Like falling down the rabbit hole into Wonderland or landing in Oz, this play traverses Lucy's memory, in a surreal landscape to arrive at some great inner wisdom.
How would you describe the performance style of this production?
We use lots of physical comedy, and exaggerated character in this production. As the story mainly exists in Lucy's memory, we are having great fun exploring how exaggerated (bordering on grotesque) we can make these characters. Tonally this work uses humour and satire to hold a mirror up to the audience.
Most of the cast play several characters. How do you help them to make these characters clear and distinct?
We have talked about voice placement, where weight is held in the body – what part of the body leads that character. And also distinctive costuming.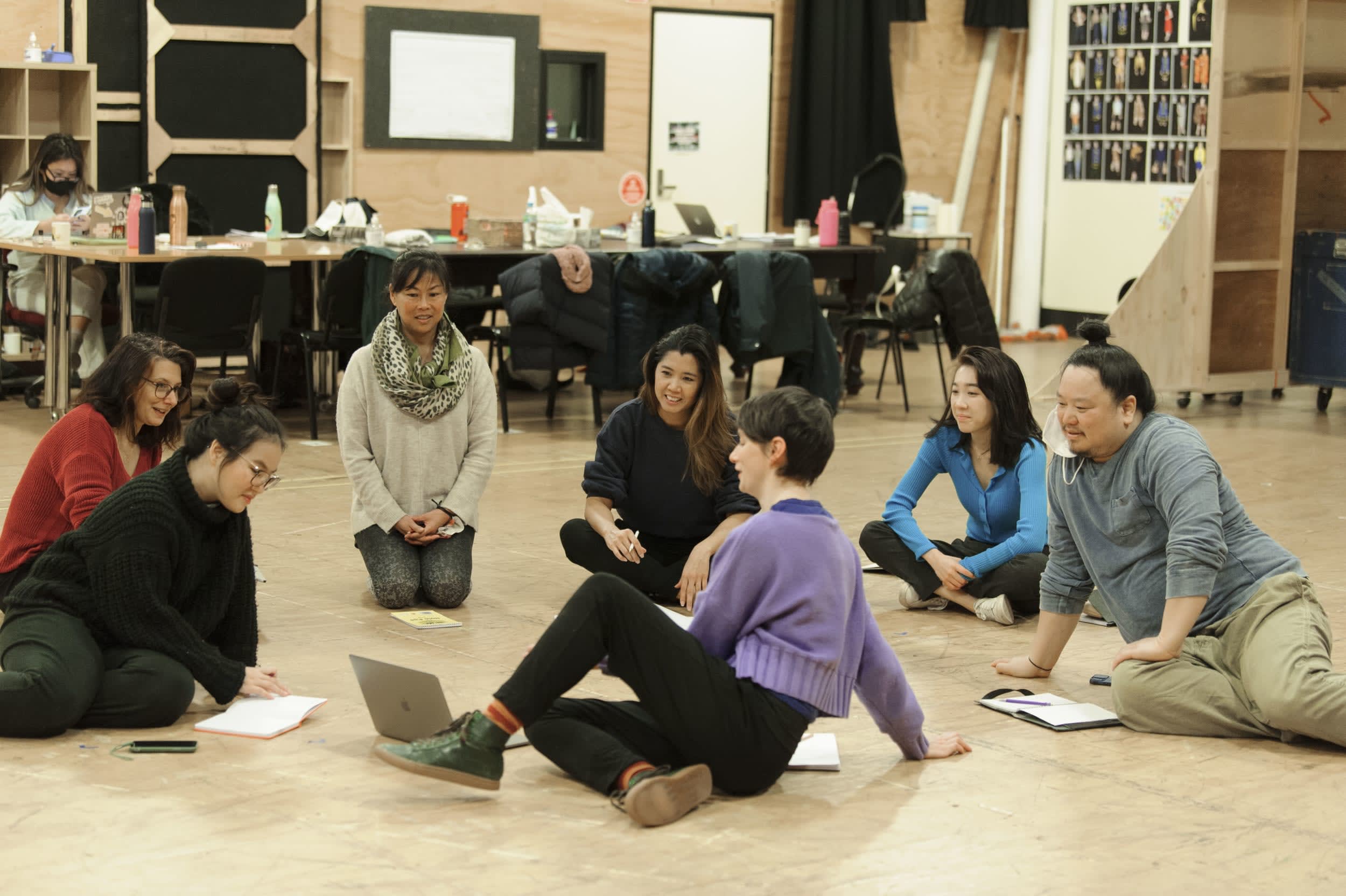 The Laurinda team in rehearsals. Photo: Sarah Walker
Could you elaborate on the vision for the AV in this production? How does the inclusion of AV affect your direction?
We have been working at using AV to aid the storytelling of this production, so it is dramaturgically linked into the surreal, rabbit hole aspect of the work. It helps frame the alter ego Linh and allows us to play with perspective.
What has been an exciting challenge to tackle/solve in rehearsals so far?
While this is a Vietnamese story, we have specifically focused on the Asian Australian experience and so the majority of the cast and creative team have an Asian Australian background. But everybody's perspective and experience is so different. Landing on a collective understanding of a single moment let alone the whole play is challenging, but also very exciting (because our audience's experience will be very different as well).
Working with the AV in the rehearsal room and getting the actors to interact with the filmed material is laborious, but so satisfying when it works. A new work is always challenging in a good way. Lots of changes, edits, reworkings happen on the floor constantly – we are constantly asking ourselves is this the best way to tell this story.
How do you collaborate with other members of the creative team? Do you use any particular technologies/software?
I use Milanote, Google Docs, Instagram and Spotify to collaborate with my designers.
What would you identify as a key theme or big idea in the play? Is there a particular moment that you think explores this best?
Racism and classism. Othering of people is a big theme in the play. What we are often exploring are the microaggressions or the unconscious everyday comments that wear a person down, that make them feel unwelcome or subordinate. There is a monologue that Lucy has towards
the end of her Laurinda year, where she lets loose and tells the school exactly what she thinks – and it is powerful and full of rage.
The other theme is self-acceptance. The idea being that we can't truly be happy or contribute confidently to the world if we haven't accepted ourselves for who we are, with all our imperfections. The final moments of the play explore this idea with Lucy at 38. She sees what her 15-year-old self was able to accomplish by being unashamed and unafraid and finally accepts her alto ego (her true self) back into her body.
Published on 20 July 2022