An accomplished lighting designer and technical all-rounder, Denis designed the lighting effects for the 1955 premiere of Ray Lawler's Summer of the Seventeenth Doll back in the days of the Union Theatre Repertory Company with John Sumner.
He became one of Australia's first theatre design consultants founding Entertech in 1979, and was actively involved in the design and technical specification of almost all the major and not so major performing arts centres in Australia, including Arts Centre Melbourne and Southbank Theatre.
When Denis became ill and was unable to work, long-time friend and business associate Peter Fearnside, Managing Director of international acoustic engineering consultancy Marshall Day Acoustics, acquired Denis's theatre design company Entertech. Peter says, 'Denis was an inspirational mentor to me and many in our industry. His passion for theatre fuelled his work and his life. His creative but practical approach to theatre design lives on in the many theatres he created.'
For some years Denis spoke about developing a scholarship to encourage VCA students to study the design and operation of theatres. He believed that as the people who work in the spaces we are often the best placed to advise how they should be designed. Following Denis death in 2008 Marshall Day Entertech, in conjunction with Melbourne Theatre Company, established an annual award to encourage the pursuit of a career in theatre technical production or in the design of performance venues. The Denis Irving Award equates to 10 weeks paid work for the recipient with time split between both Marshall Day Entertech and MTC. This year's recipient, Julia Orlando, an aspiring Stage Manager / Production Manager is looking forward to her experiences this year.
'I have a strong passion for the progression and improvement of the arts industry within Australia, particularly in rural and remote areas. Growing up in a small, country town, exposure to the arts was sparse. I chose to pursue a career in Stage & Production Management in the hope I could help improve access to productions in these areas, contributing to advancement of the theatrical industry.'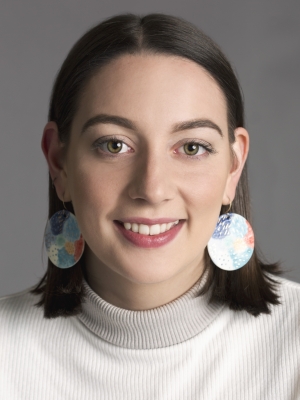 Julia Orlando
'After interning with the Stage Management Team on Vivid White in 2017, I am thrilled to be working with MTC again through this program in honour of Denis Irving. I hope to gain further insight into MTC's Production Management department, and to advance my production management skills while working across Astroman and Twelfth Night. I am also looking forward to corresponding with the team at Marshall Day. Through this part of the award I hope to learn the in's and out's project management through observing the consulting, design and installation phases and help bring a Stage Manager's perspective and understanding into venue design and functionality. The Denis Irving Award is a fantastic opportunity to advance and refine my technical knowledge, increasing my skill set, and thus improve my employability as a freelancer.'
I hope you will join us in wishing Julia all the best for her time with both Marshall Day Entertech and MTC.
Published on 10 August 2018