Looking back at the last decade at Southbank Theatre, we spoke to Lally Katz, Nicholas Denton, Jean Tong and Joanna Murray-Smith about some of our favourite Australian stories on the Sumner and Lawler stages.

Playwright Lally Katz remembers her 2014 production Neighbourhood Watch and the real-life experiences that resulted in her production at Southbank Theatre.
Creating Neighbourhood Watch was one of the most meaningful things to me as an artist, and in my life; it was a true merging of my life and my art. It was about my neighbour Ana, who I lived across the street from in Kew. So having the play on at Southbank Theatre felt like its rightful home. Though probably I should have changed the character names beforehand...
It's an incredible theatre, and a space that is perfect for audiences and performers to dream in together. I've worked in both theatres at Southbank Theatre and they are both spaces where you can create anything; any reality, any character, any kind of magic, and you also feel very close to the audience.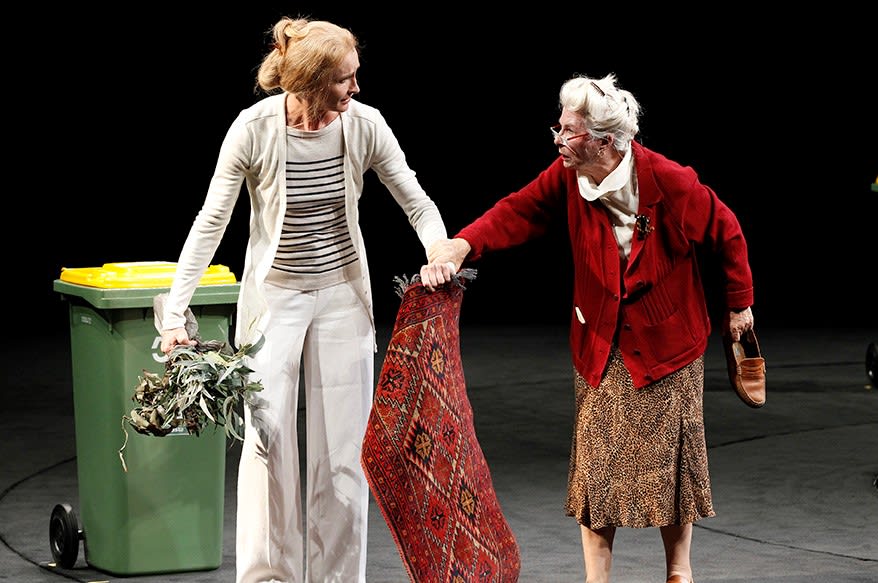 Natasha Herbert and Robyn Nevin in Lally Katz's 2014 play Neighbourhood Watch.
Nicholas Denton played Charlie Bucktin in one of MTC's most popular shows to grace Southbank Theatre in the last 10 years, Jasper Jones.
Jasper Jones taught me so much, but in particular, the experience taught me the gift of great story. The strength and potency of story. Working on a play that was adapted from a novel is something I had never done before. But with this skilled adaption by Kate Mulvany and a beautiful story by Craig Silvey, I got to learn how great writing can be so effortlessly moving in any way it is presented. Be it in a novel, theatre, or even film. This show has been performed in many cities and in many different ways, however without a doubt every productions has had the exact same heart in it. And that heart, I believe, comes from its truly unique and well developed story.
For me, as an artist, being my first time in front of an audience of more than 80 people, it felt as if I had been given the greatest opportunity anyone starting out could ask for. A play with so much warmth and heart in it, a cast and crew with such skill (many of whom I had studied in high school) and a brilliant theatre to play in. The whole experience was really overwhelming...but in a good way.
From what I have seen and worked on in that venue, it has shown me how a theatre can take someone's thoughts and make them real. Be it a disappearing hotel room in Wild or exploring a fully built revolving town in Jasper Jones. It's like magic. Well, magic that only comes with the incredibly gifted crew that work behind the scenes to create it, and the fact that the Southbank Theatre carries some of the most advanced stage technology in the southern hemisphere. But magic none the less.
Nicholas Denton alongside Taylor Ferguson in MTC's 2016 production of Jasper Jones.
Playwright Jean Tong's production Hungry Ghosts, toured Victoria and Tasmania as well as mesmerizing audiences in the Lawler at Southbank Theatre.
Being able to work at a theatre company of this scale challenged my assumptions about how my work would be received by a wider audience. As my work was part of the main MTC season, but profiled in the Education Program, I reached audiences between the ages of 16-76 whose responses varied greatly across generations and cultures. This, in turn, has made me more robust to critique, and more aware of how to approach creating multifaceted work, that can equally, but differently, touch a broad spectrum of audiences.
The highly skilled technical and production team at Southbank Theatre bring the stage to life from behind-the-scenes. The theatre is also at the centre of Melbourne's arts precinct, and working there offers the rare chance to work beside other major performing and visual arts bodies in the state, expanding your understanding of the wider arts ecology in Australia.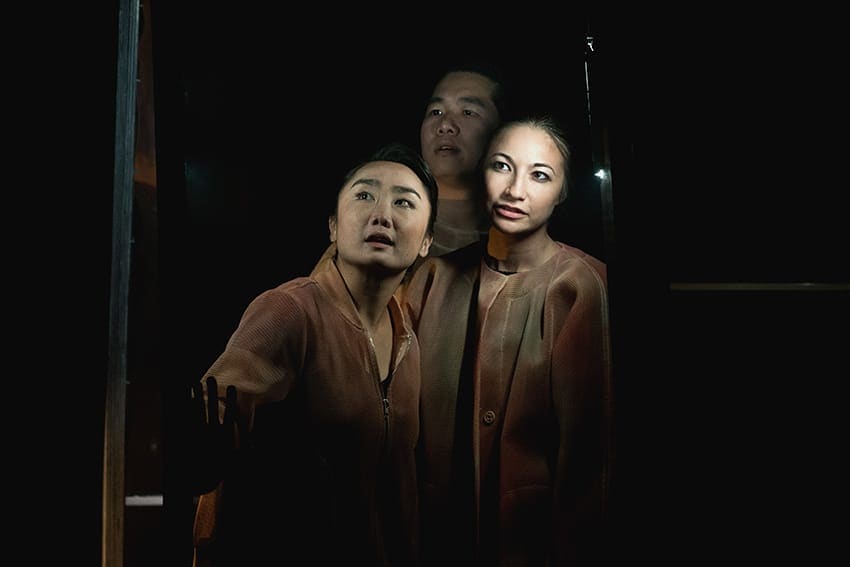 Jing-Xuan Chan, Bernard Sam and Emina Ashman on stage in Jean Tong's 2018 play Hungry Ghosts.
Playwright Joanna Murray-Smith reflects on how Southbank Theatre has morphed into many different worlds to accommodate her imagination.
I watched the Southbank Theatre come to life under Simon Phillips's typically ambitious and imaginative eye and have enjoyed at least five of my plays produced within it, each one its own joy. The most recent, Three Little Words, commissioned by Brett Sheehy, was unadulterated pleasure. Michael Hankin's brilliant revolving set complemented Sarah Goodes' wonderfully volatile direction, from comedy to tragedy, and I had the privilege of working with four of my most admired actors, Peter Houghton, Catherine McClements, Katherine Tonkin and Kate Atkinson — all not only beautifully adept at comedy, but the brainiest of collaborators on a new work. That play was fuelled by my sense of simultaneous absurdity and faith in love, marriage and friendship ,and the audience metaphorically seemed to throw themselves onto that revolve. It remains a highlight of my relationship with MTC.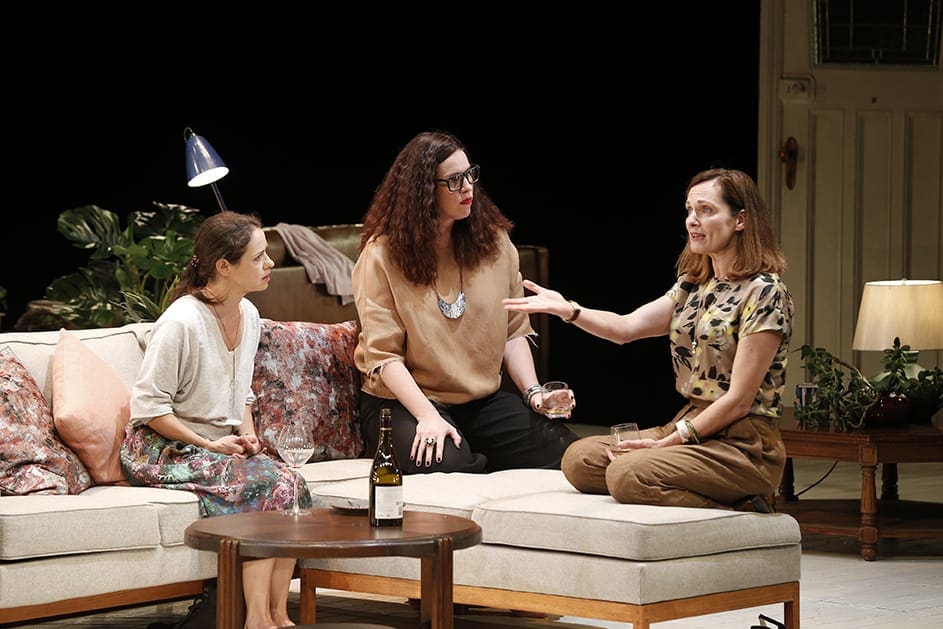 Kate Atkinson, Katherine Tonkin and Catherine McClements in Joanna Murray-Smith's 2017 play Three Little Words.
Published on 24 June 2019