Costumes for MTC productions are often created in a whirlwind of activity in the weeks before Opening Night, but in the world of the play, characters have often owned their clothes for years. This is where Art Finishing comes in.
In Art Finishing costumes are 'broken down' so they look like part of the world on stage. For example, in Shakespeare in Love, a street urchin's clothes required tears and stains, while in Red, an artist's smock required paint splatters and grime. Josephine Johnson works in Art Finishing as part of the MTC Wardrobe department. 'I think of my job as putting the character into the costume,' says Josephine.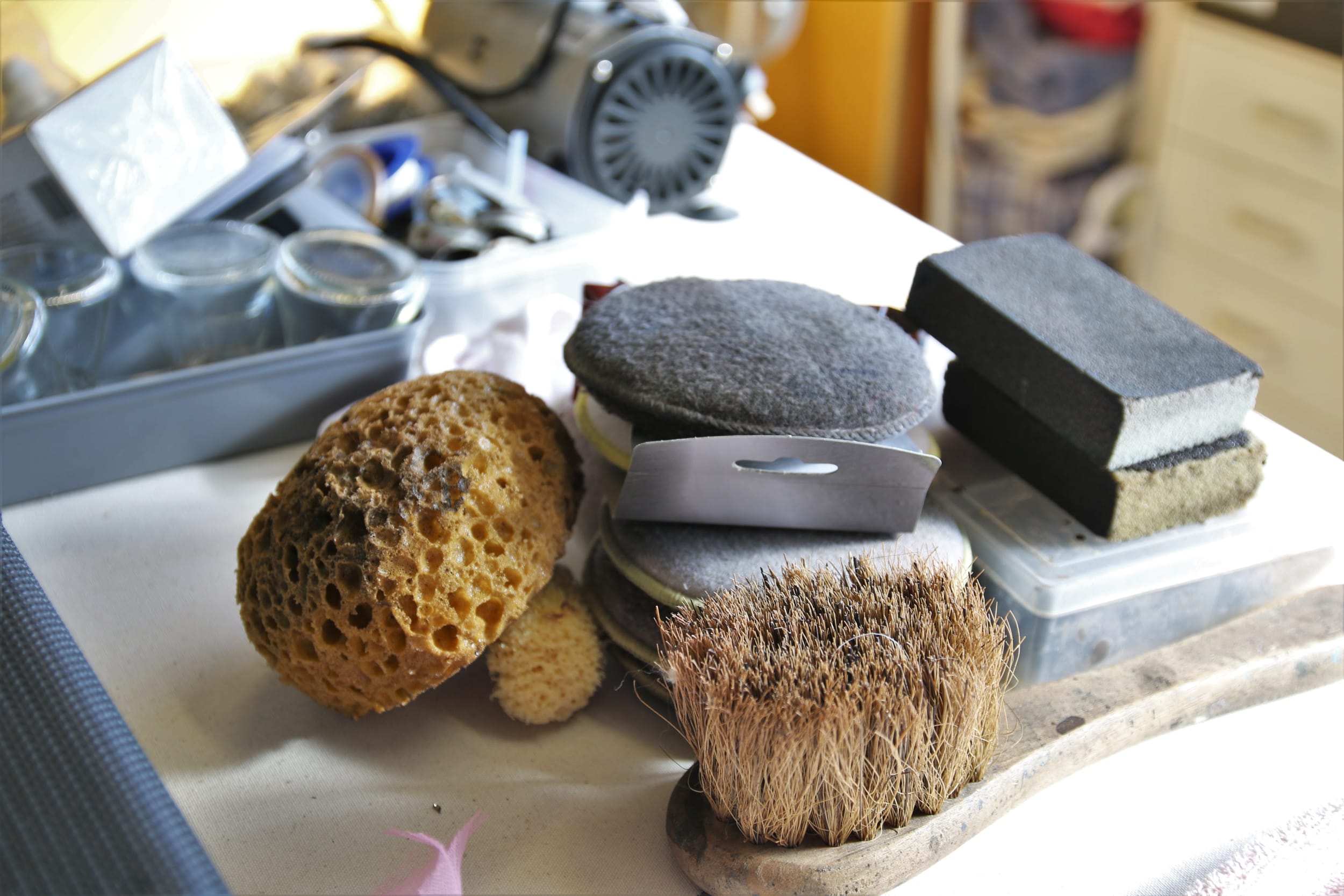 Sponges, airbrushes, chef's blowtorches, and coarse brushes are used by Art Finishing to break down costumes.
The costume for Webster in Shakespeare in Love, played by Aljin Abella, required several treatments to achieve the desired effect. 'I started by wetting the leather doublet and leaving it to dry in a crinkled pile, then I painted it with an airbrush and textile paint,' says Josephine. 'This garment also had a salt wash to enhance the aging, and I sanded it in sections to expedite the kind of wear and tear it might endure over time.' Josephine uses all kinds of equipment to break down fabric, including pumice stones, sanding blocks, and power tools like a dremel.
Shakespeare in Love costumes
Aljin Abella's costume for Webster, a street urchin in Shakespeare in Love, is one of most 'broken down' costumes in the production. Hand-made leather pouches, and a dead (rubber toy) rat with added fur, add detail to the garment. Josephine often uses a chef's blowtorch on wool or velvet to enhance aging effects, as well as sanding down fabrics until the weave is visible, before adding textile paint to finish the look.
Luke Arnold played Kit Marlowe in Shakespeare in Love, as well as several ensemble characters including Burbage's Heavy (henchman). Josephine sanded back the brass buttons on his doublet with steel wool, then used M20 (an antiquer for metal) to give them more history. 'I also use wax that I make myself to give the impression of a build-up of dirt,' she explains.
Twelfth Night cloak
Art Finishing isn't always about aging costumes. For Shakespeare's Twelfth Night, Josephine hand-painted an intricate peacock design onto Viola's cloak. 'In many ways, I'm also a textile artist,' says Josie, describing the process of creating stencils, painting layers, and adding details with colour and texture that can be read from a distance by the audience.
Vivid White coats
Eddie Perfect's satire with songs, Vivid White, tells the story of friends blinded by the Melbourne property market during an apocalyptic nightmare. For the storytelling, two versions of this coat were required (one clean and intact, the other ripped and stained), so the audience sees how this battle of life or death takes its toll on Liz over the course of the play.
Red shirts
In John Logan's play about artist Mark Rothko, Colin Friels' costumes were splattered with paint. The Wardrobe team created several copies of these shirts to keep them fresh during a six week season at Southbank Theatre.
Published on 15 September 2019