Eloise Ross shares her impression of one of Hollywood's most influential women of the 20th Century – Mae West.
In 1927, the up-and-coming theatre star Mae West was sentenced to time in prison, charged with obscenity, indecency, and immorality. The source of the charges was in her play, titled Sex, that she wrote, directed, and starred in on Broadway. While a challenge for that particular play, serving eight days imprisoned on Welfare Island turned out to be one of the best things that could have happened to West's career, as per that old adage that any publicity is good publicity, particularly if it's bad. On the back of a stint in prison, West's reputation became irrevocably aligned with liberalism and sexual forthrightness – she would withstand anything for her right to freedom of expression – and her shows on Broadway attracted big audiences. She was such a success, and so unique in the tone of her persona, that Paramount offered her a contract and she moved to Hollywood. Her vivacity came along at just the right time when a nation was suffering the lows of the Great Depression. The movie-going public always relished the star who could brighten up their screens.
While West was outspoken about many things – indeed, that was why she was a notable figure and has remained iconic amongst early-twentieth century feminist consciousness – at first she kept her year of birth a secret. It's likely that this was a publicity decision to shield her from a judgemental industry, and she may not have been happy when gossip later arose about her age. Whatever the case, the fact that she was offered her first Hollywood contract in 1932 when she was nearing the age of forty is remarkable, and she became a powerful sex symbol like no other. This was by no means the only barrier through which West broke as a woman in the industry. Her star persona, exquisitely curated through voice, performance, and physicality, was shaped more by her own fierce negotiating and business acumen than by any conservatively-angled publicity machine.
Scott Balcerzak suggests that in the 1930s, Mae West was one of the only actresses who had the powerful role of 'actor as auteur' – which is not to say that other working women were without independence and agency in the industry. There were a number of stars, including Carole Lombard and West's friend Bette Davis – negotiating contracts and shaping their own personas in a controlling environment. But West's role was particular; not only was she in charge of her body and persona on screen, but she began rewriting some of her lines from her very first film appearance in Night After Night (Archie Mayo, 1932). As she came from the theatre, she continued to contribute to scripts throughout the rest of her career. This authorship of scripts was enhanced by an authorship of her body, and now her exaggerated hips-first walk, pursed lips, and caustic line delivery, comprise some of the most recognisable performance traits in film history.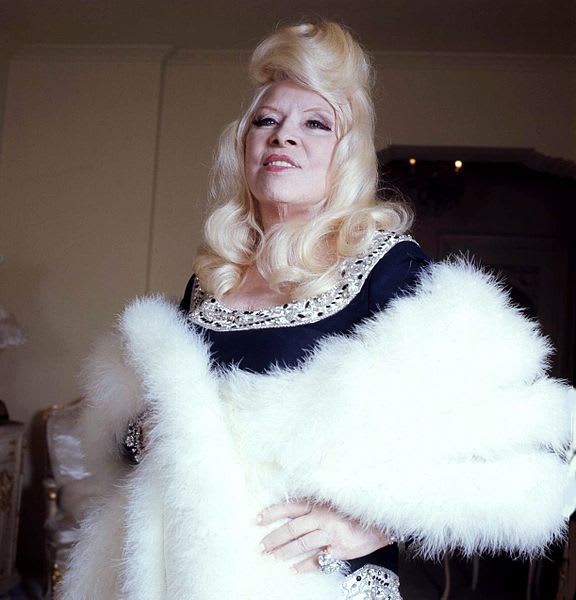 Pictured: Mae West at home by Allan Warren (1973)
She Done Him Wrong (Lowell Sherman, 1933) was her first big hit, modelled after her own stage show Diamond Lil, and Lady Lou became one of her most famous roles. In that film, her reputation precedes her appearance; as men crowd around speaking about the inimitable Lady Lou and women tsk-tsk at her presence, West arrives in a decorous horse-drawn carriage. Seen as both disapproving and even a little jealous, these women are representatives of the internalised repression that West's persona is so keenly trying to break through, both in her drag performance and her acknowledgement of sexual pleasure. Her character here may exploit her sexual allure, and West achieves the same thing in her other films made around the same time, but the power is that West claims space as a woman who has an equal right amongst men.
While clearly popular across the United States, West was not appreciated by all. Film production documents in Hollywood at the time made note of 'the Mae West menace', and Paramount had difficulty distributing She Done Him Wrong in some territories, including Australia. For some, West's presence as a cultural symbol that challenged traditional gender roles was too threatening. Yet she persisted, continuing to challenge the conservative view of the woman on screen by adopting roles and finding empowerment in them. Mae West was excessively and even aggressively feminine, and she constantly transgressed patriarchal ideas of feminine behaviour. Her continuous performance was of its own, and in actively shaping her roles, West owned not only her image but also navigated a path through popular culture.
The Universal picture My Little Chickadee (Edward F. Cline, 1940), her first film made outside of Paramount, was her last real financial success in Hollywood, and she went on to appear in only one more film that decade. Ultimately, it's likely that her film career faltered because her bold persona was quashed during the Production Code, and audiences wouldn't accept her as anyone but the sassy, sexy, sarcastic Mae West they had been introduced to. She would return decades later with the much maligned Myra Breckenridge (Mike Sarne, 1970) and made her final appearance in Sextette (Ken Hughes, 1978), adapted from a play she had written. The 1970s was a decade when many popular stars from Hollywood's studio era were appearing in cheap horror and exploitation films, as this allowed them to keep working in the altered landscape of industry and culture. The stunning thing about West, though, is how similar she was to the figure, persona, and posture of her early years in the film industry – you'd be forgiven for failing to notice there was a four-decade difference.
As a public figure Mae West was unafraid, and as a lasting cultural phenomenon she is irreplaceable. She was an unapologetic parodist of gender performance, using body language and verbal expressions to challenge norms and expectations. While Lea Jacobs writes that her ribald nature was tamed by Hollywood's censorship from the mid-1930s, West never completely toed the line. Just as importantly, although her boldness was hinting at caricature, West was a feminist who used her position to encourage acknowledgement of female sexuality and create a space for women on the public stage. Like Jane Fonda who, decades later, would publicly discuss women's pleasure and incorporate it into her work – particularly with the Netflix show Grace and Frankie – Mae West did not shy away from confronting the patriarchal erasure of female agency.
Some of her famous quips, coming from films or through her own publicity manouevres, have evolved as part of common parlance in the decades since first heard. Her plays, and roles that keep her image in the spotlight, continue to challenge attitudes today. A mammoth figure in film and theatre, West is deservedly remembered and admired as a groundbreaking figure for liberal, feminist values. Her first line in Sextette speaks volumes about West's approach to her work, and her fans' enthusiastic appreciation of West: 'They like me any way they can get me.' It's a terrific way to say goodbye, and we should heed her advice.
Arbus & West plays at Arts Centre Melbourne, Fairfax Studio from 22 February to 30 March.
Published on 4 September 2018