Last night marked the World Premiere of the first play from Working Dog, The Speechmaker, at Arts Centre Melbourne. It's been a long, riveting, hilarious road from page to stage, and it was so exciting for the entire MTC team (and no doubt the Working Dog team too), to finally see the play take flight.
The play opens with the US President delivering a speech:
Silhouetted against the backdrop of a huge stars and stripes flag, the President of the United States is delivering a speech to an adoring crowd … After massive applause, the President continues.
Massive applause. Where does one find that? If the speech occurred later in the play, with an audience that were warmed up and ready, we might have been able to count on live applause each performance. But at the start of the play, when an audience isn't quite sure what to expect, it's better to be prepared. We could have used a commercial applause track (similar to what you hear on TV shows) but we thought it might be a little more fun to involve some of the MTC audience – in particular, our CentreStage members.
And so it was that during our dress rehearsal last week, Sound Designer Russell Goldsmith conducted our CentreStage members through a series of different applauses and speeds. Below are a few shots of the team in action – it just goes to show, there's more than one way to end up in a theatre production!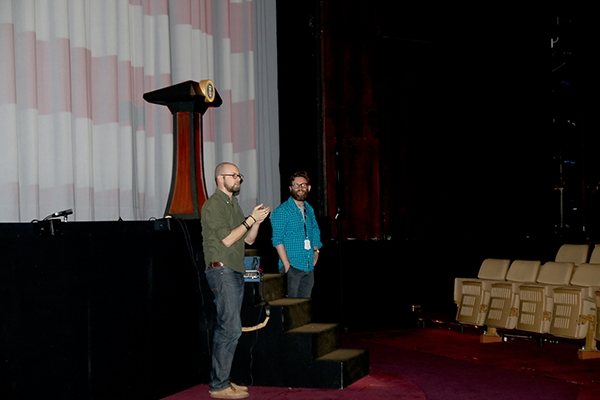 Sound Designer Russell Goldsmith sets the tempo, while Director Sam Strong watches on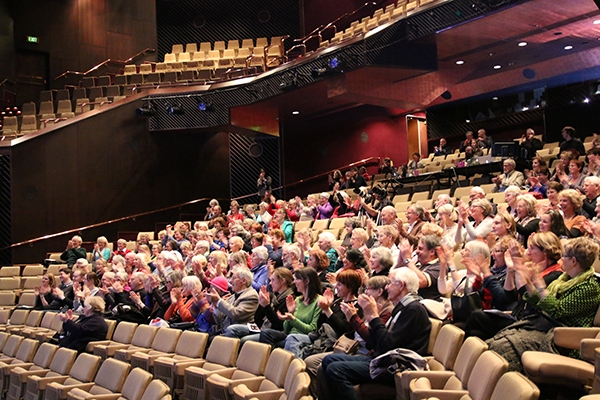 Our CentreStage members handle their task with aplomb
Russell has been a busy man of late: in addition to The Speechmaker, he's worked on the sound design for Ghosts and Little Ones Theatre's NEON production of Dangerous Liaisons. If anything, it's Russell that deserves a round of applause, for all his hard work! Here he is at last night's Opening of The Speechmaker, celebrating (and rightly so) with writer Santo Cilauro. You can see more photos of the Opening Night celebrations in our Facebook gallery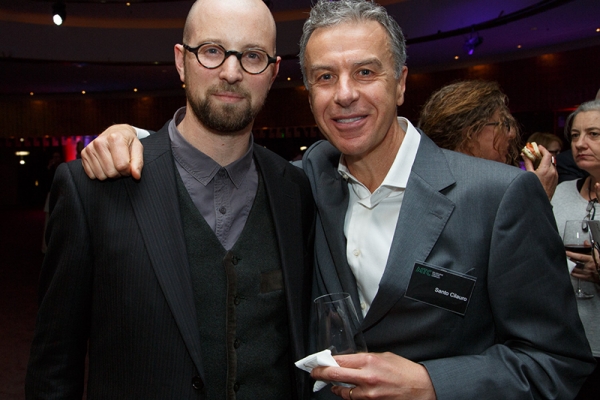 Tickets to The Speechmaker are almost sold out – the only availability is for the Wednesday matinee performances. Concession card holders can also queue for Day Seats at Arts Centre Melbourne from 9am on the day of a performance. See the Discounts section of our ticket information page for all the details.
The Speechmaker is playing at Arts Centre Melbourne, Playhouse until 5 July.
images 1, 2 and 3, by Meg Byrne; image 4 by Heath Warwick
Published on 6 June 2014