In partnership with Virtual School Victoria, MTC is breaking down barriers to drama education, making theatre accessible to students regardless of their circumstances.
Thornbury-based Virtual School Victoria (VSV) is the key provider of distance education statewide; it reaches over 4,000 pupils – more than any single school in the state – and offers around 135 courses. VSV exists to meet the educational needs of Victorian students whose circumstances prevent them from accessing mainstream schooling, such as geographic distance, medical reasons (physical, or social and emotional), travel, or sports/performance involvement. MTC and VSV have been co-delivering innovative drama education since 2017, when Creative Victoria funded a pilot scheme for MTC's involvement in a Year 8 online drama program. It was a success and VSV has since funded the venture.

Year 8 Drama Program
Since 2017, MTC and VSV have co-delivered a Year 8 drama program in a hybrid online/in-person model. Together with the expertise of VSV teachers, the course has featured high-calibre theatre practitioners as teaching artists, including Roshelle Fong (theatre-maker and performer), Emma Valente (co-Artistic Director of award-winning company The Rabble), MTC Literary Associate Jennifer Medway, designers Bethany J Fellows and Jacob Battista, director Penny Harpham (co-Artistic Director of Western Edge Youth Arts), composer/sound designer Darius Kedros, playwright/dramaturg Morgan Rose, and audio visual designer Justin Gardam.
'It's been a fantastic success and the kids love it, says John Bartley, VSV's Head of Arts. 'By having a partnership with a real world-class organisation, we get great expertise and a lot of this is multi-media.'
The online classes have been complemented by in-person workshops at MTC, culminating in a performance and installation collaboratively devised and created by VSV students, with some performing remotely and others contributing in a behind-the-scenes capacity.
VSV students take a bow in the 2018 program. PHOTO: Jacinta Keefe.
VCE Drama and Theatre Studies Resources
The addition of VCE Theatre Studies in 2020 and VCE Drama from 2021 to VSV's range of subjects will provide greater curriculum choice for their students, enhanced virtual learning and opportunities for every student to engage with the arts, including the geographically isolated. In consultation with VSV, MTC is creating a suite of media-rich learning resources based on MTC's professional theatre practice. These resources align with the VCE study design and VSV curriculum, and include interactive online experiences using the latest digital education platforms and software.
These new resources will provide access to some of Australia's best theatre directors, designers and actors through video interviews, animated design presentations, virtual tours, interactive photo essays and podcasts. Many of these resources are being made publicly available on the MTC website, while others are provided exclusively for students enrolled in VSV courses.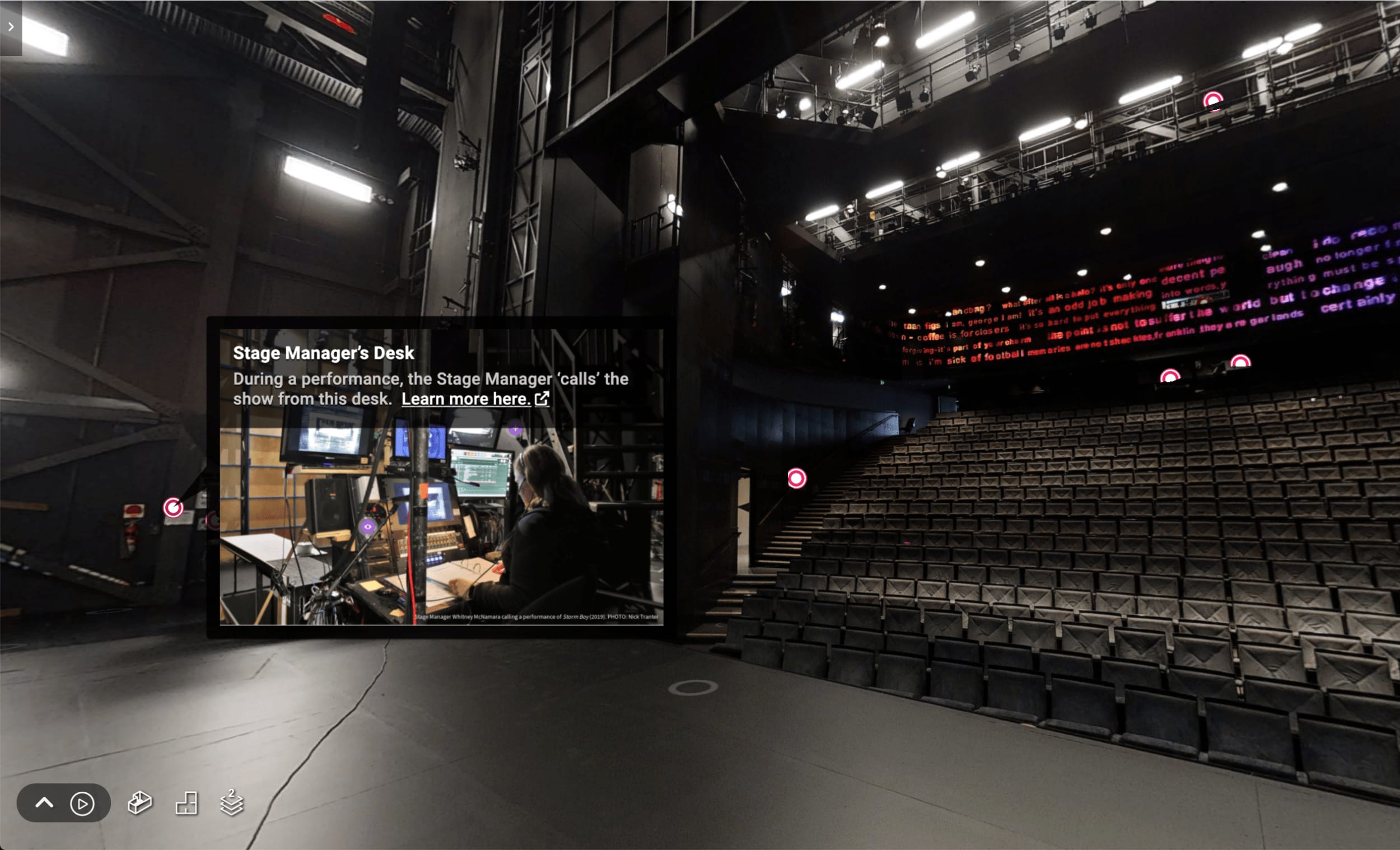 Virtual tours of MTC venues have been created for VSV. PHOTO: RealTour3D
Learn more
To learn more about MTC's partnership with Virtual School Victoria, email education@mtc.com.au.
To learn more about Virtual School Victoria and the courses available, visit vsv.vic.edu.au.
HEADER IMAGE: Virtual School Victoria students perform alongside their remote peers, in a devised production live streamed from MTC HQ. Photo by T J Garvie.