Zoe Terakes tells us about her introduction to acting and the thrill of climbing into someone else's skin on stage.
Over coffee in the Qatar Airways MTC Lounge, Zoe Terakes tells us about her introduction to acting and the thrill of climbing into someone else's skin on stage.
At 18, Zoe Terakes embodies the youthful charm you'd expect from a woman who's just completed her HSC, but her mind and the thoughts that tumble out of it resemble those of a person much older. Put simply, Terakes is smart. But she wastes no time telling me that school wasn't her jam. She was failing and flunking out of maths and science, and even found herself suspended in Year 8, for being an all round 'naughty' kid, she explains chuckling.
However, as the only child of parents who worked hard to send her to one of Sydney's 'good schools', Terakes was determined to focus on the subjects she loved – Drama, English, Spanish and Art. An English teacher, Ms Mulder, can be credited with 'saving' her school life, Terakes says sincerely. 'It sort of all came together for me in Year 12.' But not without a herculean effort from the rising actor, who was juggling eight shows a week playing Catherine in A View from the Bridge at the Old Fitz, whilst completing her final High School exams.
Terakes's appreciation for performing arts started early. Her Godmother, a long-time donor of Sydney Theatre Company, made an effort to take her to all kinds of productions. It was at one of these performances that MTC Associate Director, and Director of A Doll's House, Part 2, Sarah Goodes, successfully cast a spell on the then 16-year-old Terakes. The play was Angela Betzien's The Hanging, and Goodes was directing Ashleigh Cummings in the lead role. 'I went with my Godmother and my Mum, and I just sat in the audience and wept for three hours.'
'I'd never fallen in love with a play before. It was a story about a 16-year-old and the romanticising of mental illness. It just got under my skin.'
Terakes says she gushed between tears to Goodes, post-show in the foyer. Almost two years later to the day, Terakes was pinching herself as she auditioned for Lucas Hnath's Broadway hit A Doll's House, Part 2, in front of her most admired director, for a role alongside her former co-star, Marta Dusseldorp.
Terakes and Dusseldorp met a year earlier on the set of Janet King in what can only be described as the teenager's lucky break. An acting teacher had come to her school weeks earlier, plucked Terakes out of the crowd, and suggested she get an agent. 'I was into drama, but I wasn't nuts about it,' she clarifies. However, her newly appointed industry rep said 'start auditioning' to get the knack of things.
She went along and auditioned for the role of Pearl – a homeless teenager embroiled in a sexual assault case with Senior Crown Prosecutor Janet King, played by Dusseldorp. Days later the part was hers. When Terakes explained to her parents that she'd need to take four-months off school to shoot the series in Parramatta, they responded by saying, 'Ok, I guess this is what we're doing now.'
The experience of being on a TV set was somewhat mystifying for the schoolgirl. 'I couldn't watch the show. I had to stay present, otherwise I'd just wig myself out,' she says.
'From day one, Marta said, "come with me" and she took me under her wing.' The role of Pearl was meaty and set Terakes up for a deep study in character exploration. 'They were some of the best months of my entire life.'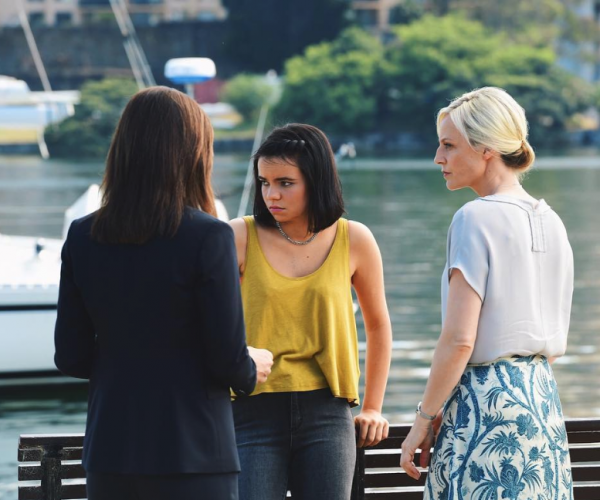 Zoe Terakes on the set of Janet King acting alongside Anita Hegh and Marta Dusseldorp.
Janet King co-stars Anita Hegh (The Father) and Catherine Moore saw Terakes's blooming potential and connected her with the deeply respected Australian director Iain Sinclair. Sinclair's production of A View from the Bridge still required an actor for Catherine, the naïve 17-year-old niece of Eddie, and Terakes fit the bill perfectly.
Accepting the role with the Old Fitz meant completing her final High School exams during the day and performing at night. On one particular Tuesday, Terakes flew to Melbourne to audition for Goodes, flew back to Sydney to finish an exam at school, and then raced to the theatre to perform as Catherine that night. 'That was a big day,' she says laughing.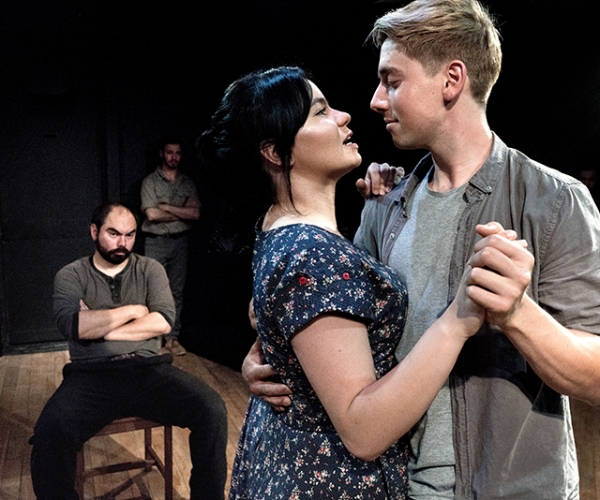 Zoe Terakes on stage at The Old Fitz Theatre alongside Lincoln Younes and Ivan Donato in A View From The Bridge. Photograph by John Marmaras.
'Coming off stage every night after playing Catherine felt like being punched in the face,' she said. The trauma her character experienced on stage was hard to shed. So when Terakes wrapped the season, just days after finishing her last exam, she flew to New York and visited the real life neighbourhood Arthur Miller so carefully crafted in his text. 'I took her home and left her there,' she says thoughtfully.
The fact Terakes was symbolically returning her character to Brooklyn, while most of her peers were at Schoolies on the Gold Coast, speaks volumes about her growth and commitment to craft.
Post-Miller pilgrimage, Terakes has performed in four productions in the first eight months of 2018. However, her stint playing Emmy for Melbourne Theatre Company has been the 'the biggest and best thing yet,' she says.
'The first two weeks I was so shy. I was the youngest person in the room by a long shot. And I admired everyone so much. But a fortnight in I realised how similar Sarah Goodes and I were, so I opened up, and just started being myself.'
Acting opposite her mentor is as good as it gets, Terakes says. 'Marta breaks the rhythm in every performance so it doesn't feel boring or pointless, which the repetition of theatre sometimes can. You have no choice but to respond to her.
'People have said for a long time, since we worked on Janet King, that we have a certain chemistry. But trust is the biggest thing in acting. And I trust her blindly.'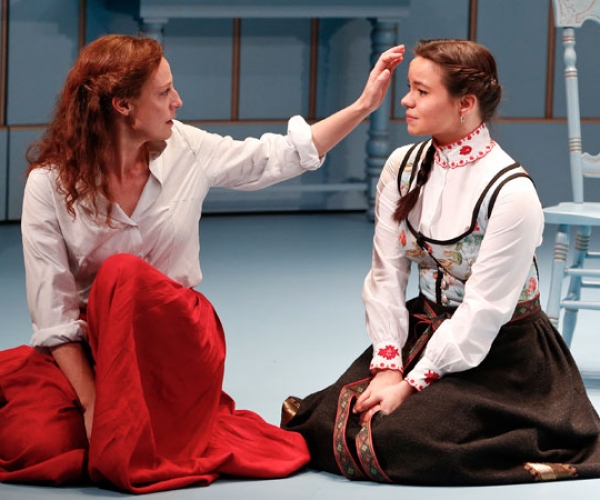 Zoe Terakes on stage at Southbank Theatre playing Emmy opposite Marta Dusseldorp in A Doll's House, Part 2. Photograph by Jeff Busby.
'I am so inspired by the women who lead in this industry. Tracy Emin, Louise Bourgeois, Caroline Brazier, Andrea Demetriades, Marta Dusseldorp, Sarah Goodes, Kate Box, Anita Hegh, Janine Watson and Helen Thomson…there are so many amazing women in this industry and without them it would suck.'
When A Doll's House, Part 2 closes in a couple of weeks, Terakes will fly to Europe to meet her friends who are on their Gap Year. The gravity of her part in this MTC production still feels enormous. 'It's the biggest thing I've done by far,' she says. 'Living away from home for the first time, I have a lot more awareness of what a privilege it is to be here, and what an honour it is to climb into someone else's skin every night and tell their story.'
Terakes's biggest priority at the moment is to stay present as she navigates the fickle terrain laid out before her. She has a few things lined up for 2019, but she can't talk about them yet. 'If I don't stay present and I'm always thinking about the next thing, I'll miss this. And I don't want to miss this … it's too good.'
A Dolls House, Part 2 plays at Southbank Theatre from 11 August 2018.
Qatar Airways is an MTC Major Partner. Genovese is an MTC Production Partner (thanks for the coffee!)
Published on 5 September 2018