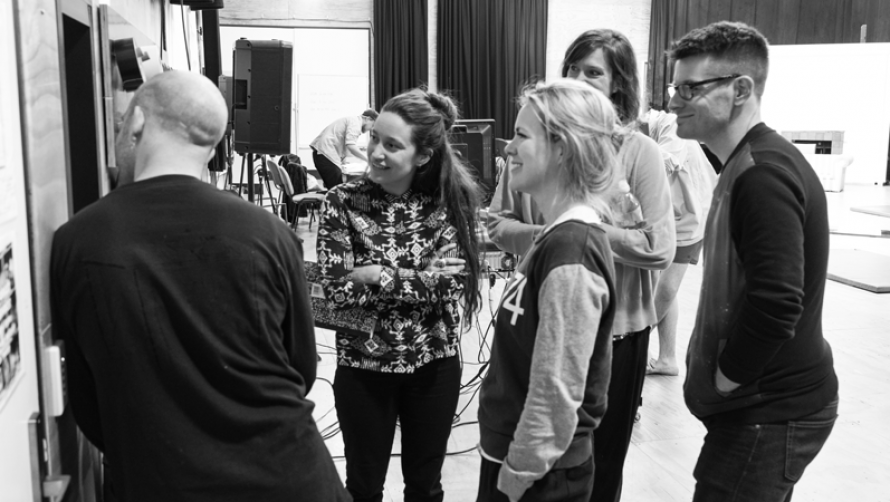 Since establishing the ground-breaking NEON initiative in 2013, MTC has supported the independent theatre sector and its artists with practical opportunities to showcase work and unique skill-advancement programs.
MTC will continue the NEON initiative in 2017, particularly focussing on artist and work development, through dedicated creative workshops for independent artists, establishing a new open-application Company in Residence program, offering touring support to pioneering local artists THE RABBLE and Sisters Grimm, while continuing to develop new works by Nicola Gunn and Daniel Schlusser – two of Australia's most innovative independent theatre practitioners.
MTC is hosting its series of free NEON workshops and boutique masterclasses for independent theatre makers and practitioners again in 2017. Spaces are strictly limited, so make sure you get your application in soon!
STORMING

AN

IDEA
Critically acclaimed artists THE RABBLE works with participants to develop their own performance ideas and methodologies. Encouraging a diverse range of practitioners to participate –playwrights, sound artists, poets, directors, video artists, dancers etc. The workshop introduces artists to a range of techniques for creating and devising material including THE RABBLE's own compositional methodology and offers participants a chance to get feedback and to develop their own idea for performance.
Saturday 12 August 2017
10.00am – 5.00pm
MTC HQ
Hosted by THE RABBLE
DIRECTING

MASTERCLASS
This masterclass will explore the craft of directing text-based theatre: from play selection and conceptualisation, to working with actors on the floor. It will give a blow-by-blow account of the process from first meetings with an Artistic Director, right through to Opening Night. Award winning director Leticia Cáceres will outline what's expected of a director when working in both a mainstage context, as well as in the independent sector.
Monday 14 August 2017
10.00am – 1.30pm
MTC HQ
Hosted by Leticia Cáceres
FOR

THE

INDEPENDENT

PRODUCER
Drawing from a wealth of practical experience, Creative Producer Josh Wright (Arts House, THE RABBLE, Malthouse Theatre) will unpack the role of the independent Producer. This workshop will provide insights on best practice, as well as clear steps for building teams, timelines, budgets and useful tools to produce your next independent show.
Wednesday 16 August 2017
5.30pm – 8.30pm
MTC HQ
Hosted by Josh Wright
STRUCTURE

&

CREATIVITY
People say 'know the rules before you break them', but what if theatre rules feel like old fashioned nonsense, a creative straitjacket and more restrictive than imaginative? What if you are not even sure what the rules are? And, worst of all, what do you do when writer's block descends? There is a way, however, to find the path to invigorating your imagination through a creative engagement with theatre's essential guidelines. This is a session for the detail-driven, the scientifically curious and for dreamers. We can do impossible things.
Wednesday 23 August 2017
10.00am – 2.00pm
MTC HQ
Hosted by MTC Literary Director Chris Mead with guest playwright
GRANT

WRITING

TOOLKIT
Get grounded in grants, an interactive workshop on the art of applications – mistakes not to make and easy ways to excel. Plus pro tips on making the most of the process.
Friday 25 August 2017
10.00am – 1.00pm
MTC HQ
Hosted by Kerrii Cavanagh
HOW

TO

PARTICIPATE
Please note that applications for the NEON Workshops have now closed.