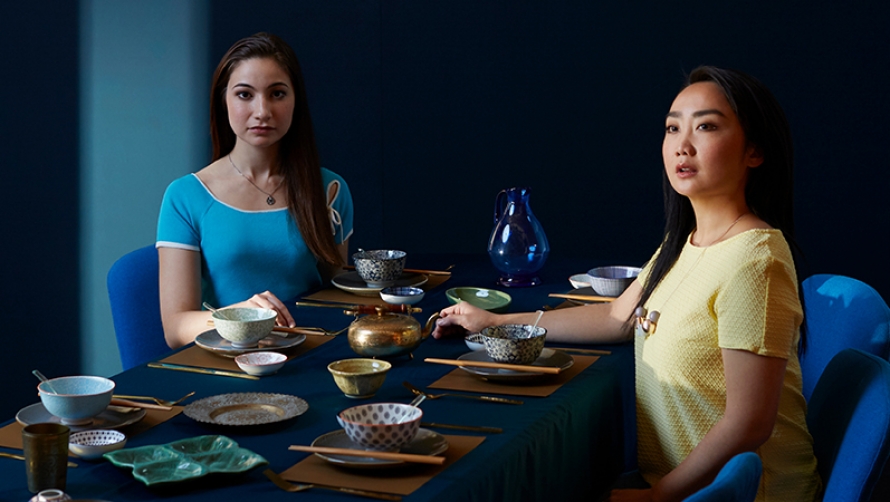 In 2018, The MTC Education production Hungry Ghosts by Jean Tong will tour to regional Victoria and Tasmania.
How long is a piece of string if you tie one end to your home country and the other to your heart?
A young Malaysian–Chinese woman leaves the security of family for the freedom of life in Australia. Part mystery and part dark comedy, Hungry Ghosts explores what it is to be 'missing' – from being absent at the family dinner table, to the still-missing Malaysian Airlines Flight MH370.
MTC's 2018 Education show is the ideal introduction to non-naturalism for VCE Drama Units 1 & 2 and Year 10 Drama, with an eclectic mix of performance styles, and innovative stage design. Directed by Petra Kalive (Melbourne Talam) and complemented by MTC's comprehensive teaching resources, Hungry Ghosts will excite and inspire students across learning areas, particularly those devising their own ensemble performances.
Contact your local arts centre below for more information or to book:
Ulumbarra Theatre, Bendigo: Tuesday 22 May 11am
boxoffice@bendigo.vic.gov.au 03 5434 6100
Mildura Arts Centre: Friday 25 May 1pm
arts_centre@mildura.vic.gov.au 03 5018 8330
The Potato Shed, Geelong: Tuesday 29 May 1pm* & 7pm*
RMacLeod@geelongcity.vic.gov.au 03 5251 1998
Launceston College, TAS: Thursday 31 May 1.30pm* & Friday 1 June 10.30am*
elizabeth.bennett@education.tas.gov.au 03 6332 7722
Wangaratta Performing Arts Centre: Tuesday 5 June 10.30am
boxoffice@wangaratta.vic.gov.au 03 5722 8105
The Wedge, Sale: Thursday 7 June 8pm
thewedge.com.au 03 5143 3200
Free pre-show talks are available at all regional venues 30 minutes before the matinee performance begins.
Genre: Non-naturalistic contemporary Australian drama
Key themes: Identity and Belonging, Culture, Loss, Politics and Migration
Suitable for ages 15+
Contains coarse language and mature themes
A great excursion for: Performing Arts, English, Humanities and Languages students
Education Packs will be available to download here.
*Due to the constraints of the venue, MTC is unable to reproduce Emma Valente's original lighting design for Hungry Ghosts for this performance.