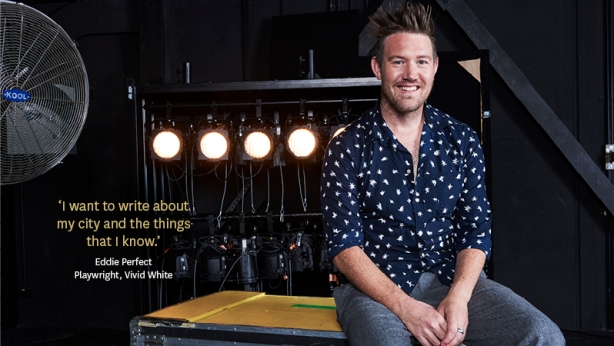 Feature | Eddie Perfect's MTC Story
We asked nine people to share their MTC story with us. Here Eddie Perfect says that MTC Artistic Director Brett Sheehy has been a real champion of his work.
Eddie Perfect's MTC story started with his 2013 black-comedy The Beast, a play that blew the lid off MTC audience expectations and seared Eddie's wry style of satirical comedy – like a branding iron – into the minds of Melbourne theatrelovers. Eddie says the pattern of his career up until that point had involved producers asking for 'edgy' work, which he produced in spades, only for them to lose their nerve in the final hour and pull the reigns on his creative vision.
However, working for MTC under the artistic direction of Brett Sheehy has been a different story, Eddie says. 'I pitched MTC my idea for The Beast, and within 15 minutes Brett said, "Ok, write that, give it to me, let's do that.'' Brett [has been] a real champion of my work, and of me … I have so much love and respect for him, because it would have been very easy for him to say no.'
Eddie is now finessing his highly anticipated 2017 production Vivid White, which commences workshops in a matter of weeks. 'It's a story about Melbourne, for Melbourne,' he says. 'I'm so gobsmacked by what an amazing city this is … I want to write a story about my city and the things that I know. Having done something quite risky with The Beast, and having it pay off, means you can push the boat out even further with confidence. I'm just gonna swing for the fences on this one and go for something completely bizarre and strange. I can't wait to get into production … it's going to be carnage and mayhem.'
Our stories begin with you. With your generous support of MTC we can ensure that the Company remains a vibrant and integral part of this great city for generations to come. Learn more and share your story at mtc.com.au/yourmtc
blog comments powered by

Disqus