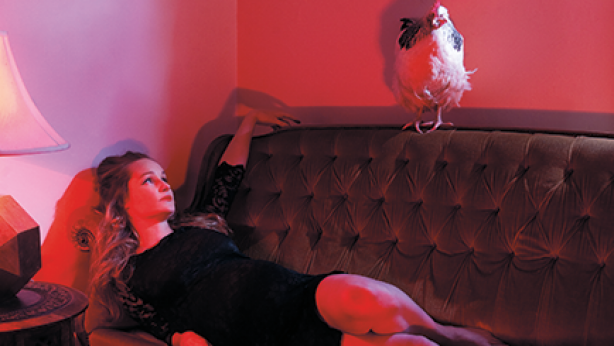 NEON Festival: The Great Debate
On Friday night we had the first Opening Night of NEON Festival of Independent Theatre. If you have been following our Facebook, Twitter or Instagram you would have seen us getting into the spirit of NEON so naturally we were excited to see the kind of work the first independent company, Daniel Schlusser Ensemble, would create. Without any curatorial control from MTC, these works could be as confronting, controversial, outlandish and outspoken as they wanted to be. Either way, it was going to be thrilling theatre.
And like all groundbreaking and innovative art it has caused quite the discussion:
The Australian's Chris Boyd said Menagerie was "a remarkable cubist portrait of [Tennessee] Williams", likening it to "one of those holographic illusions that quiver between states".
Online contemporary theatre site Theatre Press also enjoyed the piece, calling Menagerie a "daring exploration of the essence of a life" that "created sublime theatrical experiences".
Alison Croggon,

ABC

Arts Online's Theatre Critic at Large and former Theatre Notes blogger, tweeted post show ""#mtcNEON":https://twitter.com/search?q=%23mtcneon. Brilliant opening of the indie season with

MENAGERIE

from DanielSchlusser. Stunning. Bar set high." and a day later reflected, "Still thinking about

MENAGERIE

at @MelbTheatreCo last night. Beautiful, uncompromising, lacerating."
But Cameron Woodhead from The Age didn't find the show so enjoyable: "Daniel Schlusser is a director with a good eye, and his last adaptation of a classic – Ibsen's A Doll's House – brilliantly translated the play to the 21st century. Alas, Menagerie does not do this, and the result is a hideous traducement of Williams' art."
Interesting theatre generates robust discussion so we'd love to hear your thoughts. Below are some of the tweets appearing on the NEON feed. Come join the conversation!
Then saw Menagerie. A venom filled mess of awesomeness. Crafted with a scalpel. Go see it. Short season.
Menagerie by @DanielSchlusser is a show that makes you want to talk to perfect audience strangers about what just happened to you all.
Menagerie at #mtcNEON – one of the worst 'plays' I've ever seen in my life.
MENAGERIE #MTCNeon Amazing!
#mtcNEON". Make sure you book for all 5; no excuses. MENAGERIE is on now – it's stunning. It was worth missing the Eurovision semi final for.
blog comments powered by

Disqus