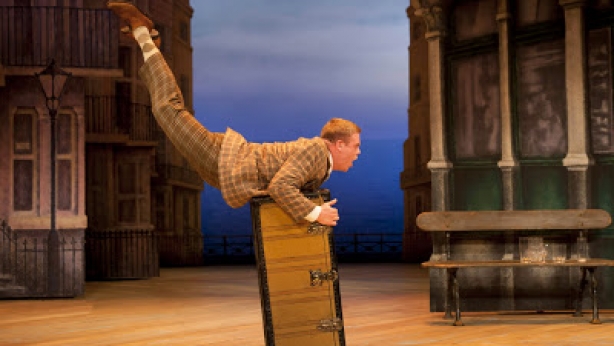 Reviews: 'One Man, Two Guvnors'
There's just over a month to go until "the funniest show on the planet" hits Melbourne. The National Theatre's production of "One Man, Two Guvnors": is currently leaving Sydney audiences rolling in their seats with laughter, and will arrive in Melbourne on 17 May; the final leg of its international tour. Following a series of incredible five-star reviews for the London and Broadway seasons, rave reviews of the production are now in from Aussie media and theatre-goers – here's a quick wrap.
"Sydney Morning Herald":
'If I have laughed this hard for 90 minutes in a theatre before I don't remember when.'
'Arthur, who is funny just breathing, gives us the virtuoso treatment of his full repertoire to side-aching effect. His timing and slapstick are consummate, as is his audience banter.'
"TimeOut Sydney": – Five Stars
'Bean's writing is incredibly sharp, full of as many listen-close-or-you'll-miss-it one-liners as the more obvious winking, slapstick stuff.'
'[Arthur] delivers what must be one of the most crazed, energetic and charming performances we've seen on the stage in yonks; he's part child, part confidence man, part rodeo clown, all sweat. You'll be happily coaxed onto stage to join in the madness when he fixes his shimmering eyes on you.'
The Monthly
'Be prepared to disgrace yourself, and maybe even to do yourself an injury, if you see One Man, Two Guvnors on its current Australian tour. Two years ago I went quite unprepared to a preview performance of Nicholas Hytner's National Theatre in London production […] I emerged tottering, my throat ragged from roaring with laughter for two hours, my ribs and stomach as sore as if I had been beaten up.'
Vogue Australia
'All I really need to tell you is that it's possibly the funniest night out at the theatre this year. See it!'
Crikey
'Owain Arthur as Francis "Confidential" Henshall (the servant) explodes with colour, character and charisma from the very first moment he appears on stage.'
Australian Stage
'With a canny script, deceptively simple yet wonderfully executed set-pieces and a rollicking sense of fun punctuated by a live band for the scene transitions, this is cheekily broad humour at its best.'
'The most enjoyable night at the theatre I've ever had!'
'Saw NT touring production of One Man, Two Guvnors at Sydney Theatre yesterday. Brilliant! Laughed hard, often, couldn't catch my breath. GO see it! '
'The most fun to be had in a theatre … glorious entertainment!'
'Just saw One Man, Two Guvnors. I never knew Hummus could be that funny. Tears down my cheeks.'
'One Man, Two Guvnors was PURE fun. I was even fooled a couple of times; refreshing for an avowed cynic like myself.'
"One Man, Two Guvnors": is playing at Arts Centre Melbourne, Playhouse from 17 May to 22 June.
blog comments powered by

Disqus